ace Family of Cameras with PYTHON Sensors
Basler Expands ace Family with Models Equipped with Latest CMOS Sensor Generation
At this year's VISION Stuttgart Basler presented its new ace models with the current Sony IMX174 CMOS sensor and several PYTHON sensors from ON Semiconductor.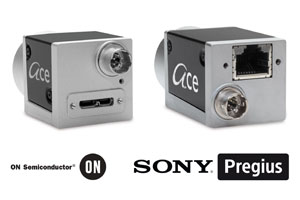 Ahrensburg, – The camera manufacturer Basler is expanding its ace portfolio with new models equipped with the Sony IMX174 CMOS sensor as well as five sensors from the PYTHON family of ON Semiconductor. The cameras work with most modern global shutter technology and are available in resolutions of VGA to 5 megapixels. The new ace models stand out especially because of the combination of small design and large, high-performance sensors.
The captivating features of the new Basler ace camera with the IMX174 sensor are high quantum efficiency, wide dynamic range, and extremely low noise. These qualities allow these camera models to produce even in the most difficult light conditions an extraordinarily high image quality that is otherwise produced only by CCD sensors.
In addition, ten new ace models with powerful PYTHON sensors from ON Semiconductor will be available soon. The full bandwidth of the USB3 Vision or the GigE Vision standard is optimally exploited with frame rates of up to 850 frames per second. The global shutter technology, resolutions of VGA to 5 megapixels and an excellent price/performance ratio also make these ace models especially appealing.
Jana Bartels, Product Manager for Basler's ace series, explains: "The combination of the Basler ace, one of the most successful camera series of recent years, and these exceedingly high-performance sensors leaves nothing to be desired. Our new ace models are fast, extremely sensitive, and very small and lightweight. Because of this you can use them in a number of challenging applications, in factory automation among others, but also in the transportation and logistics sector as well as in microscopy and medical technology."
For additional information: www.baslerweb.com/newace