Academic Robot for High-Tech Education and Training for Higher Education
rong>New robotic innovation allows University and College students to learn in an easy and
safe way how to program and operate robots using real technology.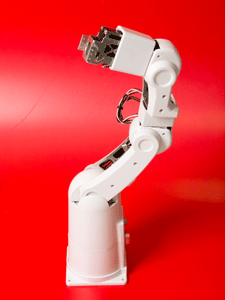 In our globalized world, companies need to invest in more efficient production in order to be competitive. Automation processes are key to achieving this efficiency in industrial production. The importance of automation and robots in different industrial segments is indeed growing.

Subsequently, the automation sector is constantly expanding: According to the International Federation of Robotics, the automation industries will experience a 10% growth rate from 2011 to 2013. Meanwhile, automation is a highly sophisticated process that also requires highly qualified personnel. Recruiting the right personnel in order to keep up with the speed of industrial automation development is a key challenge to our economy.

Finding and retaining highly qualified personnel for the operation of industrial robots is thus becoming more and more important in our competitive and globalized world. Further, the demand for qualified personnel can be also observed in the demand for educational and training programmes at universities, for instance in the field of robotics and mechatronics. The challenge here is to provide students not only with a solid theoretical basis, but also with the practical knowledge that the industry demands. Without applied practical training in automation, it is not possible to achieve the high quality of education that will be necessary to respond to the industry's demands.

Lack of practical experience in universities
Just a few years ago, it was nearly impossible for many universities to offer students the opportunity to learn and work with industrial robots; they were simply too expensive and the cost-benefit relation was not profitable (i.e. currently the cost of an industrial robot is equivalent to the cost of a compact or large size new car). This lack of equipment led to a deficit of practical experience among students who in "theory" knew how industrial robots worked, but in reality had never operated one.

Today, many universities face the challenge of acquiring this kind of technology due to the high costs involved. Therefore, the lack of applied knowledge in the field of industrial automation persists, even in high-tech savvy countries such as Germany. Given the lack of specialists in technical and scientific professions in Germany, for example, such deficits in the Economic actors in Germany indeed see the lack of qualified personnel as the key obstacle to innovation and growth.

An affordable solution for practice oriented automation studies
A solution for this problem is now presented by Japanese robot manufacturer DENSO. DENSO Robotics, the world's leading manufacturer of small-arm industrial robots, worked with another Japanese company to create a tiny 7 axis-robot that offers many advantages over its competitors at a much more affordable price.

The academic robot will be placed on the German market in 2011. This new robot allows students to learn in an easy and safe way to program and operate robots using real technology. This new innovation is a tiny 7-axis robot designed for learning and training purposes in the academic field and in factory automation.

Universities recognize the importance of students working and training with actual robots. Robots are vital for students to engage in hands-on education, highly important in engineering studies. Without robot access students have less practical experience and are less capable once employment is obtained. Finally it becomes the company's responsibility to further educate these employees. It is thus important for the industry that robot manufactures provide the means for practice-oriented education.

Yosuke Sawada, European Coordinator at DENSO Robotics, summarizes the key advantages of the new Academic Robot: "The biggest advantage of this robot is of course its affordable price. We will be able to sell the academic robot for less than 2000 €. Furthermore, the robot is easy to transport, easy to programme and easy to integrate into different IT environments. Also, there is no need for external controllers since a microcomputer is already installed in the robot arm. The robot operation can be done from a normal PC or laptop, which is especially convenient for students. A special safety fence is not needed for the operation of
the robot."

Thanks to affordable DENSO robots, universities now have the opportunity to offer their students a practice-oriented education. Students are eager to work with real industrial robots and fully embrace the chance to use them. Companies like DENSO, through their products, now give universities the chance to obtain industrial robots at an affordable price.