ABB's Expanded Product Range Set to Revolutionize Robotic Palletizing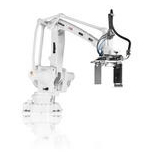 The latest product introductions from technology leader ABB include two new palletizing robots, three palletizing grippers and an easy-to-use programming software – all designed to make palletizing simpler, faster and more efficient. ABB is further enhancing its current palletizing market product line by introducing two new robots, three new grippers, and a comprehensive software program to complement its existing palletizing product range. "We are serious about serving this market," says Klas Bengtsson, Product Manager at ABB Robotics. "The new complete range now addresses all integrator and customer needs for palletizing solutions"

Watch the new palletizers and grippers in action.