ABB YuMi Collaborative Robot to Make First Public North American Appearance at Pack Expo 2015 in Las Vegas
Additional demos feature high speed picking and palletizing systems, and products from other ABB business units designed to maximize packaging line efficiency and safety.
AUBURN HILLS, Mich. – ABB Robotics will feature a portfolio of advanced technology robotic picking, packing and palletizing demonstrations at Pack Expo 2015, September 28th – 30th at the Las Vegas Convention Center (Booth # C-5228). The first public North American appearance of YuMi®, the world's first truly collaborative dual-arm industrial robot that ABB introduced earli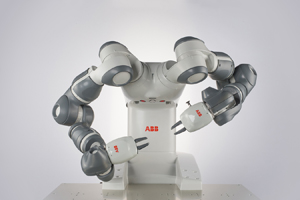 er this year will highlight the exhibit.
YuMi can operate in very close collaboration with humans due to its inherently safe design. It has a lightweight, yet rigid magnesium skeleton covered with a floating plastic casing, wrapped in soft padding to absorb impacts. YuMi is also compact, with human-like dimensions and movements, making human coworkers feel safe and comfortable.
ABB Robotics is a leading provider of packaging automation systems, offering a complete range of robots with payloads from 0.5 kg to 800 kg, simplified programming software, peripheral equipment and function packages to handle a variety of applications across all industries. The ABB FlexPicker is the most widely used high-speed pick-and-place delta robot in the industry, with the broadest portfolio of models and over 6,500 installations worldwide.
The ABB booth will also include products from other ABB business units, including Low Voltage Products, ABB JOKAB SAFETY and Drives and Controls.
Further detail on the ABB Pack Expo 2015 booth displays:
High Speed Picking: The Standard Double-Picker Cell function package, which can accommodate the complete range of IR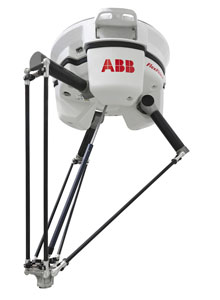 B 360 FlexPickers® ? the 1 kg, 3 kg and 8 kg payload variants at the standard 1130 mm reach, and 1 kg and 6 kg variants at the extended 1600 mm reach. The 8 kg model provides a robust solution for handling heavier individual products, heavier tooling and larger product groupings. The 1 kg and 3 kg FlexPickers are available in an IP69K rated stainless model, and the 6 kg and 8 kg models are available with IP67 protection suitable for most hygienic applications.
The 1 kg FlexPicker in the demo features the Soft Robotics Adaptive Gripper System. This novel system enables the FlexPicker to address a varying range of object shapes, sizes, and weights at high pick rates with a single end of arm tool.
YuMi: The result of years of research and development, YuMi will change the way humans and robots interact. Packaging applications for YuMi are widespread, including kitting of multiple components into packages, component assembly and packing of fragile materials. YuMi can be fully integrated with ABB's Integrated Vision as well as the recently introduced FlexFeeder, an ultra-compact flexible parts feeding system designed for small parts applications
High Speed Palletizing: The IRB 460, the fastest palletizer in its class, specifically designed to meet the high throughput requirements of end-of-line and bag palletizing applications. The cell features the Robot Studio Palletizing PowerPac software for easy set-up and programming. ABB also offers a complete line of standard FlexGrippers for palletizing applications. Capable of up to 2,190 cycles per hour, the 4-axis IRB 460 has a reach of 2.4 meters, occupies 20 percent less floor space and runs 15% faster than its nearest rivals.
ABB Customer Service Kiosk: A presentation of the organization and network that allows ABB customers to maintain their robotic equipment in peak operating condition. ABB Customer Service offerings include free 24/7 technical phone support, quick delivery of spare parts, and comprehensive field services, featuring preventative maintenance programs, programming, system service and onsite support. ABB Customer Service also offers complete programming and operational training, and the repair, reconditioning and re-commissioning of pre-owned robots.
ABB DRIVES and CONTROLS: A conveyor and a labeling demo, seamlessly integrated with ABB's low voltage drives, motion control, and automation products that help maintain process uptime while lowering energy consumption and minimizing maintenance costs. With solutions for multiple industries and every application along the packaging chain, ABB drives are the global benchmark signifying reliability, simplicity, flexibility, and ingenuity throughout the entire life-cycle of a drive.
ABB LOW VOLTAGE PRODUCTS: A comprehensive line of electrical system components designed for the demands of food and beverage processing facilities will be displayed for their safety, cost, sustainability and brand equity benefits. Products include Ty-Rap® detectable cable ties and mounting accessories, a selection of liquid tight conduit, tubing, fittings and cord connectors, and Russellstoll/ABB IEC 60309 connectors. Also on display will be a full line of machine safety products and systems by ABB JOKAB SAFETY, including the New Orion Light Curtains and a complete line of stainless steel safety switches.
About ABB
ABB is a leader in power and automation technologies that enable utility and industry customers to improve their performance while lowering environmental impact. The ABB Group of companies operates in around 100 countries and employs about 150,000 people.
About ABB Robotics
ABB Robotics is a leading supplier of industrial robots - also providing robot software, peripheral equipment, modular manufacturing cells and service for tasks such as welding, handling, assembly, painting and finishing, picking, packing, palletizing and machine tending. Key markets include automotive, plastics, metal fabrication, foundry, electronics, machine tools, pharmaceutical and food and beverage industries. A strong solutions focus helps manufacturers improve productivity, product quality and worker safety. ABB has installed more than 250,000 robots worldwide.