ABB will Feature Robotic Picking, Packing and Palletizing Demos at Pack Expo 2016
The exhibit will also include automation technologies from other ABB business units that serve the Packaging and Food & Beverage industries
AUBURN HILLS, MICH.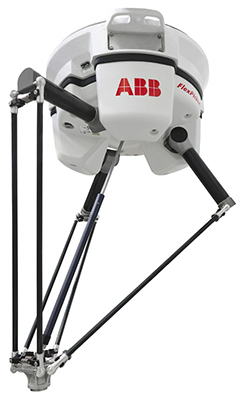 – ABB Robotics will feature a portfolio of advanced technology robotic picking, packing and palletizing demonstrations at Pack Expo 2016, November 6th - 9th at McCormick Place in Chicago (Booth # N-5933). The booth will also include packaging technologies from other ABB business units, including Drives and Controls, Measurement & Analytics and Electrification Products.
"ABB has a comprehensive food and beverage portfolio, and we're excited to talk with customers about how ABB can help solve top industry challenges such as food safety, productivity, and regulatory compliance," said Cliff Cole, the ABB leader of the Food & Beverage Program in the United States.
Highlights of the ABB exhibit include:
Robotics
High Speed Picking: FlexPicker™ and SCARA Robots: A high speed pick-and-place demo featuring the ABB IRB 360 FlexPicker and a model from ABB's recently introduced SCARA robot line. The ABB FlexPicker is the most widely used high-speed pick-and-place delta robot in the industry, with the broadest portfolio of models and over 7,000 installations worldwide. It is available in 1, 3 and 8 kg variants at the standard 1130 mm reach, and 1 and 6 kg variants at the extended 1600 mm reach. The 8 kg model provides a robust solution for handling heavier individual products, heavier tooling and larger product groupings. The 1 kg and 3 kg FlexPickers are available in an IP69K rated stainless model, and the 6 kg and 8 kg models are available with IP67 protection suitable for most hygienic applications.
The IRB 910SC is ABB's first ever line of SCARA (Selective Compliance Articulated Robot Arm) robots. It is designed emphasizing speed and accuracy and is ideal for a variety of general-purpose applications requiring fast, repeatable and articulate point-to-point movements. The single arm robot is able to operate in a confined space and is tabletop mountable. The maximum payload is 6 kg, available in reaches of 450 mm, 550 mm and 650 mm.
Both the FlexPicker and the SCARA robots will feature Soft Robotics grippers, an innovative new gripping technology that can manipulate items of varying size, shape and weight with a single device. Ideal for warehousing, manufacturing, and food processing environments where the uncertainty and variety of products being handled has prevented automated solutions from working in the past.
YuMi® Collaborative Robot: No barriers, no cages, no zones - the world's first truly collaborative dual-arm industrial robot, first introduced at Hannover Messe 2015. Packaging applications for YuMi are widespread, including kitting of multiple components into packages, component assembly and packing of fragile materials. YuMi can operate in very close collaboration with humans due to its inherently safe design. It has a lightweight, yet rigid magnesium skeleton covered with a floating plastic casing, wrapped in soft padding to absorb impacts. YuMi is also compact, with human-like dimensions and movements, making human coworkers feel safe and comfortable.
High Speed Palletizing: The IRB 460, the fastest palletizer in its class, specifically designed to meet the high throughput requirements of end-of-line and bag palletizing applications. The cell features the Robot Studio Palletizing PowerPac software for easy set-up and programming. ABB also offers a complete line of standard FlexGrippers for palletizing applications. Capable of up to 2,190 cycles per hour, the 4-axis IRB 460 has a reach of 2.4 meters, occupies 20 percent less floor space and runs 15% faster than its nearest rival.
ABB Customer Service – Connected Services: An interconnected 24/7 ecosystem ABB refers to as the Internet of Things, Services and People. All ABB robots are ready to be connected, wirelessly or hard wired, unlocking a world of possibilities in predictive, proactive and immediate support. Connected Services all leverage actionable data transferred via sophisticated software from connected robots worldwide. The Connected Services suite consists of five services that can be tailored via ABB's flexible Robot Care service agreements to meet the unique needs of specific customers' applications: Condition Monitoring & Diagnostics, Backup Management, Remote Access, Fleet Assessment and Asset Optimization.
Other ABB Business Units
ABB Drives and Controls
Conveyor and Labeling Demo: Seamlessly integrated with ABB's low voltage drives, motion control, and automation products that help maintain process uptime while lowering energy consumption and minimizing maintenance costs. With solutions for multiple industries and every application along the packaging chain, ABB drives are the global benchmark signifying reliability, simplicity, flexibility, and ingenuity throughout the entire life-cycle of a drive.
ABB Measurement & Analytics
FT-NIR analyzer: Performs rapid determination of plastic bottle crystallinity in a fast and non-destructive manner. Each intact bottle can be analyzed within a few seconds, and the test can be performed by an operator without analytical background. The FT-NIR technique will typically exhibit a reproducibility similar to traditional laboratory methods, but with a much better repeatability and robustness.
Laser Level Product: LLT100: Provides continuous, non-contact level measurement of any material, solid or liquid, independently of its properties or conditions. This maintenance-free product meets the demands of process automation and inven­tory management in several industries such as mining, aggregates, oil and gas, chemicals, food and beverages, pharma, water and waste water and packaging.
ABB Electrification Products/Thomas & Betts
Liquidtight Systems™: Stainless steel liquidtight fittings for stainless steel flexible conduit with SAE type 316stainless steel, a marine-grade stainless steel with superior corrosion resistance.
The Red•Dot® Stainless Steel While-In-Use Box and Cover System: Protects electrical devices in harsh environments, including those that are susceptible to liquid ingress and corrosion.
Rigid Fittings Stainless Steel Drain Adapter: Facilitates drainage of moisture from electrical systems in ordinary locations where threaded connectors are not possible.