ABB will feature a portfolio of advanced technology robotic demonstrations at FABTECH 2016
The exhibit includes over a dozen robots and covers a range of applications, from arc, plasma and spot welding, to laser cutting, Robotic TiP TiG welding and material handling.
AUBURN HILLS, MICH. – ABB will feature a portfolio of advanced technology robotic demonstrations at FABTECH 2016, November 16th -18th at the Las Vegas Convention Center (Booth #N3918). The demos include over a dozen robots and cover a range of applications, from arc, plasma and spot welding, to laser cutting, Robotic TiPTiG welding and material handling.
The centerpiece of the exhibit is a simulated material handling and welding cell comprised of four ABB robots of differing sizes, reaches and payloads, highlighting the accurate coordination of complex motion patterns enabled by the MultiMove™ function of ABB's IRC5 controller. Utilizing a single controller the MultiMove programming instructions move all 20 robot axes in fully coordinated motion, allowing the robots to collaboratively work on the same part or within the same manufacturing process. MultiMove can coordinate up to 36 axes simultaneously.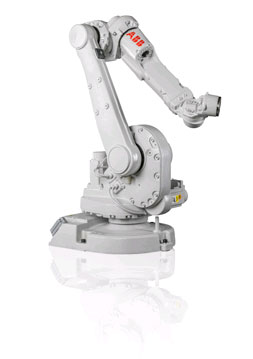 The MultiMove demo features:
IRB 1660ID: Introducing ABB's latest compact robot for arc welding and machine tending applications. The most versatile robot in the mid-size class, the IRB 1660ID's Integrated Dresspack design makes it easier to program and simulate predictable cable movements than standard robots with externally routed cables. The demo features a Lincoln Electric Arc Welding function package with a Scansonic vision camera.
IRB 800: A giant 10-axis welding system with an IRB 140 robot attached to the arm of a larger IRB 660 robot. The system provides an economical alternative to a robot traveling on a traditional gantry column, with significantly better cycle times due to its small footprint, longer reach (3.1m) and ability to work in four separate welding quadrants from a fixed position. The IRB 140 is equipped with a Lincoln welding function package.
IRB 760: A high speed, full layer palletizing and material handling robot with a payload of 450 kg and a reach of 3.2 m. In the demo the IRB 760 is carrying four 70" video screens and a 50" projector with interactive displays.
Additional Highlights of the ABB exhibit include:
Robo-TiPTiG Funtion package with IRB 2600: The cell features a Robo-TiPTiG welding package, a revolutionary user-friendly process that provides improved tolerance of joint fit-up gaps, higher travel speed and lower heat input, delivering the high quality of GTAW and the performance and robustness of GMAW. There is a live Robo-TiP TiG welding demo at the TiP-TiG booth (#N2019).
IRB 6700 Lean ID with Comau Spot weld gun: A model from the IRB 6700 family of medium-heavyweight robots displaying a spot welding configuration with a Comau spot weld gun. LeanID is an Integrated Dressing (ID) design that provides easier programming and a smaller footprint. The spot welder features Spot Servo Equalizing functionality. In addition to enhanced speed, payload and accuracy, the power consumption has been lowered by 15%, and total cost of ownership has been reduced by up to 20%.
YuMi™ Luggage Tag Etching: ABB's dual-arm collaborative robot can operate very closely with humans due to its inherently safe construction, and is specifically designed to meet the flexible and agile production needs of small parts assembly and material handling applications. In the demo YuMi is tending a TRUMPF TruMark 1110 laser etching machine, and handing off personalized luggage tags to booth visitors. The TruMark 1110 stands out for its high quality marks and space-saving design, and is ideal for labeling applications such as barcodes and data matrices in automated assembly lines.
Laser cutting display with an IRB 1200: Equipped with a Laser Mechanisms cutting head, the versatile IRB 1200 robot is certified for many applications in all mounting arrangements. With a 5 kg payload and a 0.9 m reach the IRB 1200 provides unmatched working range and functionality in a compact footprint. The Laser Mechanisms FiberCut™ Right Angle Compact (RAc) laser processing head is nearly 30% smaller than the original model.
IRB 1600ID Arc Welding Robot with SKS welding equipment and META vision camera.
IRB 2600ID Arc Welding Robot with Fronius TPSI and Servo Robot vision camera.
IRB 2600 Welding Robot with Camarc/SBI Plasma welding function package.
IRB 4600 Welding Robot with Miller equipment and tool changer, Schunk Gripper, weld gun and Quality Tool fixture.
About ABB
(ABB: NYSE) is a pioneering technology leader in electrification products, robotics and motion, industrial automation and power grids, serving customers in utilities, industry and transport & infrastructure globally. Continuing a more than 125-year history of innovation, ABB today is writing the future of industrial digitalization and driving the Energy and Fourth Industrial Revolutions. ABB operates in more than 100 countries with about 135,000 employees.
About ABB Robotics
is a leading supplier of industrial robots - also providing robot software, peripheral equipment, modular manufacturing cells and service for tasks such as welding, handling, assembly, painting and finishing, picking, packing, palletizing and machine tending. Key markets include automotive, plastics, metal fabrication, foundry, electronics, machine tools, pharmaceutical and food and beverage industries. A strong solutions focus helps manufacturers improve productivity, product quality and worker safety. ABB has installed more than 300,000 robots worldwide.
All ABB Robotics' products are fully supported by the ABB Robotics' global sales and service organization in 53 countries and over 100 locations.