ABB to showcase its latest robotic technologies at Automate 2019
At Automate 2019, April 8th - 11th at McCormick Place in Chicago, ABB will showcase (Booth #7546) a selection of its latest and most innovative robotic technologies that allow companies of all sizes to embrace the "Factory of the Future" and optimize their operations to meet the challenges of high-mix, low volume production in shorter cycles.
Highlights of ABB's Automate 2019 displays include:
Three-robot Small Parts Handling/Assembly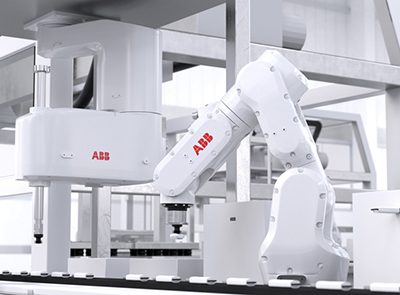 The demo simulates a miniature factory featuring the new Single-Arm YuMi®, the IRB 910INV invert-mount SCARA and the six-axis IRB 1100, all driven by the new OmniCore™ Controller, in a small parts handling and assembly operation.
The demo highlights how new traditional and collaborative applications can be easily integrated into existing production or confined spaces, which is an important benefit for manufacturers seeking to squeeze more productivity or greater flexibility out of their current lines.
Dual Arm-YuMi® with an Integrated Screwdriving Function Package
A screwdriving function package that provides a complete and fully integrated solution to greatly simplify the use of robots for assembly tasks. The ABB controller interfaces with the screwdriving controller to merge all control through the ABB controller.
The two arms of the Dual-arm YuMi allow both assembly and screwdriving applications to be performed concurrently. A YuMi based screwdriving function package can easily share tasks with an operator, which enables the assembly of complex products where both repetitive and accurate tasks by the robot need to be combined with cognitive and dexterous tasks of an operator.
FlexLoader™ Machine Tool Tending Cell
ABB's next generation of compact, standardized machine tool tending cells, include a 6-axis robot ideally suited to the reach and payload requirements of the specific application. FlexLoaders are Ideal for both low and high volume production, tending vertical lathes, horizontal and vertical machining centers, 5-axis machines and grinders.
Robotic Small Package Singulation (SPS) / Logistics, eFulfillment Automation
ABB's latest, intelligent, vision-integrated robotics solutions help fulfillment centers and warehouses manage the soaring volumes and increased complexity of today's intralogistics with unmatched speed, efficiency and accuracy. This includes solutions that can single out individual parcels from fast moving flows for greater efficiency in sorting and downstream processes such as barcode scanning or labeling
Single-Arm YuMi® - Circuit Board Assembly
The ABB Single-Arm YuMi is showing its dexterity by assembling and powering a circuit board
represented by a Snap Circuit educational kit. YuMi assembles, powers and disassembles the circuit board in a continuous loop.
Single-Arm YuMi is ABB's most agile and compact seven-axis collaborative robot. Designed to fit easily into existing production lines to increase productivity while working safely alongside people it can be mounted on floors, tables, walls or ceilings, and is incredibly easy to program.
OmniCore™
The new OmniCore™ family of robot controllers is designed for maximum performance and reliability, designed for the robust 24/7 operations of factories making products with increasingly shorter lifecycles.
The new controller features a fifty percent smaller footprint for maximum installation flexibility and floor space utilization, allowing robotic solutions to be tailored to a wide variety of existing and new production lines within confined spaces.
ABB Ability™ Connected Services Kiosk
ABB's unified, cross-industry digital offering — extending from device to edge to cloud — with devices, systems, solutions, services and a platform that enable our customers to know more, do more, do better, together. All ABB robots come ready to be connected to ABB Ability™ Connected Services, wirelessly or hard wired, unlocking a world of possibilities in predictive, proactive and immediate support, anytime, anyplace.
RobotStudio Virtual Reality Kiosk
ABB continues to build on its leadership in digital with a new virtual meeting tool for its RobotStudio® virtual commissioning and simulation software that allows teams around the world to collaborate and efficiently design automation systems with a 3D perspective.