ABB to Introduce New Palletizing Products at Interpack 2011
Two new robots, a comprehensive software package and three new grippers to make palletizing easier, faster and more efficient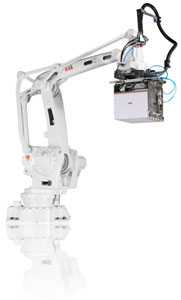 ABB Robotics, a leading supplier of industrial robots, will unveil a range of high performance palletizing products at Interpack 2011, May 12-18 at the Düsseldorf Fairgrounds in Germany (Hall 16, Booth A35). The new products, which include two palletizing robots, a powerful programming software and three new palletizing grippers, will complement the existing products to fully address the market demands for easier, faster and more efficient robotic palletizing options. ABB now offers a complete portfolio of robotic products to service end-of-line, centralized, full layer and bag palletizing applications.
"With the new products to serve the ever growing palletizing segment ABB now brings a full range of high-performance products to the entire packaging market," said Joe Campbell, vice president of the ABB Robot Products Group in the US. "Our integrators and key end users clearly stated that they wanted ABB to provide a full range of robots, from primary packaging, to case packing, and to palletizing. The new products complete the ABB packaging family and will deliver the same best-in-class performance as our FlexPickers."

Leading the expanded product line is the compact IRB 460, the fastest known palletizing robot on the market. Capable of up to 2,190 cycles per hour, this 4-axis robot is perfect for high-speed end-of-line palletizing and bag palletizing of products that weigh up to 50 kilograms. With a reach of 2.4 meters and a maximum payload of 110kg the IRB 460 occupies 20 percent less floor space and runs 15% faster than its nearest rivals.
The second new robot is the IRB 760 designed for high-output, full-layer palletizing. Boasting an impressive payload capacity of 450 kilograms and a reach of 3.2 meters, this 4-axis robot features a high inertia wrist – double that of competitors – that enables it to rotate heavier and larger products faster than any other robot. This superior speed makes the IRB 760 especially suited for palletizing beverages, building materials and chemicals.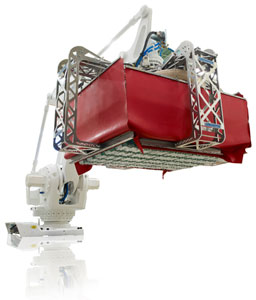 Three FlexGripper end-of-arm tools round out the new hardware product offerings, including a heavy-duty claw for high-speed bag palletizing, a vacuum gripper for light and medium weight cases, and clamp gripper for handling heavy cases.
The most revolutionary aspect of the new palletizing portfolio is ABB's new software. The RobotStudio Palletizing PowerPac has merged our 13 years of palletizing software expertise (FlexPalletizer & PickMaster5) with the virtual programming environment of RobotStudio. This new PowerPac allows users to configure, simulate and program ABB robots and grippers for palletizing solutions, in one step, with little or no robot programming experience required. What used to take days will now take minutes. It will also allow potential users to validate the performance of their palletizing system before risking any equipment investments.
Attendees to Interpack are encouraged to visit the ABB booth for tutorials on the new software, and to participate in the "Five Minute Challenge" where they will experience first hand how products can be defined and programmed into a fully functioning palletizing cell in only five minutes.
The new products enhance the existing array of established ABB robots to form the strongest palletizing portfolio in the industry. The existing ABB palletizing robots include the:
IRB 260, optimized for handling single or multiple products for case packing applications.
IRB 660, featuring an unmatched combination of speed, reach and payload for the most rigorous box pattern, stability, precision and cycle time demands.
IRB 4600, a 6-axis robot, the lightest general-purpose robot in its class. The IRB 4600 can be floor- or shelf-mounted, tilted and even inverted.
IRB 6640, a 6-axis robot, with outstanding inertia capabilities, a wide working range and a maximum 235 kg payload, ideal for heavier, centralized palletizing applications.
IRB 7600, a 6-axis robot, the largest palletizing robot with a payload of up to 500 kg, is ideal for full layer palletizing.
ABB's complete range of palletizing robots can now be combined with FlexGrippers and the PowerPac to provide a cost-effective, easy to use, one-stop choice for palletizing and material handling applications.
About ABB
ABB is a leader in power and automation technologies that enable utility and industry customers to improve their performance while lowering environmental impact. The ABB Group of companies operates in around 100 countries and employs about 124,000 people.
About ABB Robotics
ABB Roboticsis a leading supplier of industrial robots - also providing robot software, peripheral equipment, modular manufacturing cells and service for tasks such as welding, handling, assembly, painting and finishing, picking, packing, palletizing and machine tending. Key markets include automotive, plastics, metal fabrication, foundry, electronics, machine tools, pharmaceutical and food and beverage industries. A strong solutions focus helps manufacturers improve productivity, product quality and worker safety. ABB has installed more than 190,000 robots worldwide.