ABB to Host Full Day Robotic Laser Processing Workshop at Auburn Hills, MI Training Facility April 27, 2011
Workshop open to qualified metal fabrication personnel; will provide in-depth, hands-on exposure to wide range of robotic laser technology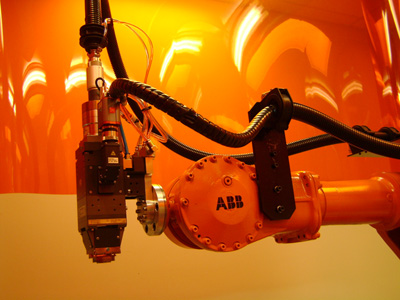 ABB Robotics will host a Laser Processing Workshop on April 27th, 2011 from 9:00 a.m. to 5:30 p.m. at their North American headquarters and training center in Auburn Hills, Michigan. Robotic laser processing, especially welding and cutting, is one of the fastest growing technologies in metal fabrication. The workshop will give current and potential users of laser technology in-depth, hands-on exposure to: robotic laser best practices, application pitfalls, investment justification factors, key process hardware components, and considerations to determine how robotic laser technology can help their specific operation. Registration is open and free of charge to qualified personnel in manufacturing companies engaged in high precision metal fabrication with interest in learning more about robotic laser processing. Go to www.roboticsanswers.com/58 to register and for more information. For any specific questions call 248-391-8400.
In addition to comprehensive presentations from ABB robotic laser experts, the workshop will feature sessions hosted by technical experts from IPG Photonics, Precitec, Laser Mechanisms and RoboVent. Robotic laser technology has emerged in a variety of fabrication segments including those involved with hot-stamp steels, tubular parts, hydroform components and traditional flat sheet cutting. The workshop will cover these areas and more, featuring presentations, live process demonstrations, equipment reviews, and coverage of the advanced software tools that allow for ultimate flexibility. All attendees will also receive a reference kit with relevant resources and workshop transcripts at the end of the workshop.
"This event is a must for anyone involved in precision metal fabrication who have, or are considering, laser technology, and would like to see how the inclusion of robots could make their operation more flexible and profitable," said Joe Campbell, vice president of the ABB Robot Products Group in the US. "We have brought together some of the best resources in the industry and it will be a unique and highly worthwhile day for those who attend."
The agenda highlights include:
Overview of robotic laser processing

History & state of the technology
Key industries and applications
Robot capabilities combined with lasers

Robot & laser demonstration
IPG Photonics – Fiber laser technology
Precitec – Laser welding head & sensor technology
The ABB FlexLaserTM Solution

Global "Flex" platform
Laser cell components
Safety requirements & certifications
Financial justification factors

Shop tour and in-process ABB FlexLaser

Key Differentiators
Manipulator
Motion
Control

Virtual FlexLaser & RobotStudio
Laser Mechanisms – Laser cutting head technology
RoboVent – Fume extraction for laser applications

Sizing and differences vs. traditional welding

Summary, questions, applications
Click here to access a video outlining more information on ABB Robotic laser processing capabilities. The ABB facility in is located at 1250 Brown Road, Auburn Hills, MI 48326.