ABB to Feature Robotic Welding and Cutting Innovations that Simplify Operation and Improve Quality at FABTECH 2014
Highlights include a revolutionary new robotic TIP-TIG process, standardized robotic laser cutting cells, and universal Ethernet based interfaces
AUBURN HILLS, Mich. – ABB will feature advanced robotic technology designed to improve the simplicity and quality of several prominent welding and cutting processes at FABTECH 2014, November 11-13, 2014 at the Georgia World Congress Center in Atlanta (booth #C1510). The demos include a revolutionary new robotic TIP-TIG welding process, standardized robotic laser cutting cells, and Ethernet based interfaces with the major welding power source suppliers that streamline the control and programming of robotic welding systems.
ABB will also offer special promotions to all FABTECH attendees, with reduced pricing and four-week delivery on select FlexArc welding cells and robotic welding function packages purchased at the show.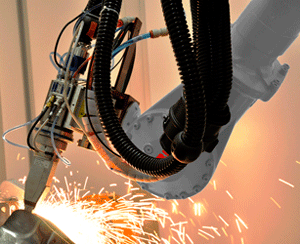 The ABB FABTECH 2014 display will include:
Robotic TIP-TIG Welding: unique to ABB, this revolutionary new, patent pending technology integrates user-friendly robotics with the TIP-TIG process, enhancing its higher travel speed, lower heat input and better quality welding advantages. The process combines proprietary ABB torch feed technology and a fully integrated robotic interface.
The cell is outfitted with the IRB 2600 robot, a MTD250 workpiece positioner and a Miller Dynasty 350 TIG power supply. It will be producing test components to demonstrate the quality, speed and performance of the TIP-TIG process. The process provides several key advantages over traditional TIG (GTAW) welding, including improved tolerance of joint fit-up gaps, and achieving higher travel speeds and lower hear input with hot wire technology.
Laser Processing: an ABB FlexCutLaser™ cell featuring an ABB IRB 4400 robot with Absolute Accuracy, a LaserMech FiberCut Straight (ST) laser head, Stronghand modular fixturing, and a fully integrated IRBP1000L external axis. Displaying compatibility with a wide range of laser power equipment, the cell includes both an IPG Ytterbium Laser System (YLS-4000), and a Trumpf TruDiode 4506.
ABB's leading technology for laser welding and cutting defines world class motion control and path performance, and comes with offline programming capabilities, and tools for automatic TCP calibration, work objects and positioner base frames. FlexCutLaser and FlexWeldLaser cells provide manufacturers with pre-engineered solutions, available in configurations designed to match various part sizes, geometries and production volumes.
Universal Ethernet Based Interfaces: three robots dressed in GMAW gear displaying the capability of ABB robots to be integrated with the technology and control of the major power supply and welding component manufacturers. Ethernet connections between the robot and power source place the control of all welding process components on to the ABB Teach Pendant, simplifying the control and programming of the entire system. ABB includes a RobotStudio plugin with easy user graphics to aid in the robot /welder interface and selecting required weld schedules.
The demo features:
Lincoln: an IRB 1520 robot with an air-cooled torch, a Servo-Robot vision system with Power-Trac Arc seam tracking, and a Lincoln R350/STT welding power package. An ArcLink Ethernet interface allows full communication between the Lincoln power source and the ABB robot teach pendant.
Miller: an IRB 4600 robot and a Miller AutoAxis-E power source with an Ethernet interface. The robot is dressed with an air-cooled torch and Meta robot vision.
Fronius: an IRB 2600ID robot and a Fronius Cold Metal Transfer (CMT) welding package with a Binzel Scansonic vision system and an Ethernet interface. The CMT process achieves metal transfer with less heat input compared with conventional GMAW, and is ideal for spatter-free MIG brazing, thin-sheet applications and joining steel to aluminium.
ABB also has Ethernet interfaces with SKS and ESAB equipment.
IRB 6700: ABB's newest family of medium-heavyweight robots displaying material handling and spot welding configurations. The spot welder features Spot Servo Equalizing functionality. In addition to enhanced speed, payload and accuracy, the power consumption has been lowered by 15%, and total cost of ownership has been reduced by up to 20%.
ABB Customer Service: a presentation of the organization and network that allows ABB customers to maintain their robotic equipment in peak operating condition. ABB Customer Service offerings include free 24/7 technical phone support, quick delivery of spare parts, and comprehensive field services, featuring preventative maintenance programs, programming, system service and onsite support. ABB CS also offers complete programming and operational training, and the repair, reconditioning and re-commissioning of pre-owned robots.
ABB JOKAB SAFETY: a full array of machine safety products and systems, including the Pluto Safety PLC, Quick-Guard® and Quick-Guard E Safety Fencing, Smile Tina E-stops, Safety Mats, Safeball Two-Hand Controls, and the newly expanded line of Eden Safety Sensors. A separate demo will display the many features of the Focus II Light Curtains including the muting options, as well as the complete line of JOKAB stainless steel safety switches.
Oculus Rift 3-D Virtual Environment: an opportunity to walk through the inside of a fully functional robotic Laser welding cell in a 1:1 virtual world.
Additional ABB robotic demos can be found at the booths of ABB system integrators and associates throughout FABTECH. A complete list is available at the ABB booth.
About ABB
ABB is a leader in power and automation technologies that enable utility and industry customers to improve their performance while lowering environmental impact. The ABB Group of companies operates in around 100 countries and employs about 150,000 people.

About ABB Robotics
ABB Robotics is a leading supplier of industrial robots - also providing robot software, peripheral equipment, modular manufacturing cells and service for tasks such as welding, handling, assembly, painting and finishing, picking, packing, palletizing and machine tending. Key markets include automotive, plastics, metal fabrication, foundry, electronics, machine tools, pharmaceutical and food and beverage industries. A strong solutions focus helps manufacturers improve productivity, product quality and worker safety. ABB has installed more than 250,000 robots worldwide.