ABB to Feature its Flexible Robotic Gear Handling Cell Technology at Gear Expo 2015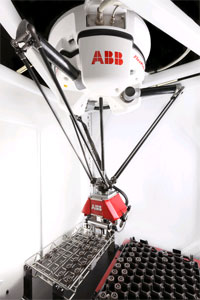 AUBURN HILLS, Mich. – ABB Robotics will feature its Robotic Gear Handling Cell technology at Gear Expo 2015, October 20th – 22nd at the Cobo Center in Detroit (Booth # 1039). The cell is used to transfer gears between alloy trays and baskets in the heat treatment process that transforms "green" gears into "hard" gears, replacing the manual handling processes employed in many heat treat operations. It flexibly handles multiple gear styles and sizes and is suited for a variety of power transmission operations ranging from large commercial, military and industrial vehicles, to automobiles, marine craft, recreational vehicles and lawn and garden equipment.
The ABB Robotic Gear Handling Cell is designed to improve system performance and uptime where the heat treating process is constantly changing the alloy tray conditions over time. The primary features of the cell include:
An IRB 360 FlexPicker™ high speed material handling robot to minimize cycle time;
A Flexible Servo Gripper that allows the handling of multiple gear sizes and styles with a single gripper;
A Vision Guidance System to capture accurate gear and alloy locations for transfer of gears between alloy trays and baskets;
ABB SoftMove technology, which adds compliance to the robot gripper during picking or placing of gears to compensate for warped or bent alloy trays.
About ABB
ABB is a leader in power and automation technologies that enable utility and industry customers to improve their performance while lowering environmental impact. The ABB Group of companies operates in around 100 countries and employs about 150,000 people.
About ABB Robotics
ABB Robotics is a leading supplier of industrial robots - also providing robot software, peripheral equipment, modular manufacturing cells and service for tasks such as welding, handling, assembly, painting and finishing, picking, packing, palletizing and machine tending. Key markets include automotive, plastics, metal fabrication, foundry, electronics, machine tools, pharmaceutical and food and beverage industries. A strong solutions focus helps manufacturers improve productivity, product quality and worker safety. ABB has installed more than 250,000 robots worldwide.