ABB to Feature a Diverse Range of Industrial Robots at Automate 2011, March 21-24 at McCormick Place, Chicago
ABB exhibit (Booth # 160) designed to represent leading production technology across full range of industrial robotic automation applications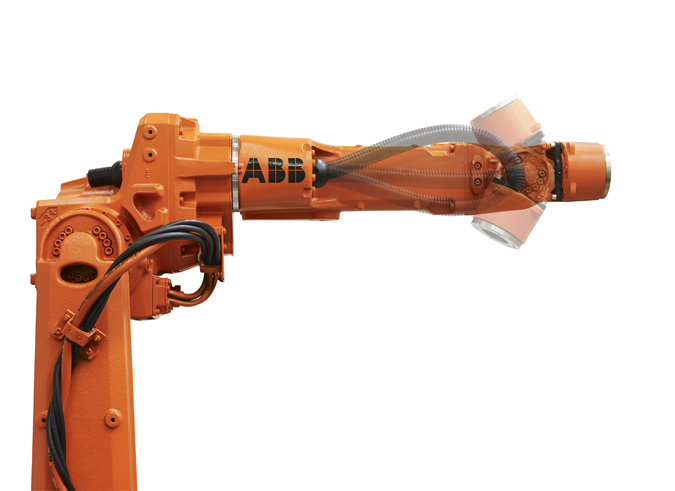 AUBURN HILLS, Mich. – ABB Robotics, a leading supplier of industrial robots, will display a diverse range of its general industry robots at Automate 2011, March 21-24 at McCormick Place in Chicago. On display will be the popular IRB 1600ID and the new IRB 2600 in a multi-move demonstration, an IRB 580 long-arm paint cell demonstrating superior color changing capabilities, the IRB 120 with the IRC5 Compact controller, and the new IRB 2600ID especially designed for material handling. Also on display will be custom electronic machine safety components and safety fencing from Jokab Safety, a business unit of the ABB Low Voltage Products division.

The ABB Automate 2011 exhibit (Booth # 160) is designed to represent ABB's leading production technology across the full range of industrial robotic automation applications, including packaging, welding, assembly, material handling, machine tending and painting. Some additional detail on the ABB products to be featured at Automate 2011:

§ The IRB 580, a highly flexible, cost-effective and accurate paint robot system, delivering the ultimate in small footprint precision by combining the advanced functions of the larger ABB paint robots with a compact design. It is available in two versions: short (1220 mm) and long (1620 mm) horizontal arm.

§ A mini version of the popular ABB "Lite-Brite" demo - a daring display of robotic programming agility, path accuracy and speed, featuring the coordinated interaction of an IRB 1600 robot moving a large pin at varying speeds within a tightly aligned grid of light bulbs attached to the rapidly moving arm of an IRB 2600 robot. The demo highlights the accurate coordination of complex motion patterns enabled by the MultiMove™ function of ABB's IRC5 controller, and the "speed-independent" motion of TrueMove™ and QuickMove™.

§ The IRB 120, ABB's smallest ever multipurpose robot with all the functionality and advanced design features of ABB's larger robots in an economical, lightweight model. The IRB 120 provides agility, accuracy and speed to a broad range of applications where a smaller footprint and profile are required. Weighing just 25kg (55 lbs), the IRB 120 has a standard payload of 3kg (6.6 lbs), a vertical wrist payload of 4kg (8.8 lbs), a reach of 580mm, a best-in-class stroke of 411mm and the ability to reach 112mm below its base. The IRB 120 will be featured with the IRC5 Compact controller, offering all the functionality of the standard controller in a footprint a quarter of the size. The IRC5 Compact now supports six of ABB's most popular robot models.

§ The IRB 2600ID, an Integrated Dress pack (ID) model added to its IRB 2600 range of mid-sized robots in February 2011, featuring a 1.85m reach and a15 kg payload. The IRB 2600ID features a flexible conduit in its upper arm/wrist for routing cables and hoses for signals, air and power, fully integrating the process equipment with the robot. Supported by IRB 2600 family performance benefits such as superior speed, flexible mounting options, an increased work envelope and unmatched path repeatability, the newest IRB 2600ID model is specifically designed for a wide range of material handling and machine tending applications. ABB is one of the only robot suppliers that offer a mid-size robot in both standard and ID models.

§ Jokab Safety provides innovative safety solutions such as : Pluto Safety PLC, SMILE Emergency Stop, Focus Light Curtains, Eden Safety Sensors, and QuickGuard Safety Fencing. Along with these featured products Jokab Safety Specialists will be on hand to answer machine safety questions and concerns.

"We are excited to introduce the IRB 2600ID, yet another new robot model in the ABB lineup," said Joe Campbell, vice president of the ABB Robot Products Group in the US. "Our key customers have given this robot great reviews, and Automate 2011 is the perfect show for the launch."

Automate 2011 is the largest solutions-based showcase of automation technologies in North America. Formerly the International Robots, Vision & Motion Control Show, Automate now demonstrates the full spectrum of automation technologies and solutions for a broad array of industries. The show is held once every two years.

About ABB
ABB (www.abb.com) is a leader in power and automation technologies that enable utility and industry customers to improve their performance while lowering environmental impact. The ABB Group of companies operates in around 100 countries and employs about 124,000 people.

About ABB Robotics
ABB Robotics (www.abb.com/robotics) is a leading supplier of industrial robots - also providing robot software, peripheral equipment, modular manufacturing cells and service for tasks such as welding, handling, assembly, painting and finishing, picking, packing, palletizing and machine tending. Key markets include automotive, plastics, metal fabrication, foundry, electronics, machine tools, pharmaceutical and food and beverage industries. A strong solutions focus helps manufacturers improve productivity, product quality and worker safety. ABB has installed more than 190,000 robots worldwide.