ABB to exhibit at International CES for the first time, featuring innovative robotic technology at the 2015 show in Las Vegas
Highlights include two sizes of patented RoboScreen system, and smallest 6-axis robot, ideal for electronic products assembly
AUBURN HILLS, Mich. – ABB will be displaying a relevant sample of its highly innovative robotic technology at the 2015 International CES® show, January 6-9, in Las Vegas, Nevada. Participating at CES for the first time, the ABB exhibit features two sizes of its RoboScreen® system, and an IRB 120 industrial robot equipped with integrated vision. The ABB display (Sands - #72237) is part of the Robotics Marketplace located at CES Tech West within the Sands Expo. Owned and operated by the Consumer Electronics Association (CEA), CES is the world's gathering place for all who thrive on the business of consumer technologies.
A RoboScreen is a patented technology featuring a graphical screen mounted to the arm of an ABB articulated arm robot, which creates a unique viewer experience by bringing virtually unlimited, 6-axis movement to the video media. RoboScreens were developed by Andy Flessas (aka andyRobot) of Robotics Arts (www.RoboticArts.com), in conjunction with the ABB Robotics North American business unit in Auburn Hills, Mich.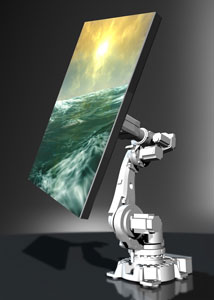 RoboScreens can move in preprogrammed synchronization to video content, music, dance or other aspects of a live event, with the robot rotating the screen in virtually unlimited geometries. On display at the ABB CES booth will be a midsize IRB 4600 robot with a 75" video screen, and an IRB 120, ABB's smallest 6-axis robot, with a 20" video screen.
A second IRB 120 will also be featured displaying its unique ability to assemble small parts common to the consumer electronics industry. The IRB 120 has all the functionality and advanced design features of ABB's larger robots in an economical, lightweight model, providing agility, accuracy and speed to applications where a smaller footprint and profile are required. Weighing just 25kg (55 lbs), the IRB 120 on display is equipped with ABB Integrated Vision, which optimizes production quality, and maximizes inspection and control by giving robots the power to see. Vision also gives the robot the ability to pick-up and assemble randomly presented parts. Companies that effectively utilize vision-guided robotic systems can increase throughput, lower production costs, improve product quality and reduce rework and waste.
"We are very excited to showcase our latest robotics products at CES," says Nicolas De Keijser, ABB's new application business line manager. "Not only will we have the opportunity to display our latest entertainment and advertisement oriented product line to the vast and qualitative CES audience, we will also be able to demonstrate how other products that are typically exhibited at CES can be manufactured by ABB's robotic technology."
More on ABB RoboScreens
RoboScreens first gained prominence in 2010 when five large models travelled the globe as main stage props for the Bon Jovi Circle Tour. Six RoboScreens are now featured in the signature entertainment venue on Royal Caribbean's new Quantum Class cruise ships, blending live performances with cutting-edge visual technology. They have also been prominent stage props with a concert tour by Kis-My-Ft2, a Japanese Pop band, and the Ultra-Music Festival in Miami.
With various robot and screen size options, a RoboScreen can complement a virtually unlimited range of live event applications. Some potential applications include:
Live Events and Entertainment –positioned outside performance venues for pre-event entertainment or marketing, or positioned inside to provide replays and other event enhancements. Or as on the Bon Jovi tour or in a theatrical performance, the RoboScreens can also be an integral part of the production itself, providing an inimitable blend of 6-axis motion and video display for stage props, structural elements and visual intrigue.
Hotels, Resorts and Casinos – providing information on events, amenities or activities in an unexpected and captivating manner, or positioned in lobbies or common areas to entertain guest with intriguing video and choreographed movements.
Trade Shows and Product Launches – at trade shows or commercial venues for product launches, with unique videos and movement that attract attention, while providing information on new products, and possibly allowing manufacturers to interact in real time with potential customers.
Nightclubs and Sports Bars –capturing components of simulation technology with motion coordinated in real time to action occurring on screen during a performance, sporting event or video game.
In large stage applications RoboScreens can be used in groups, with multiple RoboScreens able to assemble in creative formations, together or apart. The combined choreography of screen movement and innovative on-screen display provides an extraordinary accessory to the live event experience.
The ROBOSCREEN® robotically controlled display is covered by U.S. Patent No. 7,545,108 and other patents pending.
About ABB
ABB is a leader in power and automation technologies that enable utility and industry customers to improve their performance while lowering environmental impact. The ABB Group of companies operates in around 100 countries and employs about 150,000 people.

About ABB Robotics
ABB Robotics is a leading supplier of industrial robots - also providing robot software, peripheral equipment, modular manufacturing cells and service for tasks such as welding, handling, assembly, painting and finishing, picking, packing, palletizing and machine tending. Key markets include automotive, plastics, metal fabrication, foundry, electronics, machine tools, pharmaceutical and food and beverage industries. A strong solutions focus helps manufacturers improve productivity, product quality and worker safety. ABB has installed more than 250,000 robots worldwide.