ABB Sets New Benchmark for Automating Cleanroom Applications
New cleanroom version of the fast and compact IRB 1100 offers improved flexibility and performance with high protection for sensitive industries
ABB is extending its robot offering for clean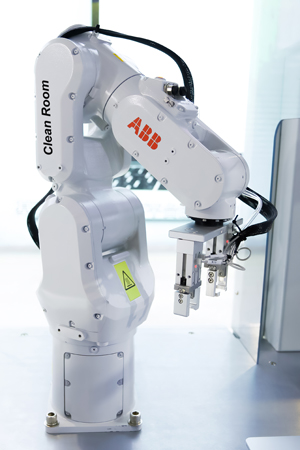 oom manufacturing environments that need high levels of flexibility and performance. Certified to ISO 14644-1, the new cleanroom IRB 1100 combines fast performance in a compact design for industries including healthcare, pharmaceuticals, electronics, semiconductors and solar panel manufacturing.
Key features include hygienic paint and a sealed body to prevent leakage of contaminants such as grease, oil and particles, together with a mechanical design that minimizes gaps between the robot's joints to discourage the growth of bacteria.
Two variants of the robot are available, one with a 4 kg payload and 475 mm reach, and one with a 4 kg payload and 580 mm reach.
The new cleanroom version builds on the success of the existing IRB 1100, ABB's most compact and lightweight 6-axis robot. The IRB 1100 offers up to 35 per cent faster cycle times than the IRB 120, to maximize productivity, and best-in-class repeatable accuracy. Powered by ABB's OmniCore™ controller, the IRB 1100 is equipped with advanced motion control capabilities, making it ideal for supporting rapid assembly, pick and place and material handling applications.
With a 10 per cent smaller footprint and 20 per cent lighter*, the IRB 1100 can be installed in areas with restricted space, including existing production lines, for greater production flexibility.
The new IRB 1100 will extend ABB's offering for cleanroom applications, which also includes the IRB 120. The IRB 1100 is certified to the higher ISO 4 cleanroom standard, compared to ISO 5 for the IRB 120, opening potential new applications demanding a higher level of protection.
"While many manufacturers want to take advantage of the rapid, accurate assembly process that robotics can offer, many advanced technologies are sensitive to contaminants and require strict cleanroom conditions ," says Antti Matinlauri, Head of Product Management for ABB Robotics. "The cleanroom version of our IRB 1100 is unique, offering a 4kg payload and reach below 500mm, while offering best-in-class repeatable accuracy. The IRB 1100 sets a new benchmark and will be able to support cleanroom teams throughout industry, enabling them to make the most of automation in these demanding environments, including faster cycle times and improved productivity, even in confined spaces."
For more information about the cleanroom IRB1100, click here.
*compared with the IRB 120
ABB (ABB: NYSE)is a leading global technology company that energizes the transformation of society and industry to achieve a more productive, sustainable future. By connecting software to its electrification, robotics, automation and motion portfolio, ABB pushes the boundaries of technology to drive performance to new levels. With a history of excellence stretching back more than 130 years, ABB's success is driven by about 110,000 talented employees in over 100 countries.
ABB Robotics & Discrete Automation is a pioneer in robotics, machine automation and digital services, providing innovative solutions for a diverse range of industries, from automotive to electronics to logistics. As one of the world's leading robotics and machine automation suppliers, we have shipped over 400,000 robot solutions. We help our customers of all sizes to increase productivity, flexibility and simplicity and to improve output quality. We support their transition towards the connected and collaborative factory of the future. ABB Robotics & Discrete Automation employs more than 10,000 people at over 100 locations in more than 53 countries.