ABB's Rick Tallian to give keynote presentation at "New Applications for Industrial Robotics" Virtual Conference
Presentation to focus on recent innovations in high-speed robotic pick and place systems and considerations for successful system implementation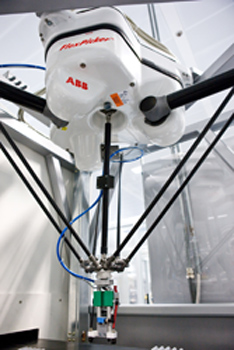 Rick Tallian, business development manager of ABB Robotics, North America, will give the keynote presentation for the Robotic Trends New Applications for Industrial Robotics virtual conference and exposition at 10:00 a.m. EDT on October 27, 2010. The presentation is entitled "Considerations for implementing effective high-speed robotic pick and place systems", and will emphasize recent innovations that have made such systems highly viable for a wide variety of small to medium size industrial businesses. Tallian will also investigate the key steps required to implement a successful robotic picking system, such as identifying the right application, drafting the system design, integrating the system with existing or new equipment, and supporting the system while in operation. Tallian has more than 20 years experience in the development of robotic material handling and packaging systems for a wide variety of industry segments, specializing in robotic assembly, picking, packing and palletizing applications.
The virtual conference and exposition is hosted by Robotics Trends and industry leading publications Modern Materials Handling (MMH), Logistics Management (LM) and Supply Chain Management Review as part of Robotics Trends 2010 Robotics Virtual Summit Series. The New Applications for Industrial Robotics event will focus on best-in-class industrial robotics solutions for materials handling and robotic manufacturing, and will take place October 27, 2010. Event details and registration can be found at www.robovirtualevents.com.
"Recent innovations in high speed robotic picking have delivered a new level of programming simplicity and operational flexibility that didn't exist several years ago," said Tallian. "These systems are now highly viable for numerous applications and business of all sizes."
ABB Robotics will also have a virtual trade exhibit with over 20 products including a full range of robots, programming software and controller systems. The booth will be open from 9:00 a.m. to 5:30 p.m. EDT, and ABB robotic experts will be on hand to answer any questions from attendees.
The conference and exposition will be extremely beneficial for:
Members of the materials handling operational chain, including corporate management, plant and operations management, distribution/warehouse/logistics management, engineers and operations teams, and business development managers seeking information about advanced robotics technology that has been proven to increase materials handling productivity, as well as support new types of materials handling applications.
Providers of materials handling automation solutions and system integrators seeking to understand how advances in robotic technology can enhance existing materials handling solutions and enable wholly new classes of applications.

Small-to-medium manufacturers seeking flexible automation solutions, designed specifically for them, which can easily be modified to meet shifting consumer demand.

About Robotics Summit Virtual Conference Series
Robotics Trends Virtual Conference and Exposition provides attendees with access to industry leaders, content-rich sessions, and the opportunity to engage with best-in-class robotic and intelligent systems technology providers from the comfort of their homes or offices. Free to attend, the Virtual Summit will remain live—on demand for 90 days after the event—extending the marketing exposure for sponsors and exhibiting. The Series Sponsors of the 2010 Robotics Trends Virtual Summits are Adept Technology and National Instruments. Robotics Trends is published by EH Publishing, Inc.

About ABB
ABB is a leader in power and automation technologies that enable utility and industry customers to improve their performance while lowering environmental impact. The ABB Group of companies operates in around 100 countries and employs about 117,000 people.
About ABB Robotics
ABB Robotics is a leading supplier of industrial robots - also providing robot software, peripheral equipment, modular manufacturing cells and service for tasks such as welding, handling, assembly, painting and finishing, picking, packing, palletizing and machine tending. Key markets include automotive, plastics, metal fabrication, foundry, electronics, pharmaceutical and food and beverage industries. A strong customer focus helps manufacturers improve productivity, product quality and worker safety. ABB has installed more than 175,000 robots worldwide.