ABB Robots Take Center Stage at the Ford Booth at the 2010 North American International Auto Show in Detroit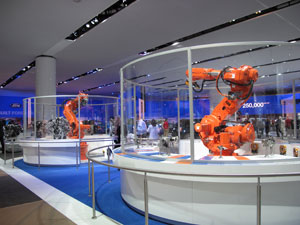 AUBURN HILLS, Mich. – ABB Robotics has been supplying robots to the Ford Motor Company since the late 1970s and, until very recently, the setting has been confined to the 30 or so Ford Powertrain factories around the globe that prominently utilize ABB Robots in the manufacturing and assembly of Ford Powertrain components. With the January 16th opening of the 2010 North American International Auto Show at the Cobo Center in Detroit, Michigan, the relationship between the two industry stalwarts will be raised to a new level of visibility. Two ABB IRB 6640 industrial robots highlight the main demonstration area of the Ford booth, supporting the live presentation of the numerous components and attributes of Ford's powerful, yet fuel efficient EcoBoost engine, a centerpiece of Ford's 2010 marketing theme.

The two robots, affectionately named "Eco" and "Boost", are each housed in circular, plexiglass rimmed cells about 10 ft or so apart on either side of the engine spokesperson. As the presentation is made the robots pick up the engine samples and components and present them to the crowd in a radial path around each cell. "Eco" presents a series of engine components including turbo chargers, fuel pumps, an engine control module, and intake and exhaust manifolds, and "Boost" presents three different versions of the EcoBoost engine and the new 6F MID 6 speed transmission. The presenter controls each robot with a handheld remote, allowing the timely presentation of each part as it is being discussed. During the period between presentations the robots perform many intricate, synchronized routines that include an elaborate dance and the sequential picking and displaying of placards with their names and info extolling EcoBoost fuel economy statistics. Each cycle concludes with a gracious bow to the crowd!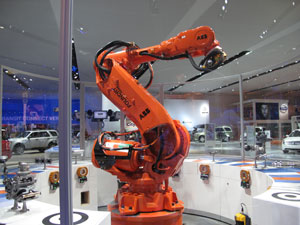 "ABB is truly honored to be a major part of the Ford display at such a prominent annual auto industry event," said Ernie Neumayr, the ABB Robotics' Ford Powertrain global account manager. "We humbly believe our cutting edge robotic technology has helped Ford offer the best powertrain platforms in the industry."

The EcoBoost demonstration is accompanied by two 52' plasma TVs placed near each robotic cell, alternately displaying crowd shots from a camera mounted on each robot and footage of ABB robots assembling the engines at the Cleveland, Ohio manufacturing facility where "Eco" and "Boost" and a host of other ABB robots perform their "day" jobs. The EcoBoost enginewill deliver up to a 20 percent improvement in fuel economy on up to 1.3 million Ford vehicles globally by 2013 with no sacrifice in power.

"The story is really about our leadership in fuel economy, and what a great way to tell that story by bringing the technology that builds the powertrain to life on the stand," said John Felice, Ford marketing general manager. "It helps substantiate our progress in fuel economy."

ABB utilizes several layers of safety technology to allow the robots to safely operate in the auto show environment, including its proprietary SafeMove technology which meets international safety standards as a replacement for hard stops. SafeMove provides safety rated supervision of robot motion allowing robots and operators to work more closely together, reducing the need for traditional safety equipment such as light curtains and protective barriers, and enabling more compact cells by restricting robot motion to precisely what is needed for a specific application.

The Ford booth has 50% more space than 2009 and features 24 interactive showcases. ABB is the primary global robotic supplier for Ford's powertrain, engine and axle final assembly operations

"I want to thank the ABB Auburn Hills team who worked tirelessly to set up this display in such a short period of time, including many hours during the holidays," said Neumayr. "The effort is emblematic of our tireless drive to innovate."

About ABB, Inc.
ABB (www.abb.com) is a leader in power and automation technologies that enable utility and industry customers to improve their performance while lowering environmental impact. The ABB Group of companies operates in approximately 100 countries and employs about 120,000 people.

About ABB Robotics
ABB Robotics (www.abb.com/robotics) is a leading supplier of industrial robots – also providing robot software, peripheral equipment, modular manufacturing cells and service for tasks such as welding, handling, assembly, painting and finishing, picking, packing, palletizing and machine tending. Key markets include automotive, plastics, metal fabrication, foundry, electronics, pharmaceutical and food and beverage industries. A strong customer focus helps manufacturers improve productivity, product quality and worker safety. ABB has installed more than 160,000 robots worldwide.