ABB robots are helping machine shops meet the challenges of high-mix, low volume production
ABB will show solutions to increase machine tool utilization and unlock the full potential of the flexible, connected and collaborative factory at IMTS.
With more efficient and advanced machine tools entering the market, the demand for more intelligent and flexible robotic automation for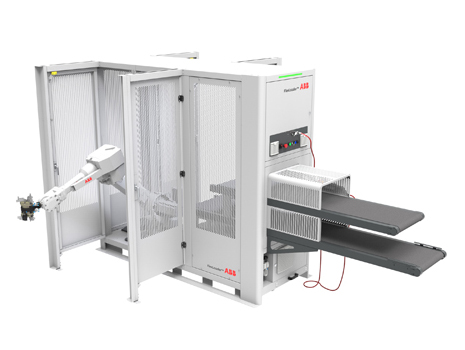 machining applications is ever increasing. Coupled with the ever progressing shift from mass production to mass customization, the need to efficiently serve individual customer preferences is a primary concern of machine shops and manufacturers in many industries.
At IMTS 2018, September 10th –16th at McCormick Place in Chicago (North Building, Level 3, Booth #236520), ABB will showcase a broad range of robotic technologies that provide the flexibility to efficiently meet the challenges of what has become the 'new normal' in manufacturing - high-mix, low-volume production in shorter cycles.
FlexLoaders™, ABB's next generation of compact, standardized machine tool tending cells, include a 6-axis robot ideally suited to the reach and payload requirements of the specific application. User-friendly vision guidance provides the flexibility to automate the machine tending of parts that range from small to very large, increasing machine tool utilization by as much as 60 percent while reducing operating costs. FlexLoaders are Ideal for both low and high volume production, tending vertical lathes, horizontal and vertical machining centers, 5-axis machines and grinders.
IMTS is also the North American unveiling of ABB's new intelligent design approach to its robotic portfolio. First introduced in June at Automatica in Munich, the new standard allows ABB robots to be easily tailored to a wider range of needs, providing customers with more flexibility for each factory's unique automation challenges and diverse applications.
ABB's first offerings under this groundbreaking approach include a new single-arm YuMi® robot and OmniCore™, an entirely new robot controller family. Both offer a high degree of flexibility to add collaborative applications to existing lines with confined spaces – from compact footprints and multiple mounting possibilities to full integration as part of the digital factory. ABB Ability™ and Connected Services are both built into the new controller, as well as ABB's SafeMove2 safety software solution, which can convert any connected industrial robot into a collaborative one.
ABB continues to build on its leadership in digital with a new virtual meeting tool for its RobotStudio® virtual commissioning and simulation software that allows teams around the world to collaborate and efficiently design automation systems with a 3D perspective. ABB will also preview a new Condition Monitoring and Diagnostics (CMD) application for its ABB Ability™ Connected Services. The CMD uses a machine learning-based advanced algorithm to detect behavioral anomalies in large robot populations and provide predictive maintenance and optimization guidance.
The ABB booth in the North Building of McCormick Place is open from 10:00 am to 6:00 pm each day of the show.
Further information for editors:
ABB (ABB: NYSE) is a pioneering technology leader in electrification products, robotics and motion, industrial automation and power grids, serving customers in utilities, industry and transport & infrastructure globally. Continuing a history of innovation spanning more than 130 years, ABB today is writing the future of industrial digitalization with two clear value propositions: bringing electricity from any power plant to any plug and automating industries from natural resources to finished products. As title partner of Formula E, the fully electric international FIA motorsport class, ABB is pushing the boundaries of e-mobility to contribute to a sustainable future. ABB operates in more than 100 countries with about 135,000 employees. www.abb.com
ABB Robotics is a pioneer in industrial and collaborative robots and advanced digital services. As one of the world's leading robotics suppliers, we are active in 53 countries and over 100 locations and have shipped over 400,000 robot solutions in a diverse range of industries and applications. We help our customers to improve flexibility, efficiency, safety and reliability, while moving towards the connected and collaborative factory of the future. www.abb.com/robotics