ABB Robotics to hold a Silicon Valley Open House at its new San Jose, California facility, October 5th
Event to feature robotic demonstrations, technical breakout sessions and innovation briefings from area vendors and startup companies
SAN JOSE, Calif.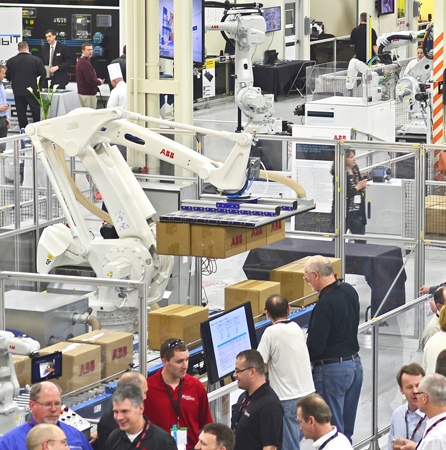 – ABB Robotics will host a Silicon Valley Open House October 5th, 2016, from 8:30 am to 7:00 pm at their newly opened San Jose, California facility. The event will feature robotic demonstrations, technical breakout sessions and innovation briefings from area vendors and startup companies. Attendees will have an opportunity to network directly with ABB technical experts and product managers across the full range of robotic applications. Many prominent ABB robotic system component vendors will also have small exhibits and be available for discussion.
ABB opened the facility, located at 3055 Orchard Drive, earlier this year to provide more proximate robotic automation application support and product training classes to customers in Silicon Valley and the surrounding areas.
"ABB Robotics is committed to the Silicon Valley, and we are excited to invite our neighbors into our new facility," said Gustavo Sepulveda, ABB's USA robotics general manager. "Our growing presence in the area will help our current and future customers improve their manufacturing processes by offering world class robotic automation technology and expertise."
Highlights of the robotic demos include:
YuMi: The world's first truly collaborative dual-arm industrial specifically designed to meet the flexible and agile production needs of the consumer electronics industry, and other small parts assembly applications. It can operate in very close collaboration with humans due to its inherently safe design, and has a lightweight, yet rigid magnesium skeleton covered with a floating plastic casing, wrapped in soft padding to absorb impacts.
SCARA with FlexFeeder: The IRB 910SC is ABB's first ever line of SCARA (Selective Compliance Articulated Robot Arm) robots, with a maximum payload of 6 kg, available in reaches of 450 mm, 550 mm and 650 mm. Designed emphasizing speed and accuracy, the SCARA's are ideal for a variety of general-purpose applications requiring fast, repeatable and articulate point-to-point movements. The FlexFeeder is an ultra-compact flexible parts feeding system designed for small parts assembly applications such as consumer electronics, computers and communication devices.
IRB 1200 PickOne 3D Vision Bin Picking: An IRB 1200 robot paired with the PickOne Perception system, an innovative, highly configurable vision system designed for high-speed singulation tasks often found in Third Party Logistics (3PLs) and Mail Order Fulfillment operations. The PickOne System provides pick targets from piles, trays and totes filled with like or varied product of similar and different sizes.
Compact Machine Tending Function Package: A compact, pre-engineered robotic machine tending cell with a vision guided ABB robot, designed for small parts and compatible with a wide range of machine tools.
Robotic Welding Cell: a fully equipped, ready-to-weld cell featuring an IRB 1200 robot and Lincoln weld gear.
The technical breakout session topics include robotic Welding and Cutting; Assembly and Test; Packaging; Machine Tending and Material Handling; Connected Services; and RobotStudio® programming.
A group of robotic Value Providers with experience providing automation solutions with ABB robots will also be exhibiting at the Open House.
Agenda:
8:30 am - 9:30 am: Registration and Breakfast
10:00 am - Noon: Demo Floor and Technical Seminars
Noon -1:30 pm: Lunch
1:30 pm – 2:00 pm Introduction to the ABB Silicon Valley Facility
2:00 pm - 4:00 pm: Demo Floor and Technical Seminars
4:00 pm – 5:00 pm: Startup Innovation Briefings
5:00 pm – 7:00 pm: Networking Reception
For more information please visit the Event Website or call 408-797-2695. There is no charge for the event.
About ABB
ABB is a leader in power and automation technologies that enable utility and industry customers to improve their performance while lowering environmental impact. The ABB Group of companies operates in around 100 countries and employs about 135,000 people.

About ABB Robotics
ABB Robotics is a leading supplier of industrial robots - also providing robot software, peripheral equipment, modular manufacturing cells and service for tasks such as welding, handling, assembly, painting and finishing, picking, packing, palletizing and machine tending. Key markets include automotive, plastics, metal fabrication, foundry, electronics, machine tools, pharmaceutical and food and beverage industries. A strong solutions focus helps manufacturers improve productivity, product quality and worker safety. ABB has installed more than 250,000 robots worldwide.
All ABB Robotics' products are fully supported by the ABB Robotics' global sales and service organization in 53 countries and over 100 locations.