ABB Robotics to Hold 2016 Customer Day Exhibition June 8 at the Atlanta Marriott Marquis
First ever Customer Day in the southeast to feature over 16 live robotic demonstrations and 20 technical training seminars.
AUBURN HILLS, Mich. – ABB Robotics will host its annual Customer Day exhibition, June 8, 2016 at the Atlanta Marriott Marquis. The first ever Customer Day held in the southeast will feature over 16 live robotic and related equipment demonstrations, and 20 technical training seminars. The event is targeted to benefit both those considering an initial foray into robotic automation, as well as those looking to upgrade or expand their existing robotic lines.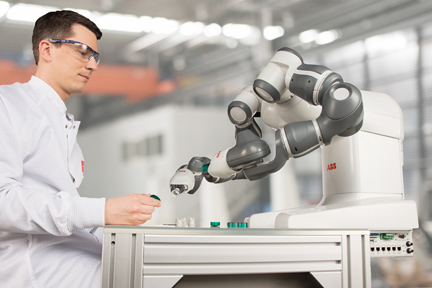 Applications to be covered include collaborative robotics, packaging, material handling, assembly, machine tending, welding and cutting, paint and customer service.
In addition to the experiencing the demonstrations and technical seminars, attendees will have an opportunity to network directly with ABB Value Providers and colleagues from the United States and abroad—including interaction with top level technical experts and product managers.
The demos on the exhibition floor will include robotic systems featuring YuMi®, the world's first truly collaborative robot, ABB's new SCARA line of robots and the new IRB 1600ID welding robot. One highlight that can't be missed will be a ground-breaking demo of a whole production line, comprised of YuMi, SCARA, IRB 1200 and IRB 120 robots collaborating with a human to deliver the ultimate in precision, reliability and quality.
For more information and to register please call 248-391-9000.
Agenda:
7:30 am – 9:00 am: Registration opens and breakfast is served
9:00 am –12:00 pm: Demo floor open and Technical Seminars conducted
12:00 pm –2:00 pm: Lunch and Keynote speech
2:00 pm – 5:00 pm: Demo floor open and Technical Seminars conducted
6:00 pm – 9:00 pm: Networking reception on the demo floor
The Atlanta Marriott Marquis is located at 265 Peachtree Center Ave, Atlanta, GA 30303. There is no charge for the event.
About ABB
ABB is a leader in power and automation technologies that enable utility and industry customers to improve their performance while lowering environmental impact. The ABB Group of companies operates in around 100 countries and employs about 150,000 people.

About ABB Robotics
ABB Robotics is a leading supplier of industrial robots - also providing robot software, peripheral equipment, modular manufacturing cells and service for tasks such as welding, handling, assembly, painting and finishing, picking, packing, palletizing and machine tending. Key markets include automotive, plastics, metal fabrication, foundry, electronics, machine tools, pharmaceutical and food and beverage industries. A strong solutions focus helps manufacturers improve productivity, product quality and worker safety. ABB has installed more than 250,000 robots worldwide.