ABB Robotics to highlight compact, high speed picking, packing and palletizing demos at Pack Expo 2014 in Chicago
ABB's packaging portfolio covers the full payload range, featuring industry-leading software for reduced programming and operational complexity
AUBURN HILLS, Mich.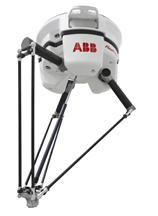 – ABB Robotics will highlight an array of high speed picking, packing and palletizing demos at Pack Expo 2014, November 2 - 5 at McCormick Place in Chicago (booth #N-5936). The demos are representative of ABB's complete portfolio of compact, high speed packaging robots and systems, covering the full payload range and featuring the most sophisticated software in the industry, reducing programming complexity and providing an intuitive human machine interface for production operation.
The ABB booth in the North Hall includes demos from ABB Robotics, ABB JOKAB SAFETY, the Drives unit from the ABB Discrete Automation and Motion (DM) division, and the Measurement Products unit from the ABB Process Automation division
High Speed Picking: the new Standard Double-Picker Cell function package featuring the 8 kg and 1 kg IRB 360 FlexPicker models. The 8 kg FlexPicker provides a robust solution for handling both heavier individual products and larger product groupings in multi-pick applications, with the ability to handle up to 500 products per minute. The standard cell package is available with an ABB controls package for easy commissioning and programming. Both FlexPicker models utilize ABB's PickMaster 3 software which integrates conveyor tracking with sensor or vision system inputs into an easy-to-use programming platform.
The expanded FlexPicker portfolio now includes 1 kg, 3 kg and 8 kg payload variants at the standard 1130 mm reach, and 1kg and 6kg variants at the extended 1600 mm reach. This provides end users the broadest portfolio of high speed picking robots available in the industry. The 1 kg and 3 kg FlexPickers are available in an IP69K rated stainless model, and the 6 kg and 8 kg models are available with IP67 protection suitable for most hygienic applications. The FlexPicker is the most widely used delta robot in the industry, with over 6,500 installations worldwide.
High Speed Palletizing: the IRB 460, the fastest palletizer in its payload class, specifically designed to meet the high throughput requirements of end-of-line and bag palletizing applications. The robot features the ABB FlexGripper Clamp for secure handling of heavy or open top cases or products, and the Robot Studio Palletizing PowerPac software for easy set-up and programming. Capable of up to 2,190 cycles per hour, the 4-axis IRB 460 has a reach of 2.4 meters, occupies 20 percent less floor space and runs 15% faster than its nearest rivals. The cell also includes the ABB AC500 safety PLC with HMI for complete cell control and safety, and ABB JOKAB SAFETY fencing.
IRB 1200 Robots: an entirely new small robot family that provides flexibility, ease of use, short cycle times, and a unique combination of a compact footprint and a large work envelope. It is designed for a wide range of material handling and packaging applications. The IRB 1200 is innovatively designed with no offset in axis two, delivering a longer stroke that allows the robot to be placed very close to the product flow and still be functional. Combined with other signature features, the longer stroke enables up to 15% smaller work cells and 10% shorter cycle times than comparable robots. The demo will feature two IRB 1200 robots with ABB's new Integrated Vision inspection system that integrates seamlessly into RobotStudio, ABB's signature simulation and offline programming software.
ABB Customer Service Kiosk: a presentation of the organization and network that allows ABB customers to maintain their robotic equipment in peak operating condition. ABB Customer Service offerings include free 24/7 technical phone support, quick delivery of spare parts, and comprehensive field services, featuring preventative maintenance programs, programming, system service and onsite support. ABB CS also offers complete programming and operational training, and the repair, reconditioning and re-commissioning of pre-owned robots.
Discrete Automation and Motion (DM): additional automated machine and motion control products from ABB's Discrete Automation and Motion (DM) division are on display, highlighted by the newly released Automation Builder software suite. Automation Builder is used to program the eCo micro PLC, the higher end extreme condition capable AC500 PLC with integrated machine safety and motion control capability using the PLCOpen motion control standard, human-machine interfaces, and robotics integration all in one integrated software suite. This allows ABB to provide a complete machine architecture, including safety products, motors, VFD's, motion control, PLC's, HMI's, and robotics.
ABB JOKAB SAFETY: a full array of machine safety products and systems, including the Pluto Safety PLC, Quick-Guard® and Quick-Guard E Safety Fencing, Smile Tina E-stops, Safety Mats, Safeball Two-Hand Controls, and a newly expanded line of Eden Safety Sensors. There will be a demo showing the many features of the Focus II Light Curtains including the muting options that will appeal to food processing and packaging attendees as well as our complete line of stainless steel safety switches. There will be information available on our Machine Safety Services showing how we can partner with you to complete your plant and machine safety assessments to insure that your equipment meets safety standards, while protecting personnel.
Measurement Products: the ABB Measurement Products unit from the Process Automation division will be displaying several products, including the MB3600-CH40, a FT-NIR analyzer that allows rapid determination of plastic bottle crystallinity in a fast and non-destructive manner; the LM80, a non-contact, level measuring laser sensor designed for granular solid materials and opaque liquids; and the VM3D, a volumetric laser scanner used for stockpile inventory management.
Additional ABB robotic demos can be found at the booths of ABB system integrators and associates throughout Pack Expo. A complete list is available at the ABB booth.
About ABB
ABB (www.abb.com) is a leader in power and automation technologies that enable utility and industry customers to improve their performance while lowering environmental impact. The ABB Group of companies operates in around 100 countries and employs about 150,000 people.

About ABB Robotics
ABB Robotics (www.abb.com/robotics) is a leading supplier of industrial robots - also providing robot software, peripheral equipment, modular manufacturing cells and service for tasks such as welding, handling, assembly, painting and finishing, picking, packing, palletizing and machine tending. Key markets include automotive, plastics, metal fabrication, foundry, electronics, machine tools, pharmaceutical and food and beverage industries. A strong solutions focus helps manufacturers improve productivity, product quality and worker safety. ABB has installed more than 250,000 robots worldwide.