ABB Robotics to feature three demos at Pack Expo 2011, highlighting high-speed picking, packing and palletizing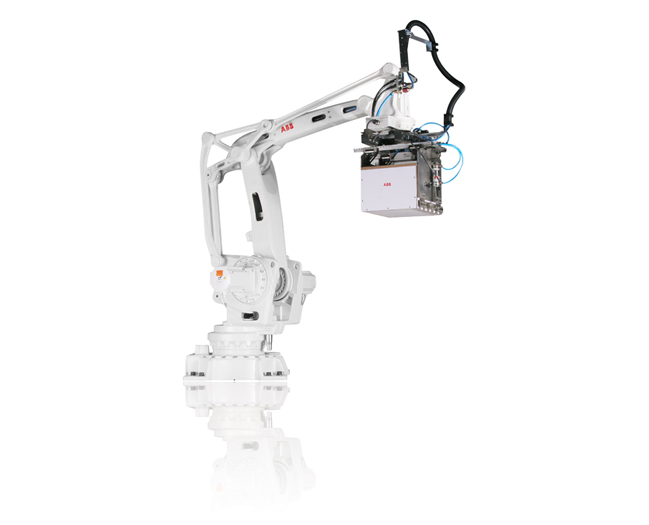 ABB Robotics, a worldwide supplier of industrial robots, will feature three robotic demonstrations at Pack Expo 2011, September 26-28, at the Las Vegas Convention Center (Booth # C-4221). The demos include the new, compact IRB 460 palletizing robot, two high-speed IRB 360 FlexPicker™ Delta robots and the versatile IRB 4600, 6-axis articulated robot. A broad range of additional products to enhance the performance of packaging systems will also be on display from ABB's Discrete Automation and Motion (DM) and Low Voltage Products (LVP) divisions. From DM, Baldor Electric, a new member of the ABB Group, will feature an assortment of drives and motors, and ABB Low Voltage Drives will display an array of its latest automation solutions with advanced Ethernet technologies for communications between drives and motors. From LVP, Jokab Safety will display custom electronic machine safety components and safety fencing.
More specifics on the ABB display highlights at Pack Expo:
A robotic palletizing demo featuring the compact IRB 460 picking boxes from an infeed line and placing them in different pallet patterns on two separate pallets. The IRB 460 (4-axis, 110kg payload, 2.4m reach) robot was specifically designed to meet the high throughput requirements in bag palletizing and end-of-line palletizing applications. The system also features the new ABB FlexGripper Clamp end-of-arm tool for secure handling of heavy cases. The FlexGripper Clamp is one member of the ABB palletizing tool family, which also includes a full row FlexGripper Vacuum for high throughput case palletizing, and a FlexGripper Claw for bag palletizing applications. The complete system is programmed using Robot Studio Palletizing PowerPac software, which combines previously developed ABB software technologies – PickMaster 5 and RobotStudio – into a single bundle. The RobotStudio Palletizing PowerPac provides complete palletizing cell simulation and the program developed for simulation is directly transferable to the robot controller. The RobotStudio PowerPac is part of ABB's initiative to provide easy-to-use programming tools for common robot applications The IRB 460 robot is part of the ABB complete palletizing robot family that also includes the IRB 660 and IRB 760 robots.
A system demonstrating high-speed pick-and-place capabilities utilizing the IRB 360 FlexPicker and PickMaster 3 software. The FlexPicker utilizes vision in conjunction with the software to pick randomly placed objects, orient them and place them on a conveyor where they are shuttled to the ABB IRB 4600 robot for packaging. The ABB FlexPicker, the industry's first "second-generation" delta robot, is designed to enable easy cleaning and reduced maintenance, and is the only Delta robot on the market available in washdown, stainless washdown and cleanroom versions with ratings as high as IP69K. The IRB 4600 features an ultra-wide working range, minimal cycle times and state-of-the-art path performance. It can be floor- or shelf-mounted, tilted and even inverted. At a weight of just above 880 lbs (400 kg) it is the lightest general-purpose robot ever offered on the market.
A second demo with the IRB 360 FlexPicker and PickMaster 3 will feature speed and precision by quickly picking up randomly oriented products from one conveyor and placing them in the ABB logo formation on another conveyor. One full cycle will take less than 0.5 seconds.
PLCs, motion controllers, servo drives, servo motors, and linear motors from the ABB Low Voltage Drives unit, along with Baldor drives and motors, will demonstrate their ability to improve the performance and efficiency of a wide range of packaging machinery and equipment systems. These automation products feature leading Ethernet technologies including Ethernet/IP, EtherCAT, Ethernet POWERLINK, and Modbus TCP.
A wide range of electronic machine safety systems from ABB Group member Jokab Safety will showcase an advanced line of compatible and easily connected safety devices. Specific products include Pluto Safety PLCs, Vital Safety Controllers, Safety Relays, Safety Light Curtains & Grids, 3- Position Enabling Devices, Smile E-Stops, Eden Non- Magnetic, Non-Mechanical Safety Sensors, Safeball Two-Hand Controls, and Aluminum Extrusion Quick-Guard Safety Fencing Systems. With over two decades of hands-on experience, Jokab offers complete machine safety solutions that protect people and meet all relevant standards and regulations.
"Displaying fully operational robotic systems at Pack Expo allows our customers to better visualize the capabilities of ABB's picking, packing and palletizing robot products for their specific applications," said Joe Campbell, vice president of the ABB Robot Products Group in the US. "To maintain our leadership position in packaging robotics, we continue to work closely with our key customers and integrators to bring products to market that maximize productivity and throughput in the smallest footprint possible."
About ABB
ABB is a leader in power and automation technologies that enable utility and industry customers to improve their performance while lowering environmental impact. The ABB Group of companies operates in around 100 countries and employs about 130,000 people.
About ABB Robotics
ABB Robotics is a leading supplier of industrial robots - also providing robot software, peripheral equipment, modular manufacturing cells and service for tasks such as welding, handling, assembly, painting and finishing, picking, packing, palletizing and machine tending. Key markets include automotive, plastics, metal fabrication, foundry, electronics, machine tools, pharmaceutical and food and beverage industries. A strong solutions focus helps manufacturers improve productivity, product quality and worker safety. ABB has installed more than 190,000 robots worldwide.