ABB Robotics to Begin Hosting Certified Technical Training Courses at Fox Valley Technical College in Appleton, WI
Relationship began with the 2010 installation of ABB robots in FVTC robotic training facility; continues ABB plan to establish regional training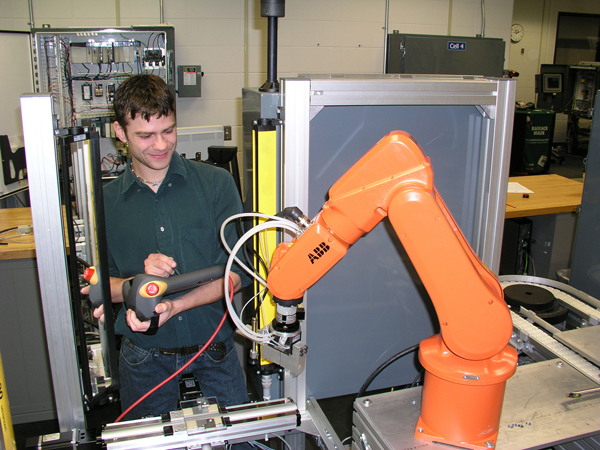 AUBURN HILLS, Mich. – ABB Robotics, a leading supplier of industrial robots, will begin hosting certified technical training classes March 21, 2011 at Fox Valley Technical College (FVTC) in Appleton, Wisconsin. FVTC will become ABB's third regional US training facility and continues its strategic plan to establish certified training campuses throughout North America where robotic technicians have more proximate access to comprehensive training and certification. Classes are available to current ABB robot end users and all others interested in becoming more adept at programming and operating industrial robots. Class sizes are limited to offer a two to one ratio of students to robots.

Registration is currently open for the first class, a basic robotic programming course set for March 21 to 25 at the recently enhanced robotic training facility on the FVTC campus. For more information or to register please call 248-391-8693 or visit www.abb.com/abbuniversity.

In April 2010 ABB and FVTC announced an alliance that included the installation of seven (7) ABB robots and related software and controllers into FVTC's industrial training facility. The relationship significantly upgraded the college's vocational and technical robotics training, and, beginning with the March 21 class, provides ABB with an authorized training facility in the north central Midwest. Robotic classes for enrolled FVTC students at the newly enhanced facility began in the fall of 2010.

"We are very pleased to add Fox Valley Technical College as one of our regional training affiliates," said Joe Campbell, vice president of the ABB Robot Products Group in the US. "They understand the major role robotic automation plays in advanced manufacturing, and the value in educating both students and incumbent workers in building a highly-skilled and competitive workforce."

FVTC offers a two-year associate degree in Automated Manufacturing & Robotics, and a series of robotic training courses in its Workforce Development program. ABB is providing comprehensive training for FVTC instructors at their flagship robotic training facility in Auburn Hills, Michigan.

"As a technical college it is extremely important for our instructors to have ongoing access to the best, most up-to-date training, and to teach our students on the most advanced equipment," said Jerry Eyler, executive dean of FVTC. "With ABB we have all of that, and we look forward to cultivating our relationship so that it continues to be highly beneficial to both of us."

The complete 2011 ABB schedule of open enrollment classes at FVTC is:

§ Mar 21-25 US420 IRC5 Basic Programming

§ Apr 11-15 US420 IRC5 Basic Programming

§ May 23-24 US419 IRC5 Operator

§ May 25-27 US398 Robot Studio 5 (for IRC5) (2.5 days)

§ Jun 6-10 US425 IRC5 Advanced Programming

§ Jun 20-24 US420 IRC5 Basic Programming

§ Aug 8-9 US336 IRC5 Electrical Service (Compact Controller)

§ Aug 10-12 US423 IRB 140 Mechanical Maintenance

§ Sep 19-20 US419 IRC5 Operator

§ Sep 21-23 US398 Robot Studio 5 (for IRC5) (2.5 days)

§ Oct 10-14 US420 IRC5 Basic Programming

In addition to its main North American training facility in Auburn Hills, MI, ABB Robotics has regional, certified training facilities at Jefferson State Community College in Birmingham, AL; Vincennes University in Vincennes, IN; and now FVTC in Appleton, WI.

About ABB
ABB (www.abb.com) is a leader in power and automation technologies that enable utility and industry customers to improve their performance while lowering environmental impact. The ABB Group of companies operates in around 100 countries and employs about 124,000 people.

About ABB Robotics
ABB Robotics (www.abb.com/robotics) is a leading supplier of industrial robots - also providing robot software, peripheral equipment, modular manufacturing cells and service for tasks such as welding, handling, assembly, painting and finishing, picking, packing, palletizing and machine tending. Key markets include automotive, plastics, metal fabrication, foundry, electronics, machine tools, pharmaceutical and food and beverage industries. A strong solutions focus helps manufacturers improve productivity, product quality and worker safety. ABB has installed more than 190,000 robots worldwide.

About Fox Valley Technical College

Fox Valley Technical College (www.fvtc.edu) offers more than 200 associate degree, technical diploma and certificate programs, and instruction related to 20 apprenticeship trades, in addition to providing services to business and industry. Annually, the college serves about 45,000 people throughout its five-county district.