ABB Robotics Technology Days Draws Nearly 1,000 to Auburn Hills
System Integrators and end-users experience a wide array of demos and seminars from ABB and a roster of affiliated technology providers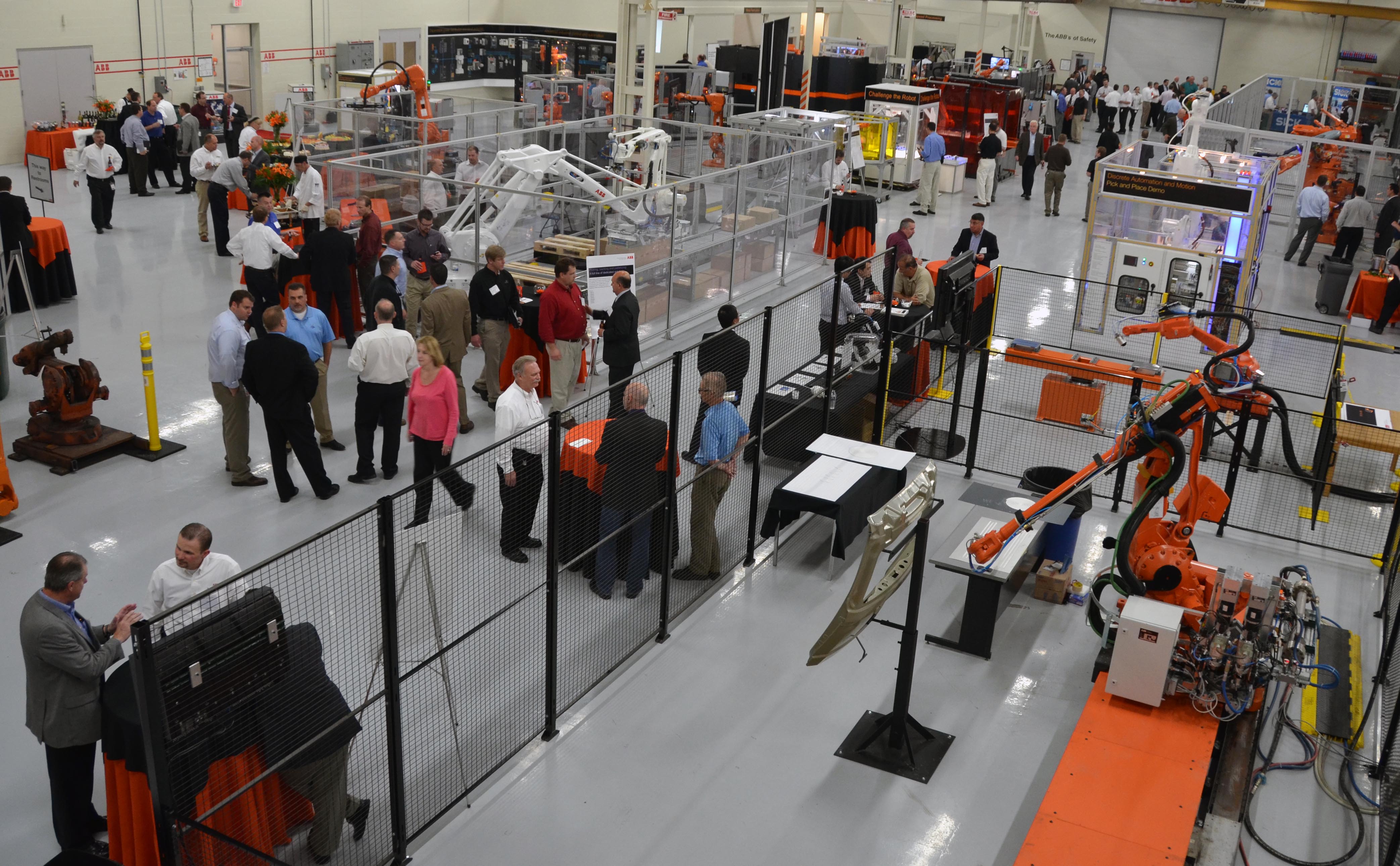 AUBURN HILLS, Mich. – ABB Robotics hosted nearly 1,000 people during its annual Technology Days event October 11th, 12th and 13th, 2011, at its North American headquarters and training center in Auburn Hills, Michigan. The attendees included current and potential customers, system integrators, affiliated technology equipment providers, members of the media, and for the Thursday afternoon Open House, a wide-eyed crowd of students and robot enthusiasts of all ages. The 55,000 sq ft exhibit floor included over 40 live robot related demonstrations from ABB and over a dozen peripheral equipment providers. Featured were the latest robotic and automation technologies for a wide range of applications including arc and laser welding; picking packing and palletizing; and systems for painting, tool changing, RTV dispensing, machine tending and vision sensing.
Technology Days also featured the expanding marketing and promotional collaboration among multiple business units and divisions of ABB . Fellow members of the Discrete Automation and Motion (DM) division team displayed drives, motors, PLC's and other control products, including motors from Baldor, a new member of the ABB Group. The Low Voltage Products (LP) division was well represented with an array of safety solutions from Jokab Safety, including enclosures, sensors, and controllers on many robotic demos. The sales teams quickly identified common customers and opportunities, providing a comprehensive and compelling ABB message that was very well received by the attendees.
Tuesday was dedicated to ABB system integrator partners who spent a full day learning about new robotic products and technologies, and the support services available to them through ABB. On Wednesday and Thursday morning, with the attendance expanded to include current and future customers, over 15 seminars and tutorials on general and application specific advancements in industrial robotic technology were presented by a roster of ABB and technology provider experts. This provided a great opportunity for industry professionals to gain first hand intelligence, and network with their peers in the industrial robotic, motion, control and automation industries on the demo floor. The Thursday afternoon open house was attended by friends, family, youth organizations and students, many of whom were exposed to the precision, motion and grace of industrial robots for the first time.
"The energy and enthusiasm on the show floor confirms the continued market growth in manufacturing automation," said Joe Campbell, vice president of the ABB Robots & Applications Group. "Robots, motion controls, safety and related peripheral equipment will be the major building blocks for the next generation of manufacturing, and ABB is proud to be part of this resurgence."
Some of the specific highlights included:
An announcement about a new industry stocking program to expedite the delivery of the most popular ABB robot models and systems to North American customers;
An IRB 4600 robot with a 60" Samsung Smart TV attached to the arm. Created by Robotic Arts, the "RoboScreen" featured a character that launched and described four robotic demos;
A new PowerPac software to more easily program robotic palletizing systems, and a lineup of new ABB FlexGripper palletizing grippers;
ArcPack Lean 1410, a fully configured, quick start robotic welding package with an array of options to suit the needs of many small to medium welding operations, offered at a base package price under $35,000;
The Redi-FlexArc system, a pre-built FlexArc system ready for final configuration, shippable in two to four weeks from initial order date;
Motion and PLC solutions demos and seminars from ABB (Baldor) on how to build cost effective and results-based motion and logic solutions for single or multi-axis machine-integrated automation systems.