ABB Robotics Technology Day 2013 draws over 1,000 to Auburn Hills to learn about new and evolving technologies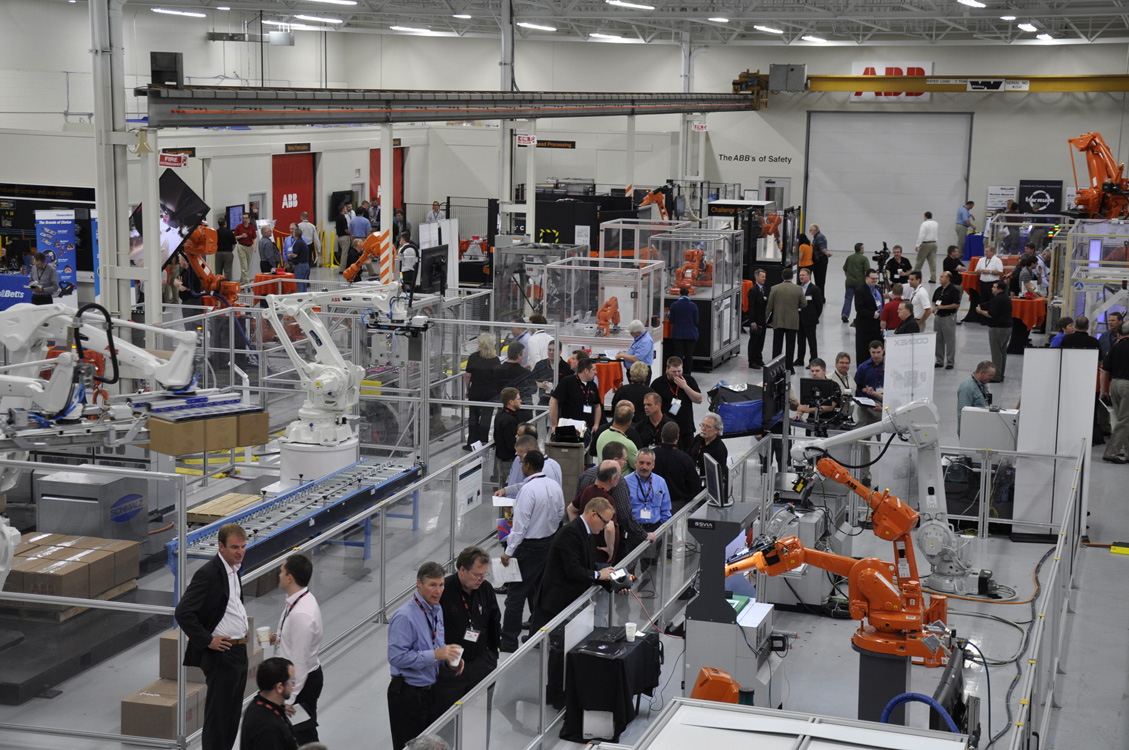 Value Providers and current and potential customers experience 40 live demos and 45 seminars from ABB and affiliated Technology Providers

AUBURN HILLS, Mich. – ABB Robotics hosted over 1,000 people during its annual Technology Day event May 15, 2013, at its North American headquarters and training center in Auburn Hills, Michigan. The attendees included current and potential customers, value providers, affiliated technology equipment providers, members of the media, and for the late afternoon Open House, a fascinated crowd of children, friends and robot enthusiasts of all ages. The 55,000 sq ft exhibit floor included over 40 live robot related demonstrations from ABB and over a dozen peripheral equipment providers. The program also included 45 small-group, topic-specific seminars on many of the same technologies featured on the demo floor.

ABB Robotics productexperts from all over the world were on hand to discuss emerging technologies in applications including arc and laser welding, picking, packing and palletizing, press automation, painting, advanced assembly applications, machine tending, and the full range of ABB's service and training programs.

"The last few years have been tremendous for the industrial robot community, and the range of new technologies and the enthusiasm of the Technology Days crowd bode very well for the future," said Michael Mahfet, the vice president and general manager of ABB Robotics, North America. "We had more robots on the floor and a more diverse group of industrial segment attendees than ever before."

A sampling of the robotic exhibits and demonstrations includes:
General Applications, including new technologies in robotic safety, machine tending, and simulated programming.
Integrated Vision: multiple systems displaying flexibility in the use of vision sensors in both 2D and 3D technology.
Welding and Cutting, featuring fully equipped cells for those looking to set-up an initial robotic welding operation, advanced laser welding and cutting technology, and a 10-axis robot system consisting of a smaller 6-axis robot attached to the arm of a larger 4-axis robot for long reach applications.
Packaging, highlighting a three robot palletizing cell with new software for far easier programming, three demos with the high speed FlexPicker including the new 8Kg model, and two demos with the IRB 120, ABB's smallest 6-axis robot.
Painting, including three separate demos ranging from basic to highly sophisticated, displaying systems for paint operations of all sizes, each providing thorough and consistent paint coverage while delivering significant paint savings.
Service and Training, featuring ABB's full training portfolio, robotic cells dedicated to training, live remote service demonstrations, and the robot reconditioning program.
Advanced Assembly Applications, covering the complete capabilities of robotic automotive powertrain systems, with escorted tours of selected demonstrations.
The Lighter Side, a 70" SmartTV attached to the arm of a robot, creating a unique viewer experience by bringing virtually unlimited, 6-axis motion to the video media. RoboScreens® first gained prominence in 2010 when a group of large model RoboScreens travelled the globe as main stage props for the Bon Jovi Circle Tour.
About ABB
ABB is a leader in power and automation technologies that enable utility and industry customers to improve their performance while lowering environmental impact. The ABB Group of companies operates in around 100 countries and employs about 145,000 people.

About ABB Robotics
ABB Robotics is a leading supplier of industrial robots - also providing robot software, peripheral equipment, modular manufacturing cells and service for tasks such as welding, handling, assembly, painting and finishing, picking, packing, palletizing and machine tending. Key markets include automotive, plastics, metal fabrication, foundry, electronics, machine tools, pharmaceutical and food and beverage industries. A strong solutions focus helps manufacturers improve productivity, product quality and worker safety. ABB has installed more than 200,000 robots worldwide.