ABB Robotics Tech Days 2014 expanded to two days, will feature over 80 demos and seminars on latest innovations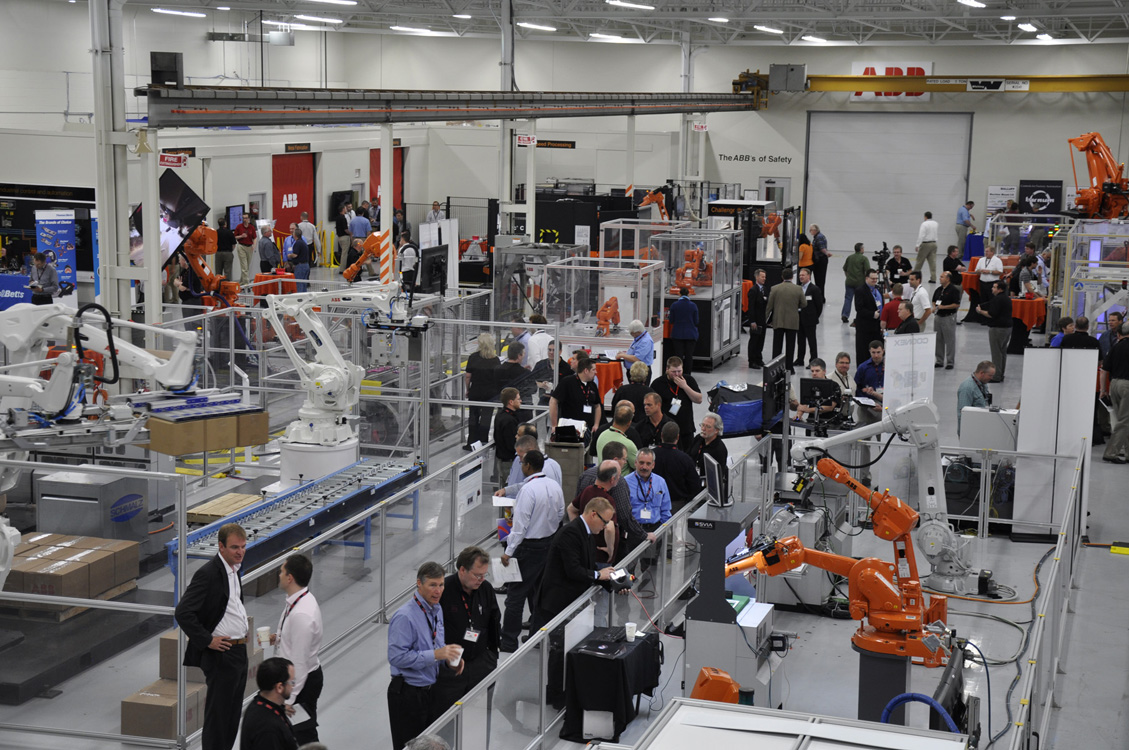 ABB also to celebrate 40 years in the industry highlighting major milestones since 1974

AUBURN HILLS, Mich. – ABB Robotics will host a its annual Technology Days event March 13th and 14th, 2014 at their North American headquarters and training center in Auburn Hills, Michigan. The event will feature over 80 product demonstrations and free technical seminars covering both general and application specific information designed to benefit both those considering an initial foray into robotic automation, and those looking to upgrade or expand their existing robotic lines. Applications to be covered include packaging, material handling, assembly, machine tending, welding and cutting, press automation, painting, automotive and transportation, and training and service. This year ABB will also celebrate 40 years in the robotics industry, highlighting major developmental milestones since 1974. To register please visit www.cvent.com/d/t4ql1l/4W.
Prominent features on the demo floor will include the new IRB 6700, the next generation of large robots, designed for spot welding, material handling and machine tending; several sophisticated machine tending cells; and the full IRB 360 FlexPicker line, the leading Delta robot in the industry recently expanded with several higher payload models. ABB's new Integrated Vision, Integrated Force Control and advanced RobotStudio programming systems will also be on display.
The ABB Dual Arm Concept Robot (DACR) will be making its first appearance in North America, providing a look at the current status of a robot prototype designed to meet the challenging demands of the consumer electronics industry and other smaller parts assembly applications.
Schedule highlights:
Thursday, March 13: The demos and seminars run from 8:00 am to 5:00 pm. This is a great opportunity for industry professionals to gain first hand intelligence and network with their peers in the industrial robotic, motion, control and automation industries. Continental breakfast and lunch will be served.

Friday, March 14: The demo floor will be open from 8:00 am to 5:00 pm, and the seminars run from 8:00 am until noon. At noon the Open House portion begins for schools, robotics teams, friends, family, and any other robot enthusiasts. Continental breakfast and lunch will be served.
The ABB facility in is located at 1250 Brown Road, Auburn Hills, MI 48326. Please call 248-391-9000 for additional assistance. View the Tech Days 2013 Fly-over Video .
About ABB
ABB is a leader in power and automation technologies that enable utility and industry customers to improve their performance while lowering environmental impact. The ABB Group of companies operates in around 100 countries and employs about 150,000 people.
About ABB Robotics
ABB Robotics is a leading supplier of industrial robots - also providing robot software, peripheral equipment, modular manufacturing cells and service for tasks such as welding, handling, assembly, painting and finishing, picking, packing, palletizing and machine tending. Key markets include automotive, plastics, metal fabrication, foundry, electronics, machine tools, pharmaceutical and food and beverage industries. A strong solutions focus helps manufacturers improve productivity, product quality and worker safety. ABB has installed more than 200,000 robots worldwide.