ABB Robotics Inspires Students to Pursue Careers in Manufacturing with Guided Tour of its Auburn Hills Facility
In celebration of Manufacturing Day 2016 students learned about the role of robotics in manufacturing, and how robots and robot systems are designed and built
AUBURN HILLS, Mich. – ABB hosted 13 Oakland County students at its Auburn Hills North American robotics headquarters and manufacturing facility Friday,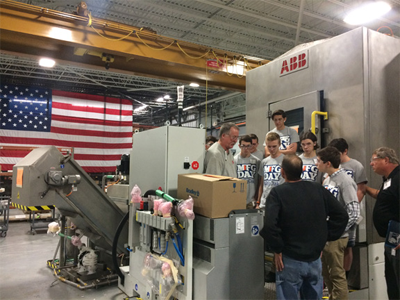 October 7th as part of Manufacturing Day 2016. The students learned about the role of robotics in a wide variety of industries, and observed firsthand how robots and robot systems are designed and built. Manufacturing Day has been celebrated nationally on the first Friday in October since 2011, and is intended to inspire students to pursue a career in manufacturing and develop a skilled trade.
"This event was a great success, as we had the opportunity to connect with members of our next generation of skilled manufacturing workers. The students really enjoyed seeing all the robots, including YuMi®, ABB's new dual arm collaborative robot. They were also surprised and excited to see that we manufacture robots and robot controllers in our Auburn Hills factory," said Christelle Keefer, director of training, ABB Robotics.
ABB is one of 40 Oakland County manufacturers who hosted tours, giving participating students the opportunity to see the operations of businesses in industries that closely match their interests. Over the course of the day students also learned how to get the training needed to qualify and excel in the many manufacturing job opportunities available in Oakland County. All students are enrolled in the Engineering & Emerging Technologies program.
About the ABB Robotics in Auburn Hills:
In May 2015 ABB announced that it is to start producing robots in the Auburn Hills, making it the first global industrial robotics company to fully commit and invest in a North American robotics manufacturing footprint. The new plant is ABB's third robotics production facility, alongside Shanghai, China, and Västerås, Sweden, and will manufacture ABB robots and related equipment for the North American market.
ABB Robotics employs approximately 500 people at the Auburn Hills facility, which consists of 95,000 sq. ft. of office space and 330,000 sq. ft. of manufacturing space
ABB is a full service business in North America, making robots, pre-engineered robotic cells, sub-systems, and full automation lines, all supported by an extensive, regionally customer service network.Key markets include automotive and transportation, food & beverage, metalworking, material handling, aerospace, heavy diesel and electronics.