ABB Robotics Hosts Over 1,600 Guests at its United States Robot Factory Opening and Customer Days 2015 Events
Auburn Hills, MI becomes the third worldwide manufacturing location for ABB robots; Customer Days featured over 55 live robotic demos and 53 technical training seminars
AUBURN HILLS, Mich. – ABB Robotics hosted over 1,600 guests at its United States Robot Manufacturing Factory opening ceremony and Customer Days 2015 events, held at its North American headquarters and training center in Auburn Hills, Michigan, May 20-22.
The Robot Factory grand opening took place the morning of May 20, celebrating Auburn Hills becoming only the third worldwide manufacturing location of ABB robots and related equipment, joining Shanghai, China, and Vasteras, Sweden. The new facility also marks the first of the major industrial robot companies to fully commit to a local facility to serve the North American market.
The ceremony included addresses from ABB CEO Ulrich Spiesshofer and other senior ABB executives, and Bruce H. Andrews, US deputy secretary of congress, Suzan G. LeVine, US ambassador to Switzerland & Liechtenstein, and Martin Dahinden, ambassador of Switzerland to the United States, along with local officials from Auburn Hills and Oakland County.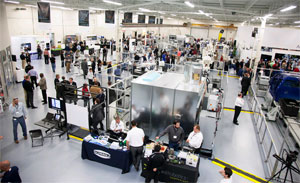 The Customer Days event started the afternoon of the opening ceremony, and ran through May 22, concluding with a Friends & Family Open House. Customer Days featured over 55 live robotic and related equipment demonstrations, and 53 technical training seminars. Attendees included current and potential customers, value providers, affiliated technology equipment providers, members of the media, and for the Friday afternoon Open House, a fascinated crowd of children, friends and robot enthusiasts of all ages.
Robotic applications highlighted on the demo floor and in the seminars included packaging, material handling, assembly, machine tending, welding and cutting, press automation, painting, automotive and transportation, and training and service.
The Factory Opening Ceremony and Customers Days were also the first North American appearance of YuMi®, the world's first truly collaborative dual-arm robot.
About ABB
ABB is a leader in power and automation technologies that enable utility, industry, and transport and infrastructure customers to improve their performance while lowering environmental impact. The ABB Group of companies operates in roughly 100 countries and employs about 140,000 people.

About ABB Robotics
ABB Robotics is a leading supplier of industrial robots - also providing robot software, peripheral equipment, modular manufacturing cells and service for tasks such as welding, handling, assembly, painting and finishing, picking, packing, palletizing and machine tending. Key markets include automotive, plastics, metal fabrication, foundry, electronics, machine tools, pharmaceutical and food and beverage industries. A strong solutions focus helps manufacturers improve productivity, product quality and worker safety. ABB has installed more than 250,000 robots worldwide.