ABB Robotics Flexible Tube Press and Weld System wins Ford Global Powertrain Excellence "2012 Top Award"
rong>The new system allows Ford Sterling Axle to manufacture to the necessary volumes, and eliminate overcapacity and underutilization of equipment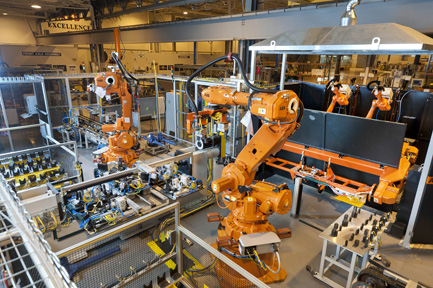 AUBURN HILLS, Mich. – A flexible Tube Press and Weld System developed by ABB Robotics for the Ford Sterling Axle Plant in Sterling Heights, Michigan, has won the 2012 Ford Global Powertrain Technical Maturity Model Excellence Award. Installed in 2012, the ABB Tube Press and Weld system was selected for the "2012 Top Award" out of 126 global submissions. The top four North America finalists were invited to make a presentation of their entry at a November awards dinner where a second award, the "2012 People's Choice Award," was also awarded to the ABB designed system.


The ABB Tube Press and Weld system is part of the sub assembly automation for the 9.75 and 8.8 rear axles for the Ford F-150 Pickup Truck and the Transit Utility Van. Despite the difference in axle sizes a complete changeover from one axle type to the other is possible in less than 43 seconds. This unique flexibility is achieved through the use of clever design and a vision system for model detection and verification. Previously the two axles were built on two mutually exclusive press and weld systems, one that operated 24/7 and the other that was underutilized due to lower volume requirements. The new ABB welding system was designed in response to a proposal from the Ford Manufacturing Engineering team to build a new welding system capable of producing both axles, allowing the future flexibility to manufacture to the necessary volumes, and eliminate the overcapacity and underutilization of equipment. The cell also saves valuable manufacturing space.


"We worked closely with the Sterling Axle team throughout the whole process, from the initial concept design to start up and commissioning at the Sterling Axle Plant. It was truly a collaborative effort between Ford and ABB," said Pete Thomopoulos, ABB project manager. "This is the very first FlexArc® Weld application developed by ABB to fully meet Ford's strict specifications."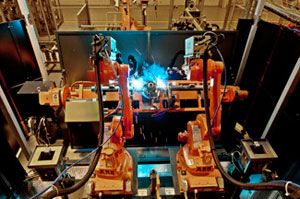 The system features a total of three IRB 6600 material handling Robots and two Electromechanical Press Stations. After the seal and bearing are pressed for each tube in the first press station, an IRB 6600 Robot loads a pair of tubes along with the axle carrier into the Tube Press station, where the parts are pressed together with forces of up to 67,000 lbs; to exact distances not possible with conventional hydraulic press systems. The assembly is then loaded into an ABB Flex Arc Weld cell that features two IRB 1600 welding robots, with each robot welding the left and right axle. Utilizing an ABB dual fixture IRBP Positioner, the arc welding robots weld an axle in one fixture while the IRB 6600 loads the next axle to be welded on the second positioner fixture. Each IRB 1600 robot is capable of welding both the left and right axle tube, providing valuable backup redundancy to reduce production downtime during maintenance.

The Press and Weld System features ABB's MultiMove™ and SafeMove™ technology allowing the ABB IRC5 controller to move the robots in fully coordinated motion and work collaboratively in very tight floor spaces, drastically reducing the Manufacturing footprint. SafeMove is both a software and electronics based safety controller that provides Category 3 safety rated supervision of robot motion. Together they enable leaner robot cell solutions and more collaborative applications where robots and operators can work more closely together and under safe conditions.

ABB Robotics in Auburn Hills has since received two additional orders for similar Press and Weld systems from Ford.

This is the second year in a row that an ABB Robotics system has won the Ford Powertrain Manufacturing TMM Excellence Award in North America. In 2011 an ABB Robotic Torque Converter Assembly cell utilizing Force Control won the "Top Award" out of 77 total nominations.

About ABB
ABB is a leader in power and automation technologies that enable utility and industry customers to improve their performance while lowering environmental impact. The ABB Group of companies operates in around 100 countries and employs about 145,000 people.

About ABB Robotics
ABB Robotics is a leading supplier of industrial robots - also providing robot software, peripheral equipment, modular manufacturing cells and service for tasks such as welding, handling, assembly, painting and finishing, picking, packing, palletizing and machine tending. Key markets include automotive, plastics, metal fabrication, foundry, electronics, machine tools, pharmaceutical and food and beverage industries. A strong solutions focus helps manufacturers improve productivity, product quality and worker safety. ABB has installed more than 200,000 robots worldwide.