ABB Robotics Expands FABTECH 2013 Exhibits to Two Booths; Welding and Cutting in North Hall, Paint in South
rong>Six live welding and cutting demos highlighted by the introduction of the new IRB 6700 robot family; paint booth features interactive robot programming demo

AUBURN HILLS, Mich. – ABB is exhibiting robotic equipment at two separate booths at FABTECH 2013, November 18-21 at McCormick Place in Chicago, with one booth dedicated to welding and cutting applications, and a second dedicated to paint applications. The welding and cutting booth (N-1436) features six live demos, comprising ten total robots and a wide range of supporting equipment, highlighted by the introduction of the IRB 6700, a robust family of robots in the 150 to 300 kg range that delivers enhanced speed, accuracy and a 20% reduction in the total cost of ownership. The paint booth (S-5455) features an interactive demo that allows attendees to program an IRB 580 paint robot simply by manually moving a simulated, handheld spray gun, with the robot controller converting the exact motion path, speed and spray gun operation to the robot.

Further detail on the ABB Welding and Cutting displays (N-1436):

Introducing the IRB 6700 Robot Family
An IRB 6700 dressed in spot welding gear makes its North American debut, moving throughout the day in constant, torturous motion, demonstrating the ability of the revolutionary dress package design to withstand the stress found in the most demanding manufacturing applications. The new IRB 6700 family is available in payloads from 150 to 300 kg, and reaches from 2.6 to 3.2 meters, and is designed for spot welding, material handling and machine tending. In addition to enhanced speed, payload and accuracy, the power consumption has been lowered by 15%, total cost of ownership has been reduced by 20%, and maintenance has been optimized, doubling the time between service intervals. The new model is available with LeanID, a new Integrated Dressing (ID) designed for easier programming and a smaller footprint. It has also been built to withstand the harshest working environ­ments and is available with ABB's ultimate Foundry Plus 2 protection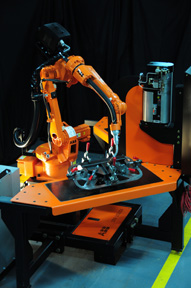 system. See the new IRB 6700 in action.

ArcPack U2 Welding Cell
The ArcPack U2, a modular, cost-effective welding cell with an IRB 1520ID robot and Fronius equipment, features two worktables with removable tops. Beneath the table tops are accommodations for mounting head and tailstock part positioners. The cell features a 300 kg headstock positioner with a MTD 300 gear box, an integrated axis that gives the cell the versatility to handle more complex parts. The upper arm integrated dressing (ID) design of the IRB 1520ID simplifies programming and provides optimum protection for all media, including welding power and wire, shielding gas and pressurized air. This allows for more flexible movements, such as those needed for single-motion welds around cylindrical objects or weld seams on parts of a complex geometry.

Three Headed RoboScreen Display Range of Fully Integrated Power Sources
The centerpiece of the ABB booth, sure to be seen from vantage points throughout the North hall, is an IRB 7600, ABB's largest robot, with three IRB 140 robots attached, each holding 32" video screens. Known as RoboScreens, the videos will be extolling the benefits of five different power sources, representing the wide range of equipment brands easily integrated with the ABB IRC5 controller and teach pendant:

Lincoln 400i
Miller 450DI
SKS L5Q5
Fronius PPS5000
Trumpf TruFiber 400 for laser applications
The 24-axis, four-robot, three-screen spectacle will be moving throughout the presentations, providing attendees in all corners of the booth an entertaining and educational experience. Images will transpose from one screen to another in fully coordinated motion with the robots. A 60 kg IRB 4600 robot to the side will pick up the individual power source as it is being featured on the RoboScreens. FABTECH attendees can press a virtual button to select a particular power source to be highlighted; with the robots conducting a sequential presentation of all power sources if not otherwise prompted. The precise coordination of complex motion patters is enabled by ABB's MultiMove™ technology and one IRC5 controller, capable of controlling up to 36 axes simultaneously.

IRB 140 Demonstration Cell with Laser Heads
An IRB 140 robot with a Precitec YW30 laser welding head simulating the motion of laser welding, accompanied by two additional laser heads on adjacent tables:

Trumpf FPO for laser welding
LaserMech FiberCut RAc for laser cutting
Three static video screens rotate information on the three laser heads and ABB's full range of robotic laser cells; with a fourth monitor displaying the RobotStudio programming of the robot and the laser welding systems.

ABB JOKAB SAFETY Cell with Seam Tracking Simulation

An IRB 1600 robot and an IRC5 controller simulating WeldGuide® III seam tracking and welding inspection with a Servo-Robot POWER-TRAC™ camera. The sensor is designed to seam follow, track and inspect for quality. A full array of ABB JOKAB SAFETY equipment is installed in the cell, including a Pluto Safety PLC, Quick-Guard® Safety Fencing, Smile Tina E-stops, Safety Mats, Eden Safety Sensors, Safeball™ Stations and Focus II Light Curtains.

Wolf SmartPositioner

The Wolf SmartPositioner, equipped with an ABB IRC5 controller, is designed to position parts for manual welding, providing the simplicity of an automated positioner without a robot. SmartPositioners safely and quickly rotate and manipulate weldments for optimum welding comfort, access and position. A robot and a drive cabinet can be added to the system later, allowing weld shops to adopt automated welding over time, while spreading out the capital expenditure. The demo is simulating the welding of a Volvo off-road vehicle cab. An IRB 4600 robot with integrated vision is simulating the inspection of the welds on the Volvo cab. ABB Integrated Vision, powered by Cognex®, is a robust smart camera system that makes vision-guided robotics applications fast and easy to deploy.

Further detail on the ABB Paint displays (S-5455):

IRB 580 Paint Robot for General Industrial Applications
The hollow-wrist IRB 580 is compact, fast and accurate, with superior reach and agility, providing a highly flexible, highly productive tool for a wide range of general industrial paint applications. The short arm IRB 580 variant (1220 mm reach) on the booth floor features an interactive demo that allows show attendees to program the robot by manually moving a handheld spray gun, complete with laser fan patterns that simulates paint, in any unique painting motion. The ABB IRC5 controller will convert the unique path to a program that instructs the robot to exactly replicate the path, speed and spray gun operation that the manual movements created. The demo shows that, with the IRB 580 repeating the functions taught by the painter, general industrial companies can easily program a robot to paint an unlimited variety of parts with precision that matches that of their best painter, with no robotic expertise required.

The paint booth will also feature information on RobotStudio, ABB's proprietary off-line simulation software that always more intricate paint programs to be developed on a PC, and then downloaded directly to the robot controller.

About ABB
ABB is a leader in power and automation technologies that enable utility and industry customers to improve their performance while lowering environmental impact. The ABB Group of companies operates in around 100 countries and employs about 130,000 people.

About ABB Robotics
ABB Robotics is a leading supplier of industrial robots - also providing robot software, peripheral equipment, modular manufacturing cells and service for tasks such as welding, handling, assembly, painting and finishing, picking, packing, palletizing and machine tending. Key markets include automotive, plastics, metal fabrication, foundry, electronics, machine tools, pharmaceutical and food and beverage industries. A strong solutions focus helps manufacturers improve productivity, product quality and worker safety. ABB has installed more than 200,000 robots worldwide.