ABB Robotics Donates $50,000 to the Oakland University School of Engineering and Computer Science
rong>Gift to support the development of a four-year industrial robotics and automation degree program. ABB also to provide curriculum input and internship opportunities.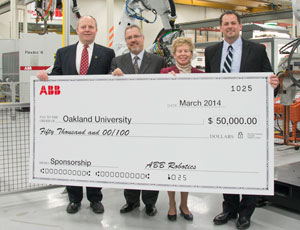 AUBURN HILLS, Mich. – ABB Robotics made a gift of $50,000 today to the Oakland University (OU) School of Engineering and Computer Science (SECS), in support of the school's development of a four-year industrial robotics and automation program.

Michael Mahfet, vice president and general manager of ABB Robotics, North America and an OU alumnus (MA '97, SECS '95), made the check presentation to Dr. Betty J. Youngblood, interim president, Dr. James P. Lentini, senior vice president for academic affairs and provost, and Dr. Louay M. Chamra, dean of the School of Engineering and Computer Science of OU. The presentation was made on the demo floor of ABB's Technology Days event at its North American headquarters in Auburn Hills, Michigan.

The gift will be applied to curriculum development and related student programs. In addition, ABB will provide internship opportunities for several OU students per year, and help develop a curriculum designed to produce valuable, work-ready graduates.

"We are delighted to support OU in this endeavor, and have begun the process of identifying future trends and thinking about how we can feed that data into the emerging robotics curriculum," says ABB's Mahfet. "The automation industry is changing so fast that it's important to have your finger on the pulse of what customers want."

Dean Chamra says that the involvement of ABB is one example of how OU looks to keep at the cutting edge of the engineering industry.

"There have been strong advances in manufacturing, both in southeast Michigan and across the United States, and industrial robotics has been at the heart of much of that development," he says. "By focusing on applied research and cooperating with those in the industry, OU's goal is to become the premier research center in this area. We want to put quality engineers in jobs and help industry solve their problems and challenges."

Currently, three members of ABB Robotics' executive team in Auburn Hills are OU alumni, Mahfet notes. "We might be a little biased, but we know OU is a highly regarded school in the engineering community. We're pleased to be able to play a part in advising the SECS on their new robotics curriculum. Ultimately, it's good for OU and it's good for companies like ours."

ABB Robotics hosted over 1,000 people during its 2014 Technology Day event March 13 and 14. The event featured over 80 product demonstrations and free technical seminars designed to benefit both those considering an initial foray into robotic automation, and those looking to upgrade or expand their existing robotic lines.

About ABB
ABB is a leader in power and automation technologies that enable utility and industry customers to improve their performance while lowering environmental impact. The ABB Group of companies operates in around 100 countries and employs about 150,000 people.

About ABB Robotics
ABB Robotics is a leading supplier of industrial robots - also providing robot software, peripheral equipment, modular manufacturing cells and service for tasks such as welding, handling, assembly, painting and finishing, picking, packing, palletizing and machine tending. Key markets include automotive, plastics, metal fabrication, foundry, electronics, machine tools, pharmaceutical and food and beverage industries. A strong solutions focus helps manufacturers improve productivity, product quality and worker safety. ABB has installed more than 200,000 robots worldwide.