ABB Robotics Awarded IACET Accreditation; All Training Courses Approved for Continuation Education Credits
Prestigious accreditation demonstrates commitment to high-quality, lifelong learning; CEUs nationally recognized by wide range of organizations.
AUBURN HILLS, Mich. – ABB Robotics was awarded accreditation status for its robotics training courses by the International Association for Continuing Education and Training (IACET). IACET Accredited Providers are the only organizations approved to offer IACET Continuing Education Units (CEUs). CEUs are nationally recognized by a wide range of organizations, including professional associations, regulatory boards, corporations and universities; CEUs can also be transferable college credits.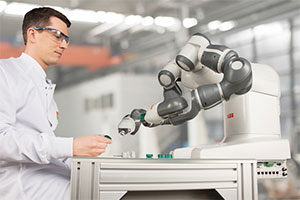 "ABB Robotics is proud of our education programs which train 3,000 manufacturing and industrial automation professionals each year in important robotic operation and programming disciplines," said Christelle Keefer, director of training, ABB Robotics. "Our partnership with IACET is a demonstration of our commitment to lifelong learning and high standards for all of our programs, and we are honored to offer continuing education credits to our students across our entire training curriculum."
"We are pleased to establish a relationship with ABB Robotics as an Accredited Provider," stated Lori Schnaider, president of IACET. "ABB joins nearly 600 organizations around the globe that have had their programs audited by third-party continuing education experts to ensure the highest possible standards are met."
ABB Robotics' training curriculum covers a wide range of applications, including:
Material Handling;
Paint;
Arc Welding;
Spot Welding;
Laser Cutting.
ABB Robotics completed a rigorous application process, including a review by an IACET site visitor, to achieve its Accredited Provider accreditation. The organization successfully demonstrated adherence to the ANSI/IACET 1-2013 Standard addressing the design, development, administration, and evaluation of its programs. ABB Robotics has pledged its continued compliance with the Standard, and is now authorized to use the IACET name and Accredited Provider logo on promotional course material. In addition, ABB Robotics is now linked to the IACET web site and is recognized as offering the highest quality continuing education and training programs.
CEUs are recognized, accepted and, even required by many state agencies and credentialing organizations.
About ABB
ABB is a leader in power and automation technologies that enable utility and industry customers to improve their performance while lowering environmental impact. The ABB Group of companies operates in around 100 countries and employs about 150,000 people.
About ABB Robotics
ABB Robotics is a leading supplier of industrial robots - also providing robot software, peripheral equipment, modular manufacturing cells and service for tasks such as welding, handling, assembly, painting and finishing, picking, packing, palletizing and machine tending. Key markets include automotive, plastics, metal fabrication, foundry, electronics, machine tools, pharmaceutical and food and beverage industries. A strong solutions focus helps manufacturers improve productivity, product quality and worker safety. ABB has installed more than 250,000 robots worldwide. All ABB Robotics' products are fully supported by the ABB Robotics' global sales and service organization in 53 countries and over 100 locations.
About IACET: The International Association for Continuing Education and Training (IACET) is a non-profit association dedicated to quality continuing education and training programs. IACET is the only standard-setting organization approved by the American National Standards Institute (ANSI) for continuing education and training. The ANSI/IACET Standard is the core of thousands of educational programs worldwide.