ABB Robotics announces Customer Certification Program
The application specific curriculum is targeted to customer engineers, technicians and programmers interested in earning official certification
AUBURN HILLS, Mich. – ABB Robotics has developed a Customer Certification program where customer employees can take the classes necessary to become a Certified Robot Maintenance Technician and/or a Certified Robot Programmer. Instruction, hands-on training, and qualification assessments are conducted at each of the ABB US Robotics training facilities in North America. The program began February 9, 2015.
The curriculum is currently offered in five specific application areas, including Arc Welding, Spot Welding, Laser Cutting, Mater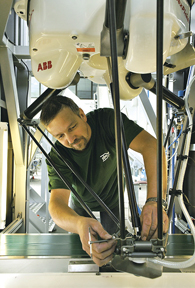 ial Handling and Paint. Classes are taught by certified ABB instructors, supported by comprehensive course materials dedicated to each application. Certification in each area is awarded after the successful completion of all course work and a cumulative, online final exam. The program is targeted to engineers, technicians and programmers who work with robots.
"This is a great opportunity for our customers to earn official certification in one or more applications from ABB," said Christelle Keefer, director of training, ABB Robotics.
For more information including complete class listings call 800-435-7365, email us or visit www.abb.us/RoboticsTraining.
About ABB
ABB is a leader in power and automation technologies that enable utility, industry, and transport and infrastructure customers to improve their performance while lowering environmental impact. The ABB Group of companies operates in roughly 100 countries and employs about 140,000 people.

About ABB Robotics
ABB Robotics is a leading supplier of industrial robots - also providing
robot software, peripheral equipment, modular manufacturing cells and service for tasks such as welding, handling, assembly, painting and finishing, picking, packing, palletizing and machine tending. Key markets include automotive, plastics, metal fabrication, foundry, electronics, machine tools, pharmaceutical and food and beverage industries. A strong solutions focus helps manufacturers improve productivity, product quality and worker safety. ABB has installed more than 250,000 robots worldwide.