ABB Robotics and SVIA Collaborate to Bring PickVision Technology to the North American Machine Tending Market
System equips industrial robots with vision enabled functionality for "plug and play" performance and flexibility; over 600 installations in Europe

AUBURN HILLS, Mich. – ABB Robotics is collaborating with SVIA Industrial Automation of Sweden to bring SVIA's PickVision™ Smart Camera vision system to the industrial robotics market in North America. SVIA specializes in equipping industrial robots with vision enabled functionality for machine tool tending systems in manufacturing for such applications as CNC lathes, vertical machine centers,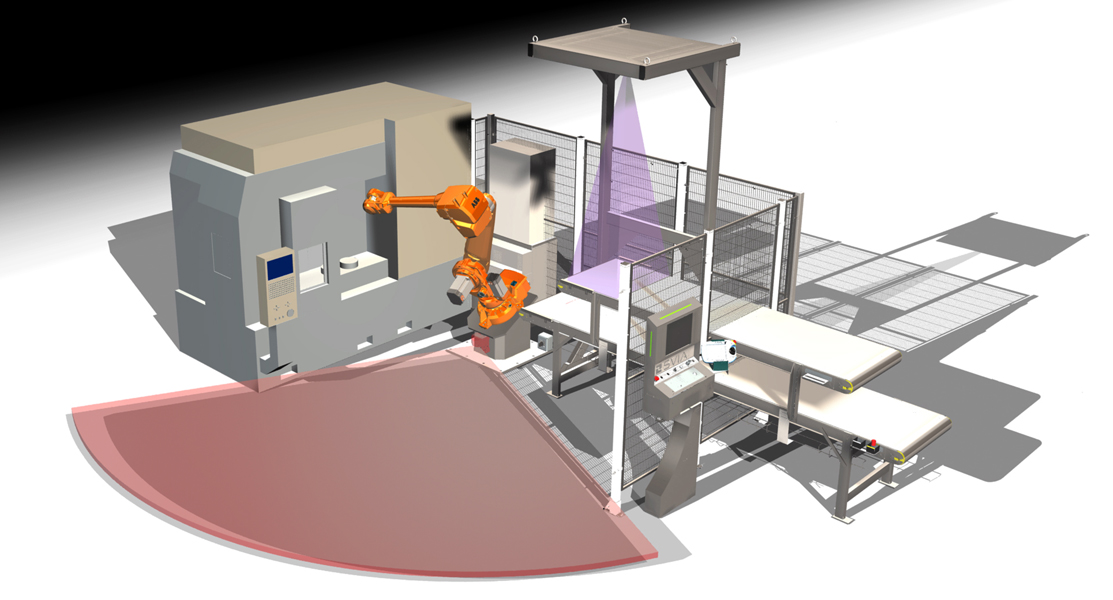 horizontal machine centers and grinders. PickVision is highly flexible and easy to use making it a viable technology for a wide range of robotic applications that can be enhanced by giving robots vision capability. There are over 600 PickVision installations in Europe, the vast majority with ABB industrial robots.

With PickVision robots actually see the parts they are handling, allowing them to easily adjust to a wide variety of parts. This increased flexibility makes the PickVision system ideal for operations that handle smaller volumes of the same part, and, due the speed and agility afforded by the smart camera function, also highly effective for operations that handle large volumes of the same part. The system is tightly integrated with ABB's powerful IRC 5 Controller providing "plug and play" simplicity that allows users to easily set-up and adapt the system to their specific applications. It can be programmed on a PC or tablet and features a Window 8 touch screen interface. The system includes remote service capabilities including a specially designed iPhone App.

"Giving the robots the ability to see brings enhanced capablities to a wide range of robotic applications in both existing and emerging application segments," said Gary Frick, president of SVIA. "When we first developed PickVision we had three goals in mind, to provide a machine tending tool that is powerful and flexible, yet easy to use. With the foundation of our success in Europe and the support of ABB, the time is ideal to bring this proven technology to the North American market."

"SVIA and ABB have provided a great resource to manufacturers all across Europe, merging the capabilities of industrial robots with standard vision technology especially for machine tool applications," said Ed Moritz, channel and market development manager, ABB Robotics North America. "We are extremely pleased to now bring this proven expertise to our system integrators and customers in the United States, Canada and Mexico."

SVIA will be displaying the PickVision system at Automate 2013, January 21-24 at McCormick Place in Chicago (Booth # 908). For more information please visit www.SVIA.com.

About SVIA

SVIA is a proven robot automation integrator in Europe and a strategic ABB partner. SVIA has developed a unique vision system for guiding robots and its concept of standard automation solutions based on PickVision™ has driven double-digit growth for the last five years. The most common PickVision application is machine tending of CNC machines. SVIA strives to provide customers with unusually strong returns on their investments, and repeat orders from SVIA customers are over 75%. SVIA re-invests in R&D every year.

About ABB
ABB is a leader in power and automation technologies that enable utility and industry customers to improve their performance while lowering environmental impact. The ABB Group of companies operates in around 100 countries and employs about 145,000 people.

About ABB Robotics
ABB Robotics (www.abb.com/robotics) is a leading supplier of industrial robots - also providing robot software, peripheral equipment, modular manufacturing cells and service for tasks such as welding, handling, assembly, painting and finishing, picking, packing, palletizing and machine tending. Key markets include automotive, plastics, metal fabrication, foundry, electronics, machine tools, pharmaceutical and food and beverage industries. ABB has installed more than 200,000 robots worldwide.