ABB launches fastest ever robot-based press automation solution
ABB extends IRB 760 handling robot family with new press tending model, offering fast and flexible performance for automotive press automation.
ABB has expanded its IRB 760 industrial robot range with the launch of the IRB 760PT. Aimed at press automation applications in the automotive industry, the IRB 760PT is a flexible press tending solution offering 25 per cent faster cycle times compared to other robot-based press automation solutions.
To help eliminate the risk of potential interference between the robots and the press, the IRB 760PT features a revised design that reduces the interference in the robot's fourth axis. This allows the robots to move freely without colliding with equipment suc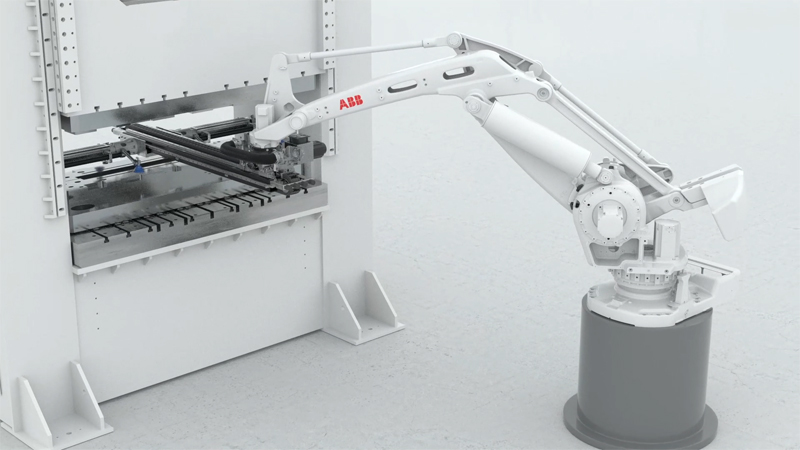 h as press clamps, with no compromise for the overall working area and the robot's freedom of movement.
Capable of handling loads up to 450kg, the IRB 760PT reduces the time, cost and disruption associated with repurposing dedicated press tending machines. With the ability to automatically change tooling, the IRB 760PT can be quickly adapted and reprogrammed to handle new products without the need for re-engineering.
The IRB 760PT is the fundamental component of the IRB 760FX and the IRB 760 Twin Robot Xbar.
The IRB 760FX is the result of the combination of the IRB 760PT and a Linear 7th axis. The IRB 760FX offers the high flexibility needed in those press automation applications with large and medium size panels and special processes such as part reorientation, tilting and part separation.
Two IRB 760PT robots can also be combined to work in tandem across 10 axes, to create the IRB 760 Twin Robot Xbar (TRX). This is the fastest robot-based solution on the market for loading and unloading presses with long inter-press distance without the need for press modification. With a production output rate of up to 16 parts per minute, the TRX is ideal for high-speed press automation applications.
The IRB 760PT features a 3.18 meter reach, which when coupled with a linear seventh axis, or with the Twin Xbar system, avoids the need to reorient parts between consecutive stamping operations. This helps users optimize available space and save costs on investing in dedicated press automation.
ABB's StampWare software is available on the robot's FlexPendant for maximum simplicity, flexibility and cost effectiveness. StampWare includes a graphical programming wizard that decreases the time needed to train the operator and robot programmer to enable the robot solution to be up and running quickly.
The IRB 760PT is also designed to reduce the cost of ownership. Built to automotive industry standards, the IRB 760PT's robust and rigid design ensures high uptime with features such as integrated process cabling and ready availability of spares helping to minimize maintenance costs. The IRB 760PT is also covered by RoboCare, a three-year warranty package that includes ABB's Connected Services, where ABB experts can monitor robots and suggest optimized maintenance to further increase productivity.
"We've reinforced our press automation portfolio with our fastest ever press tending robot. Our new IRB 760PT not only offers optimized speed and die interferences in press tending applications, it is also a flexible and reliable solution that can be implemented quickly and can easily be repurposed to handle changing future requirements," said Antti Matinlauri, Head of Product Management for ABB Robotics.
ABB (ABBN: NYSE) is a leading global technology company that energizes the transformation of society and industry to achieve a more productive, sustainable future. By connecting software to its electrification, robotics, automation and motion portfolio, ABB pushes the boundaries of technology to drive performance to new levels. With a history of excellence stretching back more than 130 years, ABB's success is driven by about 110,000 talented employees in over 100 countries.
ABB Robotics & Discrete Automation is a pioneer in robotics, machine automation and digital services, providing innovative solutions for a diverse range of industries, from automotive to electronics to logistics. As one of the world's leading robotics and machine automation suppliers, we have shipped over 400,000 robot solutions. We help our customers of all sizes to increase productivity, flexibility and simplicity and to improve output quality. We support their transition towards the connected and collaborative factory of the future. ABB Robotics & Discrete Automation employs more than 10,000 people at over 100 locations in more than 53 countries.