ABB Jokab Safety to Exhibit Electronic Safety Components and Mechanical Interlock Switches at FABTECH 2012
Demos highlight innovative devices that make automated metal fabrication and welding operations safer while maintaining optimal productivity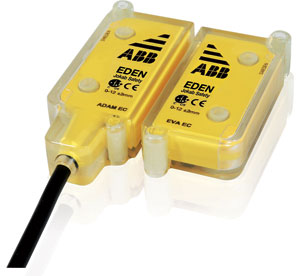 NEW BERLIN, Wisc. – ABB Jokab Safety, a leading supplier of machine safety equipment, will exhibit an array of electronic safety components and mechanical interlock switches at FABTECH 2012, November 12-14 at the Las Vegas Convention Center (Booth # N-6102). The ABB Jokab display will highlight innovatively designed, failsafe safety systems that make automated metal fabrication and welding operations safer while maintaining optimal productivity. Jokab systems are differentiated by enhanced visual and electronic device feedback and simple connectivity, allowing for clear diagnostics, increased uptime and easier assembly and maintenance. "A common misperception is that adding safety systems to manufacturing machinery is expensive and a potential drain on production," said Lloyd Sinnott, business development manager for ABB Jokab Safety. "With Jokab safety systems there is absolutely no sacrifice in production levels and the costs that are saved in prevented injuries pay for the systems many times over."
The highlights of the Jokab exhibit include:
Eden Non-Contact Safety Sensors
Eden — Adam and Eva — is a non-contact safety sensor for use on interlocked gates and hatches. The non-magnetic, non-contact closure technology provides for the highest levels of safety, with built in diagnostics and quick disconnect. The maximum sensing distance between Adam and Eva is currently 15 mm ± 2 mm. Up to 30 Eden Safety Sensors can be connected in series and still achieve the same safety level in the safety circuit. It is also possible to connect safety light beams and E-stops in the same safety circuit. The Eden sensor surpasses traditional interlock methods, providing value to OEMs and end-users alike. The Eden E encapsulated IP67K version is available for even the harshest environments.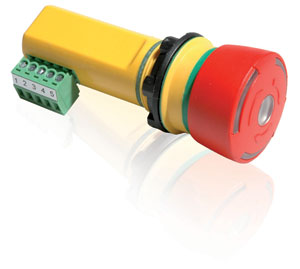 Smile E-stop
The small modular illuminated emergency stop system, developed to fulfill the need for a small and easy to install E-stop, features built-in diagnostic information in a ready-to-mount package. The size of the device makes it possible to be installed wherever needed; and with M12 connections or cable and centralized mounting holes, Smile is very easy to install, especially on aluminum extrusions. Quick connect cabling increases value to both OEMs and end users by decreasing installation time, and providing operators' system status feedback at-a-glance.
Interlock Switches
Designed with the automated metal fabrication and welding markets in mind, the new generation of mechanical and magnetic interlock switches offers more flexible mounting and increased ranges, giving value to the OEM when deciding how to mount. Interlock switches are available in many footprints and provide flexible solutions for the automated metal fabrication and welding operations industries. A wide range of food grade stainless steel interlock switches are also available.
Pluto Safety PLC
Pluto is an "all-supervisor" system in which the inputs and other information are shared via the databus, providing simplified design and the highest level of safety. The key difference between Pluto and conventional safety PLCs is that there is no "supervisor-subordinate" relationship between the units connected to the safety bus. Each Pluto is a "supervisor" unit and can see the other Pluto's inputs and outputs, thereby able to make decisions about its own safety environment. Several safety sensors can be connected to one input while still achieving the upmost safety. The flexible scalable modular design allows the system designer many options when creating the blueprint for the safety system.
About ABB
ABB is a leader in power and automation technologies that enable utility and industry customers to improve performance while lowering environmental impact. The ABB Group of companies operates in around 100 countries and employs about 130,000 people.www.jokabsafetyna.com) is a business unit of the ABB Low Voltage Products (LVP) division. ABB LVP manufactures low-voltage circuit breakers, switches, control products, wiring accessories, enclosures and cable systems to protect people, installations and electronic equipment from electrical overload, and complete machine safety systems and controls.