ABB JOKAB SAFETY Machine Safety Compendium and Safety Switches / Emergency Stops catalog now available
Comprehensive resources contain guidelines on machine safety planning, strategy, safety standards and full line of ABB JOKAB SAFETY products

NEW BERLIN, Wisc. – ABB JOKAB SAFETY, a leading supplier of machine safety equipment, has released two new safety guidebooks and product catalogs; the "Machine Safety Systems and Components Compendium" and the "Safety Switches and Emergency Stops" catalog.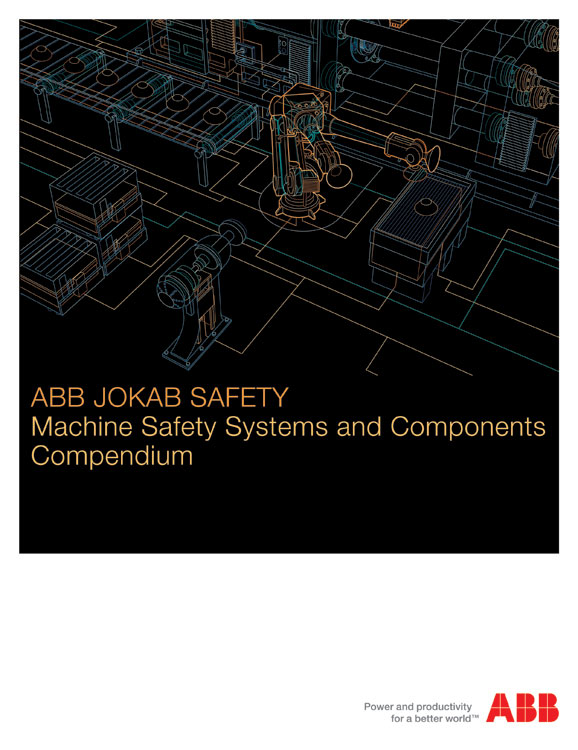 The 564 page "Compendium" is a comprehensive resource with in-depth information on a wide range of machine safety subjects and the complete line of ABB JOKAB SAFETY products. It provides guidelines on issues such as strategic machine safety planning, how and where to upgrade, and solidifying the commitment to machine safeguarding; as well as explanations of common safety terminology, information on national safety directives and standards, and the primary safety standards organizations and information sources. Also included is an updated overview of the JOKAB organization since its March 2010 acquisition by ABB, and detailed technical data, installation diagrams, and performance metrics for all ABB JOKAB SAFETY products from safety relays, sensors and control devices, to PLCs, light curtains and fencing systems.

The "Switches" catalog contains complete technical and installation information on the complete line of ABB JOKAB machine safety switches, including solenoid locking switches and non-contact switches designed to be robust and suitable for a variety of applications.

Both are now available to qualified distributors, integrators and end-users. Hard copies can be obtained by submitting requests to jokabnaorderentry@us.abb.com. Links to PDFs of both the Compendium and the Switches catalogs can be downloaded from the Home Page of www.jokabsafetyna.com , scrolling down to "Catalogs" on the lower left of the page.

"The machine safety compendium is the ultimate resource for any industrial operation looking to upgrade its safety systems, covering a wide range of practical safety applications from individual safety components to fully installed systems for complete production lines," said Rich Gibson, product manager, ABB JOKAB SAFETY. "The switches catalog covers our complete switches lineup and builds on the concept that properly executed and adapted safety solutions actually increase productivity."

Now part of the ABB Low Voltage Products division, JOKAB SAFETY now has a sales and service network in 120 countries, with the goal of becoming the best single source supplier of machine safety components and systems in the world, while continuing to provide unsurpassed support to customers throughout North America.

About ABB
ABB is a leader in power and automation technologies that enable utility and industry customers to improve performance while lowering environmental impact. The ABB Group of companies operates in around 100 countries and employs about 130,000 people.

About ABB Low Voltage Products
ABB JOKAB SAFETY (www.jokabsafetyna.com) is a business unit of the ABB Low Voltage Products (LVP) division (www.abb.us/lowvoltage). ABB LVP manufactures low-voltage circuit breakers, switches, control products, wiring accessories, enclosures and cable systems to protect people, installations and electronic equipment from electrical overload, and complete machine safety systems and controls.