ABB JOKAB SAFETY Develops Quick-Guard Modular Safety Fencing, Configurable to a Variety of Industrial Applications
rong>Cost-effective modular system consists of a limited number of parts, delivered partially assembled, simplifying design and installation

WESTLAND,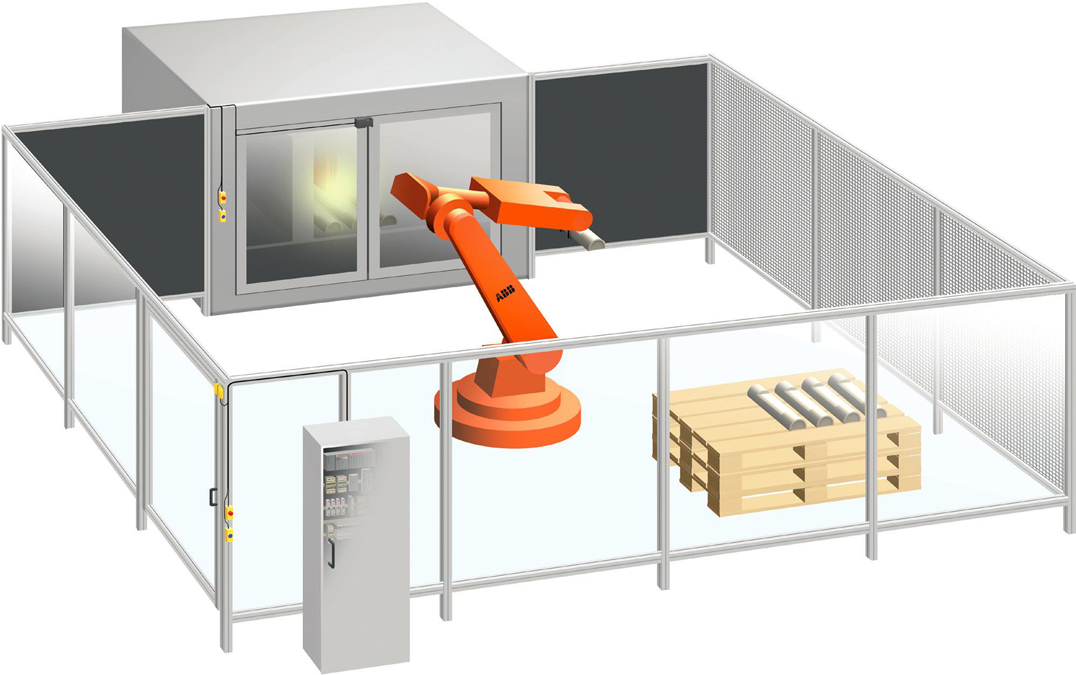 ich. – ABB JOKAB SAFETY, a leading supplier of machine safety equipment, has developed Quick-Guard® Modular safety fencing panels, a modular system of fencing that can be easily custom designed and configured to guard virtually any industrial application. The Quick-Guard modular system consists of a limited number of parts, which are delivered partially assembled with all the necessary fittings. This makes it easy to build the system onsite, while reducing the high engineering and labor costs associated with the design and installation of more complex systems.

Utilizing components such as aluminum profiles, patented brackets, net-locks, mesh, and solid panels, there are virtually no limitations to what can be built. The protective mesh can be cut to spec with bolt cutters, and the systems are easy to adjust when production equipment is modified or moved.

Quick-Guard comes in two versions – Quick-Guard S (standard) and Quick-Guard E (express) – that can be used individually or combined for added customization. The welded mesh and/or polycarbonate panels are locked into the profile, increasing the inherent strength of the system. The outer wire of the mesh is locked in profile fence posts by uniquely designed net-locks, making the panel virtually as strong as if it were welded. The polycarbonate panels are locked in with specially designed infill strips which firmly secure them into the extruded aluminum profiles channel. With ABB JOKAB SAFETY's patented screw-lock system, all brackets come pre-mounted with fixing screws and nuts; no holes need to be drilled in the profiles and all cuts are made straight.

"The new Quick-Guard E and S versions allow us to simplify design as well as reduce costs that are typically associated with extruded aluminum fencing," said Rich Gibson, ABB JOKAB SAFETY product manager. "The system has been designed to compete with conventional steel guarding on assembly, cost and strength while, maintaining the ability to do quick on the floor changes without the need of welding, grinding or painting. Quick Guard E and S combine the best of both steel guarding and aluminum guarding methods."

Quick-Guard is environmentally friendly. All components in the fencing system can easily be disassembled and reused, and all materials are 100% recyclable.

Quick Guard can be ordered by catalog part number, and ABB JOKAB SAFETY experts can be reached at 888-282-2123 to estimate individual fencing requirements. The quote lead time is same day, and orders typically will ship the day the purchase order is received.

More information on the complete line of ABB JOKAB Safety systems and products is available at www.jokabsafetyna.com.



About ABB
ABB (www.abb.com) is a leader in power and automation technologies that enable utility and industry customers to improve performance while lowering environmental impact. The ABB Group of companies operates in around 100 countries and employs about 130,000 people.

About ABB Low Voltage Products
ABB JOKAB SAFETY (www.jokabsafetyna.com) is a business unit of the ABB Low Voltage Products (LVP) division (www.abb.us/lowvoltage). ABB LVP manufactures low-voltage circuit breakers, switches, control products, wiring accessories, enclosures and cable systems to protect people, installations and electronic equipment from electrical overload, and complete machine safety systems and controls.