ABB Introduces the LeanArc 1410 Robotic Welding Package
Base package priced in the range of $35,000, includes ABB robot and compact controller, Fronius power supply and Tregaskiss welding torch

AUBURN HILLS, Mich. – ABB Robotics, a leading supplier of industrial robots, has developed the LeanArc™ 1410, a fully configured, quick start robotic welding package with an array of options to suit the needs of many small to medium welding operations. The base package is priced in the range of $35,000 and includes an IRB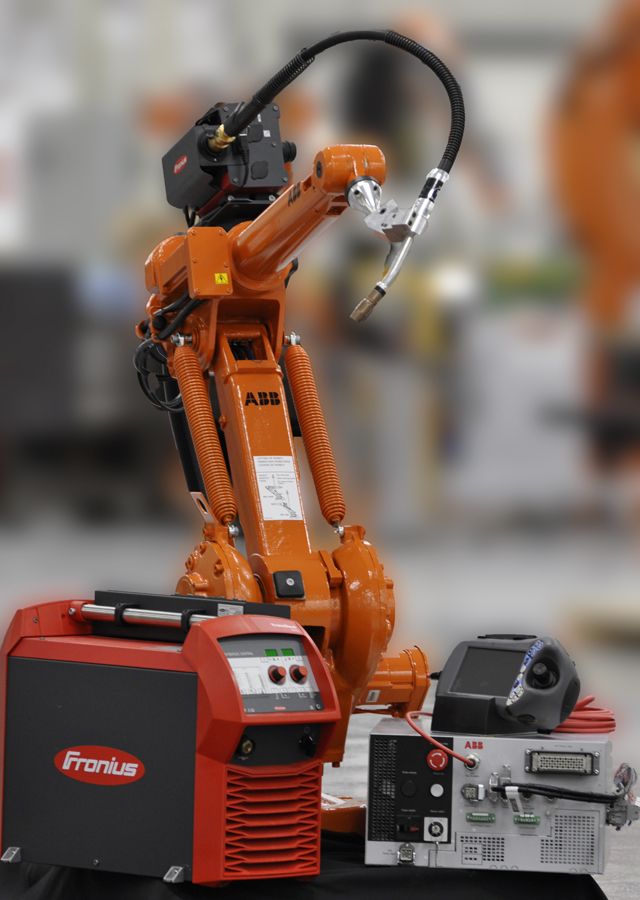 1410 robot; the new IRC5 Compact controller; a Fronius TransSteel 3500 power supply and wire feeder; and a Tregaskiss 500 Amp air cooled welding torch. End-users also have the option of Miller, Lincoln or ESAB power supply.

"The LeanArc 1410 responds to the demand from our distribution network and small to medium size metal fab and welding shops for an economical, easy-to-use robotic welding package that will deliver high quality welds all day long," said Joe Campbell, vice president of the ABB Robot Products Group in the US. "The base package includes all a shop needs to set up a high quality robotic welding operation."

The centerpiece of the package is the 6-axis ABB IRB 1410 robot, especially designed for arc welding, featuring a 5kg handling capacity with a supplementary 18kg load capacity on the upper arm for application equipment. Known for its compact design, long reach and robust construction, the IRB 1410 also operates at low noise levels with long intervals between routine maintenance. With superior positional repeatability (± 0.025 mm) the IRB 1410 delivers high quality welds even in tight, restricted locations.

Providing easy programming and superior control is the desktop sized IRC5 Compact controller, offering the same functionality as ABB's industry leading IRC5 controller in a small, easy to place model. With powerful RAPID programming language and an array of arc welding software programs the compact controller allows less experienced end-users to easily program and operate the LeanArc1410. The IRC5 Compact controller also enables easy commissioning through its single-phase power input, external connectors for all signals and a built-in, expandable 16 in, 16 out I/O system. And with the LeanArc 1410 package the compact controller will come with a special enclosure to protect it from welding debris.

Highlights of additional standard package components include:
The Fronius TransSteel Robotics welding system, comprising the power source with DeviceNet robotic interface, an interconnecting hosepack, and a wire feeder. The wire feeder is equipped with an innovative motor plate and the Fronius System Connector, making it considerably smaller and delivering a much smaller obstacle contour (www.fronius.com).

The Tregaskiss 500 AMP air-cooled robotic torch, engineered to provide the durability and performance required to take on the demands of a high-volume welding operation. Features include an aluminum armored gooseneck, aircraft grade aluminum housing, and spring guard strain reliefs (www.tregaskiss.com).
The LeanArc 1410 is delivered as a kit that can be assembled and set-up in three to four hours. The option exists for the unit to be delivered in pre-assembled form for even quicker installation. The FlexArc 1410 is available now; please call 248-391-8400 for more information.

About ABB
ABB (www.abb.com) is a leader in power and automation technologies that enable utility and industry customers to improve their performance while lowering environmental impact. The ABB Group of companies operates in around 100 countries and employs about 124,000 people.

About ABB Robotics
ABB Robotics (www.abb.com/robotics) is a leading supplier of industrial robots - also providing robot software, peripheral equipment, modular manufacturing cells and service for tasks such as welding, handling, assembly, painting and finishing, picking, packing, palletizing and machine tending. Key markets include automotive, plastics, metal fabrication, foundry, electronics, machine tools, pharmaceutical and food and beverage industries. A strong solutions focus helps manufacturers improve productivity, product quality and worker safety. ABB has installed more than 190,000 robots worldwide.