ABB Introduces the IRBT 2005
Designed to accommodate rapid product changes, the new track provides greater accuracy and up to 50% shorter cycle times.
AUBURN HILLS, Mich. – ABB has introduced the IRBT 2005, a flexible, compact and modular medium track motion platform for both robots and transfer applications. It is designed to accommodate rapid product changes in applications that require an extended working range and high degrees of speed and accuracy, including arc welding, material handling, machine tending, and sealing and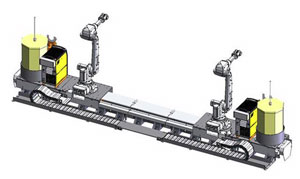 dispensing.
The IRBT 2005 is available with up to two carriages as a robot track, with additional carriage plates available to carry any necessary process equipment, and up to three carriages as a transfer track. The modular design is comprised of one-meter lengths that can be connected to form a track between two and 21 meters, allowing it to easily be adapted to different applications and evolve with changing production needs.
The ABB IRC5 controller runs the robots and the IRBT 2005 together as one dynamic model, with the proprietary QuickMove™ and TrueMove™ functionalities providing fast acceleration and precise path accuracy in any given track configuration. It is the only track motion platform on the market to guarantee high speed and precision accuracy, providing greater flexibility and up to 50% shorter cycle times.
"The IRBT 2005 is designed specifically for our medium family of robots, with features that allow it to be customized for a wide range of applications. For arc welding, as an example, there are standard options for the welding wire and power source to be easily mounted on dedicated carriage plates, and protective coverings for welding cables and other dressing components," said John Bubnikovich, vice president, sales and marketing, ABB Robotics North America. "And the track's mechanicals have been completely integrated to ensure their protection and keep maintenance to a minimum."
Adaptable to various environments, the IRBT 2005 is available in two variants, standard with covers on the rails and rack only and fully covered. It is designed to accommodate the following ABB medium robot families: IRB 1520, IRB 1600, IRB 2600 and IRB 4600. The system can also be combined with other accessories such as part positioners,
With a maximum payload of 1200 kg (2,640 lbs.), the IRBT 2005 transfer version is ideal for applications such as indexing different fixtures into an automation cell, and transferring materials, like car bodies between different working stations.
About ABB
ABB is a leader in power and automation technologies that enable utility and industry customers to improve their performance while lowering environmental impact. The ABB Group of companies operates in around 100 countries and employs about 140,000 people.
About ABB Robotics
ABB Robotics is a leading supplier of industrial robots - also providing robot software, peripheral equipment, modular manufacturing cells and service for tasks such as welding, handling, assembly, painting and finishing, picking, packing, palletizing and machine tending. Key markets include automotive, plastics, metal fabrication, foundry, electronics, machine tools, pharmaceutical and food and beverage industries. A strong solutions focus helps manufacturers improve productivity, product quality and worker safety. ABB has installed more than 250,000 robots worldwide.
All ABB Robotics' products are fully supported by the ABB Robotics' global sales and service organization in 53 countries and over 100 locations.