ABB Introduces the Fast and Efficient CBS II, the next generation of its leading robotic Cartridge Bell Paint System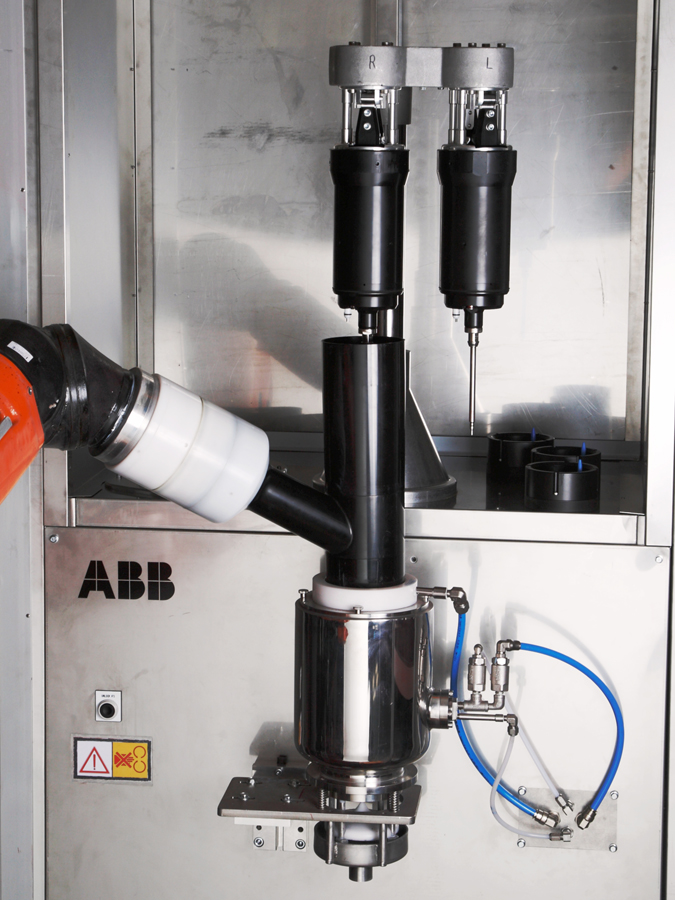 The only fully-integrated robotic solution for internal charge waterborne painting; delivers up to a 50% time savings during color change

AUBURN HILLS, Mich. – ABB Robotics has introduced the Compact CBS II, the second generation of its industry leading robotic Cartridge Bell Paint System first introduced in 1998. Made from cast and machined aluminum, this latest innovation is the only fully-integrated robotic solution for internal charge waterborne painting. The lighter, faster and more efficient design is more closely integrated with the system's components, and reduces color change time as much as 50 percent when compared with other solutions.

"This is a great enhancement to an already great product," said Doug Polkinghorne, ABB Paint Automation sub BU manager. "The new solution builds on 15 years of field experience and adds a second servo driven dosing control unit for precise material dosing, all while improving the unit's compactness. The parallel processing, that being cleaning and filling one cartridge while painting with the other, can be custom tuned per color to minimize material waste during color change. And color change occurs in less than 10 seconds."

Able to complete the color change cycle in tandem with the painting process, the Compact CBS II is fully integrated with the robot controller. Other improvements include the addition of servo motor drive units for vertical and horizontal cartridge handling motion, enabling precise angular positioning and process control. The new drives can easily be integrated into existing installations.

The Compact CBS II also has been outfitted with dual DCUs (Dosing Control Units) for precision filling and dosing of paint material from the paint cartridge. The second DCU eliminates the need for any flow meter due to its positive displacement characteristics.

"The dual DCUs swap roles, with one used to precisely dose the paint and the other to accurately measure the filling of the next cartridge," added Polkinghorne. "All of these improvements mean one thing: Our customers will find the Compact CBS II a significant color change time and material saver over other products on the market."

The Compact CBS II is used with the ABB IRB 5500 paint robot, and is designed for applications where a direct-charged applicator solution for waterborne painting is required. This includes the automotive industry and a wide range of general industrial applications such as appliances, furniture, agricultural equipment, small auto parts, custom paint labs, and lawn and garden equipment.

All ABB Robotics' products are fully supported by the ABB Robotics global sales and service organization in 53 countries and over 100 locations.

About ABB
ABB is a leader in power and automation technologies that enable utility and industry customers to improve their performance while lowering environmental impact. The ABB Group of companies operates in around 100 countries and employs about 150,000 people.

About ABB Robotics
ABB Robotics is a leading supplier of industrial robots - also providing robot software, peripheral equipment, modular manufacturing cells and service for tasks such as welding, handling, assembly, painting and finishing, picking, packing, palletizing and machine tending. Key markets include automotive, plastics, metal fabrication, foundry, electronics, machine tools, pharmaceutical and food and beverage industries. A strong solutions focus helps manufacturers improve productivity, product quality and worker safety. ABB has installed more than 200,000 robots worldwide.