ABB introduces Cleanroom ISO 5 (Class 100) version of the IRB 120, its compact, flexible, multipurpose 6-axis robot
The new model will provide small footprint performance and lower production costs to industries requiring minimal environmental pollutants

AUBURN HILLS, Mich. – ABB Robotics has introduced an ISO 5 (Class 100) Cleanroom version of the IRB 120, its smallest ever multipurpose 6-axis robot. The component materials of the IRB 120 prone to particle generation have been modified to eliminate the potential for contamination of the manufacturing area and the parts being processed. The Fraunhofer Institute for Manufacturing Engineering and Automation IPA, a leading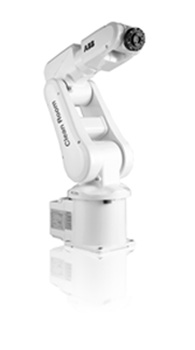 global provider of independent manufacturing research and analysis, tested and certified the new model as Cleanroom ISO 5 (Class 100). Cleanrooms are classified according to the number and size of particles permitted per volume of air, with Class 100 denoting the number of particles of size 0.5 µm or larger permitted per cubic foot of air. Cleanroom robots of this rating are suited for material handling and assembly applications in a range of industries requiring low levels of environmental pollutants, including medical device, pharmaceutical, electronics, semiconductor and solar panel manufacturing.

The Cleanroom IRB 120 features a special 4-layer paint with a varnish clear coat for easy, cloth cleaning; unpainted mounting holes; unpainted stainless steel mechanical stops; and special glue-seals to avoid particle generation. In certain conditions it can meet more stringent, ISO 4 (Class 10) requirements. The new model has all the functionality of the standard IRB 120, with superior motion control and outstanding path accuracy, providing agility, precision and speed to applications where a smaller footprint and profile are required. Weighing just 25kg (55 lbs), the IRB 120 has a standard payload of 3kg (6.6 lbs), a vertical wrist payload of 4kg (8.8 lbs), a reach of 580mm, a best-in-class stroke of 411mm and the ability to reach 112mm below its base.

"The industries that require cleanroom manufacturing environments continue to grow, increasing the need for a fast and compact robot that meets stringent anti-contamination requirements," said Joe Campbell, vice president of the ABB Robots & Applications Group. "We feel the Cleanroom IRB 120 will allow our integrators to penetrate new markets with a cost-effective and reliable robot that generates high production outputs in return for a minimal investment."

The standard version of the IRB 120 was introduced in Fall 2009. All models are:

The most accurate 6-axis robot on the market with a repeatability of pose (RP) of 0.01mm; competitive 6-axis robot models feature an RP of 0.02mm.

Easy to integrate into new and existing lines. It can be mounted at any angle, either in a cell, on top of a machine or in close proximity to other robots on the line. Wall- and invert-mounting saves floor space and optimizes working range.

Extremely nimble, featuring a compact turning radius on axis 1, allowing it to be mounted close to application process machines.

Easy to clean and maintain with internal cabling and smooth surfaces.

Designed with a light, aluminum structure, with powerful motors that ensure fast, accurate acceleration.

The Cleanroom IRB 120 is available with the compact version of the industry-leading IRC5 controller, making it easy to program and control for a variety of tasks. The Compact IRC5 is fully compatible with the standard and panel mount IRC5 controllers, with user friendly FlexPendant programming, RobotStudio offline programming, flexible RAPID language and powerful communication capabilities.

More more information visit www.abb.com/robotics or call 248-391-9000.

About ABB
ABB is a leader in power and automation technologies that enable utility and industry customers to improve their performance while lowering environmental impact. The ABB Group of companies operates in around 100 countries and employs about 130,000 people.

About ABB Robotics
ABB Robotics is a leading supplier of industrial robots - also providing robot software, peripheral equipment, modular manufacturing cells and service for tasks such as welding, handling, assembly, painting and finishing, picking, packing, palletizing and machine tending. Key markets include automotive, plastics, metal fabrication, foundry, electronics, machine tools, pharmaceutical and food and beverage industries. A strong solutions focus helps manufacturers improve productivity, product quality and worker safety. ABB has installed more than 190,000 robots worldwide.