ABB IMTS 2012 booth to feature diverse range of robotic demos designed for high performance manufacturing
Highlights include Okuma and Haas machine tending cells, and a four robot MultiMove display highlighting the coordination of complex motion patterns

AUBURN HILLS, Mich. – ABB Robotics will feature a unique set of robotic automation demos, highlighting products, systems and technology designed to increase manufacturing productivity for operations of varying sizes and needs at the International Manufacturing Technology Show (IMTS) 2012, September 10-15 at McCormick Place in Chicago. Included at booth #6770 in the North Hall will be: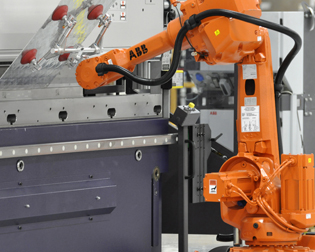 Okuma Machining Cell tended by an IRB 2600 Robot

A machining cell featuring an ABB IRB 2600 robot with a Schunk pneumatic, 3-finger centric gripper tending an Okuma Genos L200E-M lathe; a multifunction machining unit with a horizontal way system suited for a variety of parts up to 7.87" in diameter and 14.96" in length. The simulation shows the speed and accuracy in which the robot moves a small pre-machined valve body in and out of the machining center. Enabled by ABB's IRC5 Controller with QuickMove™ technology, the IRB 2600 completes the process up to 30% faster than comparable competitive robot models. ABB has recently joined the Okuma Partners in THINC, a network of companies that collaborate to solve problems and explore new productivity ideas for metal-cutting and manufacturing industries. ABB and Okuma recently designed a software package to integrate the programming and controls of a robot in combination with a machine tool, delivering a more seamless interface for the system operator. The PC application allows the operator to control the entire system through one common user platform.

Four Robot Simulated Production Cell

A simulated production cell comprised of four ABB robots of differing sizes, reaches and payloads highlighting the accurate coordination of complex motion patterns the MultiMove™ function of ABB's IRC5 controller enables. Utilizing a single controller, the MultiMove standard programming instructions move the robots in fully coordinated motion to collaboratively work on the same part or within the same manufacturing process. MultiMove also allows the robots to move independently of each other or in subgroups of any combination. The agility and accuracy of the robots is enhanced by ABB's Absolute Accuracy option which bridges the gap between the virtual robots in system simulation programs like ABB's RobotStudio and real robots on the factory floor. The accuracy enhancement is achieved by calibrating the robot arm to compensate for the natural deflection that comes with payload and motion variables. This is especially valuable for high end performance applications like laser cutting, precise movements using vision technology and, as in the demo, multiple robots moving together. The cell is fully enclosed in ABB Jokab Safety fencing and includes the following robots:
An IRB 4600 60kg (payload)/2.05 mm (reach) handling a large part.
An IRB 120 3kg/0.6mm carrying a small subcomponent to the main assembly.
An IRB 2600 12kg/1.65mm with a Binzel welding torch and a Meta vision laser sensor utilizing Ethernet based communication with the robot. Meta is a leading manufacturer of laser vision systems for welding applications.
An IRB 140 6kg/0.8mm searching for a part with a 1D laser sensor. 1D laser sensing is a next generation technology designed for fast, accurate and reliable edge, joint and part detection.
Haas Machining Cell tended by an IRB 4600 Robot

A machining cell with an ABB IRB 4600 tending a Hass SL-10 CNC Lathe, a small footprint turning center with a healthy 14" length x 14" diameter maximum capacity. With an SAS Automation vacuum gripper the IRB 4600 picks raw material from a feeder and loads the lathe after removing a completed aluminum "coin" from the chuck. Compressed air is used to blow off coolant and machining chips during the transfer process. The finished parts are then dropped off on a chute for additional processing or packaging. The cell, which is also enclosed in ABB Jokab Safety fencing, demonstrates how an ABB robot featuring ABB's RobotStudio Machine Tending PowerPac software can significantly improve cycle time and product quality. The robot and lathe are from Vincennes University (VU) in Vincennes, IN. ABB and VU partnered in 2009 to establish an enhanced robotic training center at the Indiana Center for Applied Technology (ICAT) on the VU campus. The robotic lab features 23 ABB robots and related work cells, software and controllers.

"Robotic automation is at the forefront of the lean technologies manufacturers have embraced to increase productivity and gain a competitive advantage," said John Bubnikovich, executive director, marketing and business development, ABB Robotics. "Our IMTS demos highlight a
range of emerging ABB robotic technologies, from entry level, almost turn-key systems for smaller companies to more intricate, highly engineered systems for larger operations."

Additional ABB highlights of IMTS 2102 include:

ABB's Remote Service will be enabled on all three demo cells, displaying the remote cellular interface between a robot control system and the ABB Technical Support Center that allows ABB to remotely monitor robot performance and provide diagnostics in case of a downtime event.
A Robotic Theater featuring a rotation of short presentations on a variety of recent advancements in robot technology, controllers and programming software.
A large screen Teach Pendant demo of the offline RobotStudio simulation created during the development and programming of the four robot production cell.
A wide range of electronic machine safety systems from ABB Jokab Safety, featuring an advanced line of compatible and easily connected safety devices.
A comprehensive ABB Customer Service display outlining the parts and logistics, field service and training support available to end users during the lifetime of their ABB robot systems.
An IRC5 Panel Mount Controller display, showing how easily the standard version, which comes without a cabinet, is integrated into any encapsulation for maximum space savings or fit with any special environment requirements.
Additional ABB robotic demos can be found at the booths of ABB system integrators and associates throughout IMTS. A complete list is available at the ABB booth.

About ABB
ABB is a leader in power and automation technologies that enable utility and industry customers to improve their performance while lowering environmental impact. The ABB Group of companies operates in around 100 countries and employs about 130,000 people.

About ABB Robotics
ABB Robotics is a leading supplier of industrial robots - also providing robot software, peripheral equipment, modular manufacturing cells and service for tasks such as welding, handling, assembly, painting and finishing, picking, packing, palletizing and machine tending. Key markets include automotive, plastics, metal fabrication, foundry, electronics, machine tools, pharmaceutical and food and beverage industries. A strong solutions focus helps manufacturers improve productivity, product quality and worker safety. ABB has installed more than 200,000 robots worldwide.