ABB Features Multi-Robot Material Handling Demos and a 10-Axis Long Reach Welding Robot at Automate 2013 in Chicago
Demos also highlight advanced software developments that continue ABB's mission to make robot systems easier to program and operate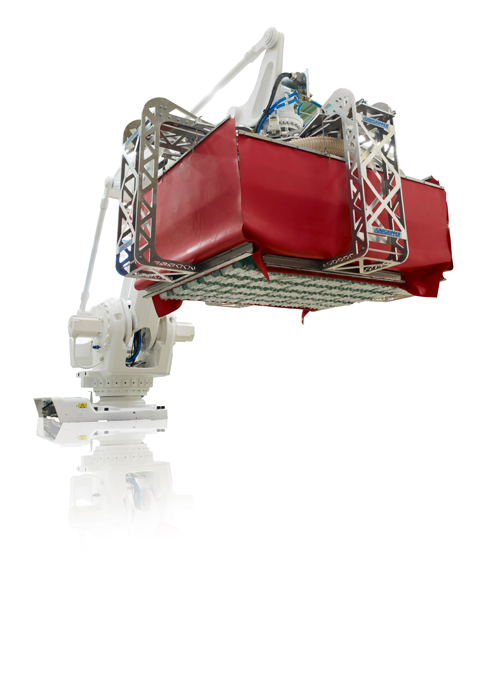 AUBURN HILLS, Mich. – ABB Robotics is exhibiting two fully operational material handling demonstration cells, and a 10-axis long reach welding system featuring one robot attached to the arm of another at Automate 2013, January 21-24 at McCormick Place in Chicago (Booth # 454). The material handling demos accentuate ABB's complete line of packaging robots, from individual product handling robots to those that handle full layer depalletizing. The 10-axis robot features the precisely coordinated multi-axis motion provided by ABB's IRC5 Controller and MultiMove software. Also on display are the most recent results of ABB's ongoing mission to develop robotic software that reduce programming complexity and create an intuitive human machine interface for production operation - highlighted by the RobotStudio Palletizing PowerPac, PalletPack 460 and PickMaster3 products. ABB JOKAB SAFETY is displaying an array of electronic machine safety components and mechanical interlock switches.
Further detail on the ABB Automate booth displays:
Palletizing Demo
The robots demonstrate the palletizing and depalletizing of varying formats of corrugated cases, beginning with the high speed, compact IRB 460 picking individual cases from the infeed conveyor and placing them into a preconfigured pattern on the pallet. An IRB 760 palletizing robot then transfers a full layer of cases and places them on a pallet in front of an IRB 660 robot, which picks the boxes a row at a time and places them back on the conveyor, keeping the whole sequence in constant motion.
The IRB 460 (4-axis, 110kg payload, 2.4m reach) robot is specifically designed to meet the high throughput requirements of end-of-line and bag palletizing applications. The IRB 460 robot in this demo utilizes the new ABB FlexGripper Clamp end-of-arm tool for secure handling of heavy cases or products not compatible with vacuum handling techniques. ABB's recently introduced PalletPack 460 function package controls the complete robot cell operation. The PalletPack 460 PalletWare configures a complete palletizing system via the configuration wizard on the robot's FlexPendant, eliminating the need for traditional robot programming. PalletWare also provides a complete FlexPendant HMI for cell operation, and an integral ABB PLC controls the flow of product on the infeed conveyors, pallet conveyors and gripper operation. ABB FlexGrippers are preconfigured in the PalletWare for plug-and-play operation.
The IRB 760, designed for high-throughput, full-layer palletizing and depalletizing, is equipped with a Schmalz vacuum layer gripper. With a payload capacity of 450 kilograms and a reach of 3.2 meters, this 4-axis robot features a high inertia wrist – double that of competitors – that enables it to handle heavier and larger product and tooling payloads faster than any other robot in this class. The high payload IRB 760 is especially suited for palletizing in the beverage, building material and chemical applications.
The IRB 660 combines a 3.15 meter reach with variants handling 180kg or 250 kg payload, making it ideal for palletizing multiple boxes, crates, trays and more in a single cycle. The configuration of the IRB 660 robot allows the robot to service four infeed systems and four pallet positions and still achieve a full 110" pallet stack height. It is equipped in this demo with the ABB FlexGripper Vacuum multi-zoned rail gripper.
The IRB 660 and 760 robots are programmed using Robot Studio Palletizing PowerPac software, which combines previously developed ABB software technologies – PickMaster 5 and RobotStudio – into a single bundle. The Palletizing PowerPac has been developed in a logical format allowing users to configure the product conveyors, pallet locations, gripper functionality, the definition of each product to be handled, and the configuration of all products and components included in the pallet stack. Once the cell configuration is complete, RobotStudio Palletizing PowerPac provides a fully functional palletizing cell simulation with accurate robot performance information. The complete RobotStudio model is ready to be transferred directly to the robot controller for cell operation.
High Speed Picking Demo
The centerpiece of the high speed picking demo is the IRB 360 FlexPicker utilizing integrated vision and a single cup vacuum gripper to pick randomly presented packages off one conveyor and place them on another in uniform rows at a rate in excess of 120 per minute. An invert mounted IRB 120 Cleanroom robot, ABB's smallest 6-axis robot, picks the packages off the second conveyor and places them back on the first in a random orientation to continue the loop. The ABB FlexPicker is designed for operation in sanitary environments such as direct food handling or pharmaceutical applications, and the stainless (rated IP69K) model withstands the most stringent cleaning operations associated with sanitary product handling. Multiple variants of work envelopes (800, 1130 and 1600mm), payloads (1kg, 3kg and 6kg), and environmental protections are available to meet most application requirements. The featured IRB 120 Cleanroom model is ISO 5 (Class 100), suited for material handling applications in industries such as medical device packaging, pharmaceutical packaging and electronics. The PickMaster system software can control up to 10 robots and 10 cameras simultaneously. The FlexPicker is the most widely used Delta robot in the industry with over 5,000 worldwide installations since 1997
IRB 800 10-axis High Speed Welding System
The giant 10-axis welding system is an IRB 140, 6-axis robot with Fronius twin wire welding equipment attached to the arm of a larger IRB 660, 4-axis robot. The system provides an economical alternative to a robot traveling on a traditional gantry column; and with a smaller footprint, longer reach (3.1m), and the ability to sequentially work in four separate welding quadrants from a fixed position, it also delivers significantly better cycle times. Ideal for welding large parts, the demo is simulating the welding of an off-road vehicle chassis; with the IRB 800 and the head/tailstock servo controlled positioner that holds the part fully coordinated with ABB's MultiMove software, manipulating all 11 axes for optimum weld positioning.
Robot Controllers
All three ABB IRC5 controller variations will be featured between the two robotic demo cells:
The desktop sized IRC 5 Compact controlling the IRB 120 provides the same industry leading functionality as the standard model in a portable unit, including superior motion control and user friendly FlexPendant programming.
The IRC5 panel-mounted controller (PMC), controlling the IRB 360, makes integrating robots significantly easier by allowing machine builders and system integrators the flexibility to create custom enclosures to best protect the electronics by the means appropriate for specific harsh environments. This benefits numerous installation types, including food applications that require rigorous washdown capabilities.
The standard IRC 5, ABB's fifth generation robot controller, controlling all other robots. It is available with ABB's MultiMove software which allows one controller to move up to 36 robot axes in fully coordinated motion to work collaboratively or independently on the same manufacturing system or packaging line.
The following ABB Robotics system integrators and affiliates are also displaying ABB robots:
ACY America #226
Carter Control Systems# 3212 (ProMat)
Gable Services # 419
Girard Engineering # 220
SICK #1031 (ProMat)
SVIA # 908