ABB Extends its Compact Controller to Larger Robots, Bringing Small Footprint Functionality to a Wider Range of Applications
The IRC5 Compact controller now available on six models, including four 6-axis robots for arc welding, material handling and assembly applications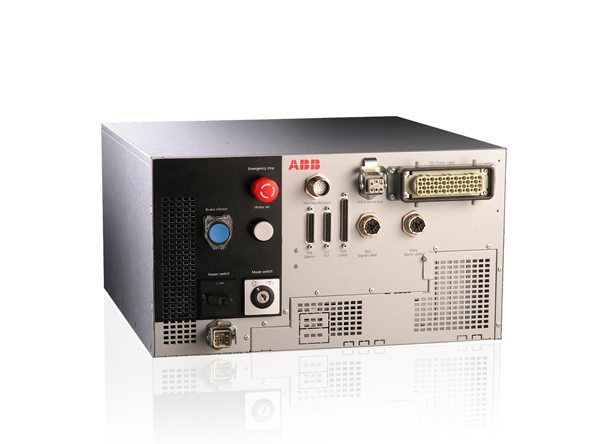 AUBURN HILLS, Mich. – ABB Robotics has extended the functionality of its IRC5 Compact controller to six additional ABB robot families. ABB's smallest controller was introduced in 2009 along with the introduction of the IRB 120, ABB's smallest 6-axis robot. The compact controller will now support the IRB 120, IRB 140, IRB 260, IRB 360 FlexPicker™, IRB 1410 and IRB 1600 robot families, offering the benefits of a greatly reduced controller footprint and simplified commissioning to a wider range of applications.

The desktop sized IRC5 Compact is fully compatible with the standard and panel mount IRC-5 controllers, providing the same industry leading functionality in a portable model. This includes superior motion control, user friendly FlexPendant programming, flexible RAPID language and powerful communication capabilities.

With the line extensions the IRC5 Compact will be frequently paired with the IRB 140, IRB 1410 and IRB 1600, ABB's smaller 6-axis, articulated arm robots. The IRB 1410 is especially designed and equipped for arc welding applications, while the IRB 140 and IRB 1600 bring powerful performance to arc welding, material handling, assembly and machine tending applications. The IRB 360 FlexPicker will now be available with the IRC5 Compact meeting demands of varying requirements in the food, pharmaceutical, biotech and solar markets. The IRB 260 is a 4-axis robot designed for packing applications. The IRC5 Compact will be especially valuable where the available workspace is limited.

"Our system integrators and end-users have been asking for the IRC5 Compact to be available on a wider range of robots, and this is obviously a big step in that direction," said Joe Campbell, vice president of the ABB Robot Products Group in the US. "The IRC5 has the most cabinet variations in the industry, and now our smaller robot customers will have more controller options to match their specific application and system requirements."

The IRC5 Compact controller also enables easy commissioning through the one-phase power input, external connectors for all signals and a built-in, expandable 16 in, 16 out I/O system. The system also supports the use of RobotStudio for offline programming and Remote Service for on-line condition monitoring. This allows manufacturers and integrators to optimize cell design and helps prevent costly downtime or production delays.

About ABB
ABB (www.abb.com) is a leader in power and automation technologies that enable utility and industry customers to improve their performance while lowering environmental impact. The ABB Group of companies operates in around 100 countries and employs about 124,000 people.

About ABB Robotics
ABB Robotics (www.abb.com/robotics) is a leading supplier of industrial robots - also providing robot software, peripheral equipment, modular manufacturing cells and service for tasks such as welding, handling, assembly, painting and finishing, picking, packing, palletizing and machine tending. Key markets include automotive, plastics, metal fabrication, foundry, electronics, pharmaceutical and food and beverage industries. A strong customer focus helps manufacturers improve productivity, product quality and worker safety. ABB has installed more than 175,000 robots worldwide.