ABB Expands Small Robot Family with Fast and Powerful IRB 1300 for confined spaces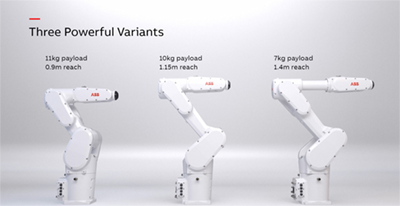 ABB is extending its family of small six-axis industrial robots with the launch of the IRB 1300, to meet demand for a faster and more compact robot able to rapidly lift heavy objects or loads with complex and irregular shapes.
Building on the success of ABB's IRB 1600 robot for payloads up to 10kg, the IRB 1300 offers a 27 percent improvement in cycle times and is nearly 60 percent lighter and 83 percent smaller than the IRB 1600. With a footprint of just 220 mm by 220 mm, the IRB 1300 is designed for use in small spaces, enabling more robots to be deployed in a confined area.
"The IRB 1300 is an exciting addition to our portfolio of small industrial robots and means we can now offer an even greater breadth of capability and performance", said Antti Matinlauri, Head of Product Management for ABB Robotics. "We've designed the IRB 1300 to help our customers achieve new standards of speed and accuracy as they develop solutions to lift heavy, complex or irregular shapes, even in small workspaces."
With improved payload and reach for materials handling, machine tending, polishing, and assembly and testing applications, it is aimed at electronics, food, beverage, pharmaceutical and consumer packaged goods processing, packaging and logistics applications.
The IRB 1300 is available in three main versions - 11 kg/0.9 m, 10 kg/1.15m and 7 kg/1.4 m. The 11kg payload for the 0.9 m reach variant is higher than any other competing robot in its class.
Powered by ABB's OmniCore™ controller, the IRB 1300 offers advanced motion control and best-in-class path accuracy, allowing it to handle an expanded range of applications such as polishing and machine tending.
To maximize the versatility of the IRB 1300, the OmniCore controller can be equipped with a range of additional equipment, including fieldbus protocols, vision solutions and force control. OmniCore also offers a simple user interface on the intuitive FlexPendant, which features a large multi-touch display with standard gestures such as pinch, swipe and tap allowing users to quickly get to grips with programming and operating their robot.
The IRB 1300 offers 20 Input/Output ports, 50 percent more than the IRB 1600, to enable the IRB 1300 to be used with more sophisticated grippers or end-effectors, allowing users to improve productivity by handling an increased number of work pieces simultaneously.
Supplied with IP40 ingress protection as standard, the IRB 1300 has the option of IP67 protection against solid particles and water ingress, or Foundry Plus2, designed to protect against the extremely harsh conditions in foundries and other metal processing plants. It can also be supplied to IPA Clean Room protection standard.
For more information about the IRB1300, click here.
ABB Robotics & Discrete Automation is a pioneer in robotics, machine automation and digital services, providing innovative solutions for a diverse range of industries, from automotive to electronics to logistics. As one of the world's leading robotics and machine automation suppliers, we have shipped over 400,000 robot solutions. We help our customers of all sizes to increase productivity, flexibility and simplicity and to improve output quality. We support their transition towards the connected and collaborative factory of the future. ABB Robotics & Discrete Automation employs more than 10,000 people at over 100 locations in more than 53 countries.