ABB Expands Midrange Robot Portfolio - the New IRB 2600, Ultimate Performance in the 12 to 20 Kg Payload Class
New family of fourth-generation robots to increase productivity in arc welding, material handling, machine tending and other process applications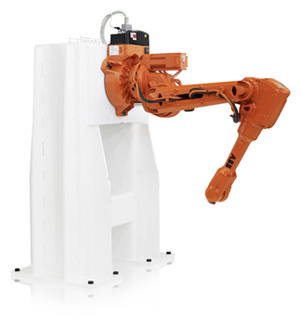 AUBURN HILLS, Mich. – ABB Robotics, a leading supplier of industrial robots, is introducing the new IRB 2600, the latest model in its medium capacity range of multipurpose robots. The new IRB 2600 features an optimized compact design, an ultra-wide working range and a payload capacity up to 20 kg. It also offers the best accuracy and speed in its class, improving productivity through increased output, faster cycle times and lower scrap rates. The IRB 2600 is particularly suitable for arc welding, machine tending, material handling and a variety of process applications.

The IRB 2600 is the second introduction from ABB's fourth-generation of midrange industrial robots, a structured portfolio redesign that began with the 2009 introduction of the IRB 4600 family of robots in the 20 to 60 kg payload range. At weights of 284 kg and 435 kg respectively for the heaviest models, the IRB 2600 and IRB 4600 are among the lightest robots available in their payload ranges.

"The IRB 2600 is ABB's second step in responding to the widespread demand from our customers and system integrator partners for lighter, faster and more accurate robots," said Joe Campbell, vice president of the ABB Robot Products Group in the US. "The best-in-class agility and performance of the 2600 and the 4600 will be the trademark of additional fourth-generation midrange introductions to come."

The IRB 2600 offers numerous system design and performance advantages over comparable competitor robot models:
Flexible mounting enables optimized cell designs: The IRB 2600 can be floor-, wall-, invert- or shelf-mounted, helping to reduce floor space requirements and increasing access to the equipment being served. Wall-mounting is a new possibility for a robot of this size. These features enable more creative cell designs, more efficient use of available space and easier integration into existing production lines.
Compact and lightweight: Another key feature of the IRB 2600 is its compact and lightweight design, featuring a total arm weight of less than 300 kg and occupying less floor space than any other robot in its class. This improves working range and makes it easier for the arm to reach down below its own base, allowing for smaller production cells and furthering the efficient use of valuable manufacturing space.
Speed and improved cycle times: The IRB 2600 is extremely quick and can improve production cycle times by up to 25%. The high joint speeds and quick acceleration are achieved by combining new lightweight mechanical linkages and ABB's patented second generation QuickMove™ motion control technology.
Three versions - all protected for harsh environments: The IRB 2600 family contains three versions: two short arm variants (1.65m) for 12 or 20 kg payloads, and a long arm variant (1.85m) with a 12 kg payload. With the wrist vertical, up to a 27 kg payload is achievable for pick and place packaging applications. ABB also offers the most comprehensive protection program for industrial robots on the market. The IRB 2600 has as standard Ingress Protection (IP) 67 rating for the entire robot, and "Foundry Plus 2", a further protection level, is available as an option.

The new robot family is available with ABB's well established and powerful IRC5 Robot Controller and is fully supported by the ABB Robotics global sales and service organization in 53 countries and over 100 locations.

About ABB
ABB (www.abb.com) is a leader in power and automation technologies that enable utility and industry customers to improve their performance while lowering environmental impact. The ABB Group of companies operates in around 100 countries and employs about 117,000 people.

About ABB Robotics
ABB Robotics (www.abb.com/robotics) is a leading supplier of industrial robots - also providing robot software, peripheral equipment, modular manufacturing cells and service for tasks such as welding, handling, assembly, painting and finishing, picking, packing, palletizing and machine tending. Key markets include automotive, plastics, metal fabrication, foundry, electronics, pharmaceutical and food and beverage industries. A strong customer focus helps manufacturers improve productivity, product quality and worker safety. ABB has installed more than 175,000 robots worldwide.