ABB enables 3D Printing via RobotStudio® for faster digital manufacturing
New software eliminates manual programming, allowing manufacturers to 3D print products within minutes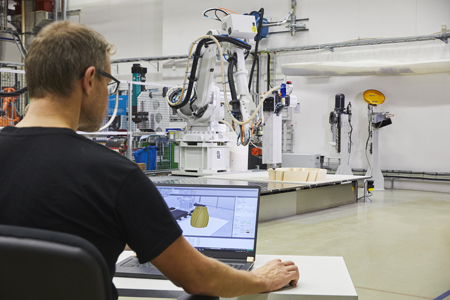 ABB is introducing 3D printing capabilities to its RobotStudio simulation and offline programming software, which will enable users to program ABB robots for additive manufacturing in just 30 minutes.
Part of the PowerPac portfolio of RobotStudio, the new 3D Printing feature eliminates manual programming to allow faster prototype production. The 3D Printing PowerPac supports a variety of processes, such as welding and printing with granules or concrete and is ideal for low-volume, high-mix printing.
Traditional methods of 3D printing using machines are time consuming as programming the printing paths involves plotting millions of points and trajectories. With ABB's new 3D Printing PowerPac, any standard slicer software design can be 'translated' into ABB's simulation environment and robot code. This means an operator can progress from the CAD design stage to final modeling of a product in just half an hour.
The 3D printing industry is poised for a period of strong growth, with valuation expected to hit USD 34.8 billion by 2024, owing in part to the development of new industrial-grade 3D printing materials, according to research firm Markets and Markets.
"With our new 3D Printing software, we are offering customers a faster and more streamlined 3D printing process. Coupled with the high performance of our robots, this means manufacturers can now produce high-quality 3D printed objects for a variety of industrial applications more efficiently," said Steven Wyatt, Head of Portfolio and Digital at ABB Robotics and Discrete Automation.
ABB (ABB: NYSE) is a technology leader that is driving the digital transformation of industries. With a history of innovation spanning more than 130 years, ABB has four customer-focused, globally leading businesses: Electrification, Industrial Automation, Motion, and Robotics & Discrete Automation, supported by the ABB Ability™ digital platform. ABB's Power Grids business will be divested to Hitachi in 2020. ABB operates in more than 100 countries with about 147,000 employees.
ABB Robotics is a pioneer in industrial and collaborative robots and advanced digital services. As one of the world's leading robotics suppliers, we are active in 53 countries and over 100 locations and have shipped over 400,000 robot solutions for a diverse range of industries and applications. We help our customers to improve flexibility, efficiency, safety and reliability, while moving towards the connected and collaborative factory of the future.