ABB Combines AC500 PLC and IRC5 Controller for Easier Robot Cell Integration and Enhanced Automation Possibilities
PLC mounted inside controller cabinet door offers cost and space savings, ease of use and powerful performance for robotic production cells.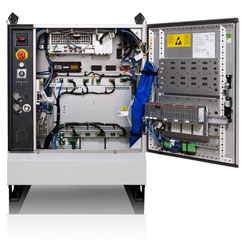 AUBURN HILLS, Mich. – ABB has introduced an integrated PLC and robot controller for robot cell applications, offering powerful performance in a single unit. Combining ABB's flexible AC500 PLC with its IRC5 robot controller, the newly integrated unit eliminates the cost and space of a separate PLC cabinet and greatly reduces the time associated with the set-up and operation of robotic production cells.

With up to three local I/O boards plus bus communications for remote I/Os, the integrated controller provides users with a single point of control for a range of production cell functions, including peripheral production equipment such as grippers, feeders and ancillary machines. All of the main communications standards, including DeviceNet, PROFIBUS DP, CANopen and Modbus TCP are supported, as well as wireless communications, making the integrated controller suitable for virtually any factory site.

Since its launch in 2006 the AC500 PLC has proven popular with OEMs and plant operators looking for a system that can be easily expanded to meet changing requirements. A key benefit of the PLC is its flexibility. Using the Control Builder software, programmers are empowered by a complete, unified development environment including all six IEC61131-3 programming languages and tools for configuration, debugging and visualization.

To help simplify programming and operation, a software framework is included, removing the need to set-up a communication infrastructure between the robot controller and PLC. The framework includes user friendly interactive displays on the FlexPendant, the robot controller interface device. This will be a great benefit to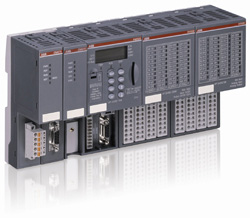 system integrators and end-users, allowing them to concentrate on the higher level specifics of the installation.

Available immediately, the IRC5 controller with the integrated AC500 PLC offers a one-stop solution for truly expandable and scalable programming based on a user-friendly, high performance and low-cost automation platform.

About ABB
ABB is a leader in power and automation technologies that enable utility and industry customers to improve their performance while lowering environmental impact. The ABB Group of companies operates in around 100 countries and employs about 117,000 people.

About ABB Robotics
ABB Robotics (www.abb.com/robotics) is a leading supplier of industrial robots - also providing robot software, peripheral equipment, modular manufacturing cells and service for tasks such as welding, handling, assembly, painting and finishing, picking, packing, palletizing and machine tending. Key markets include automotive, plastics, metal fabrication, foundry, electronics, pharmaceutical and food and beverage industries. A strong customer focus helps manufacturers improve productivity, product quality and worker safety. ABB has installed more than 175,000 robots worldwide.