ABB announces 2016 North American Robotics Value Provider Award winners
Awards recognize select Value Providers for innovation, outstanding performance and leadership
AUBURN HILLS, Mich.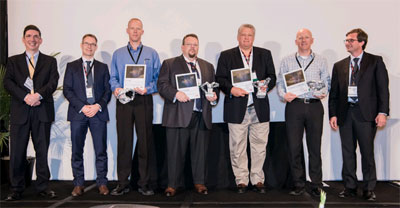 – ABB, the global power and automation technology group, is pleased to announce the 2016 North American Robotics Value Provider award winners. The awards were presented during ABB's annual Robotics Value Provider Conference on June 9th in Atlanta, GA.
Presenting the awards on behalf of ABB was Gustavo Sepulveda, ABB's USA robotics general manager. The 2016 award winners are:
Most Innovative Solution Award Winner: GED Integrated Solutions
Outstanding Performance Co-Winner: Q Comp Technologies
Outstanding Performance Co-Winner: CIM Systems Inc.
Lifetime Achievement Award Winner: BluePrint Robotics
Accepting the awards were Bill Weaver, president and CEO, GED Integrated Solutions; Greg Whitney, vice president of engineering and manufacturing, Q Comp Technologies; Aaron Hogarth, regional sales manager, CIM Systems, Inc.; and Aaron Johnson, vice president and general manager, BluePrint Robotics.
"It is an honor to recognize these Value Providers with their respective awards," said Sepulveda. "Each company demonstrated innovation, outstanding performance and leadership in their specific areas of expertise. We also strongly believe that their close working relationship with ABB is a key component of their success."
ABB's Robotics Value Provider Program is a part of an ABB wide global third party channel program. Within Robotics, the ABB Authorized Value Providers consists of automation integrators that meet both ABB's and our customer's high standards. Many of our Value Provider partners have worked with ABB Robotics for 20 years or more and are recognized for their leadership within the robotics industry. Companies interested in more information on the Robotics Value Provider Program should contact Mark Handelsman, ABB sales channel manager, at 248-245-8779.
About ABB
ABB is a leader in power and automation technologies that enable utility and industry customers to improve their performance while lowering environmental impact. The ABB Group of companies operates in around 100 countries and employs about 150,000 people.

About Robotics
ABB's robotics business unit is a leading supplier of industrial robots - also providing robot software, peripheral equipment, modular manufacturing cells and service for tasks such as welding, handling, assembly, painting and finishing, picking, packing, palletizing and machine tending. Key markets include automotive, plastics, metal fabrication, foundry, electronics, machine tools, pharmaceutical and food and beverage industries. A strong solutions focus helps manufacturers improve productivity, product quality and worker safety. ABB has installed more than 250,000 robots worldwide.
All ABB Robotics' products are fully supported by the ABB Robotics' global sales and service organization in 53 countries and over 100 locations.