ABB Adds Integrated Dress Pack Model to New Mid-size Robot Family for High-output, Small Footprint Arc Welding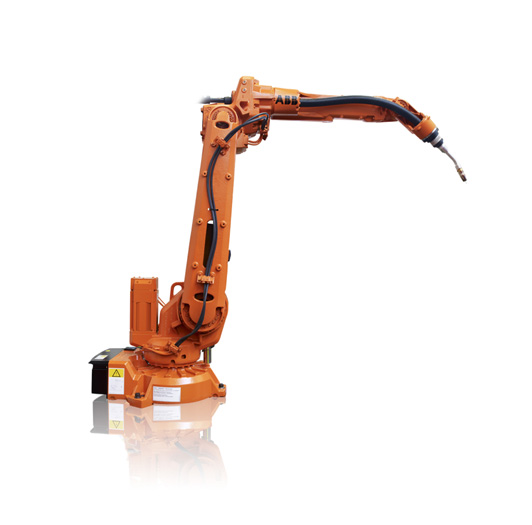 With cables and hoses protected in the upper arm the IRB 2600ID shortens cycle times 15%, with lower operational costs and simplified programming
ABB Robotics, a leading supplier of industrial robots, has added an Integrated Dress pack (ID) model to its IRB 2600 range of mid-sized robots, introducing the 2m reach, 8 kg payload IRB 2600ID. The new ID model, especially designed for arc welding, features a flexible conduit in its upper arm/wrist for routing the cables and hoses, fully integrating the process equipment with the robot. The integrated design provides a number of benefits including 15% shorter cycle times, lower operational costs and easier programming, along with the standard IRB 2600 family performance benefits such as superior speed, flexible mounting options, an increased work envelope and unmatched path repeatability. ABB is one of the few robot suppliers that offer a mid-size robot in both standard and ID models.
With the internally routed dress pack the movement of the hoses and cables is completely predictable, allowing the IRB 2600ID to operate at maximum speeds and simplifying off-line programming. Without needing to account for swinging cables when simulating robot systems, the time required for fine-tuning programs is minimized by up to 90%, enabling faster transitions from weld to weld. The ID design also reduces the exposure of cables and hoses to weld splatter and other sources of overall wear, reducing replacement costs by 75% and saving up to three production stops per year. With completely predictable motion the IRB 2600ID is able to work in narrow spaces and around parts of a complex geometry on which the dressing could otherwise catch.
"The current trend in industrial robotic design is for process equipment to be fully integrated with the robot," said Joe Campbell, vice president of the ABB Robot Products Group in the US. "This first IRB 2600ID model responds to the need our arc welding end-users have for a low maintenance, high performance robot that is easy to program and is incredibly nimble."
With its compact design, and without loose hoses and cables, the IRB 2600ID has a very small footprint with a swing base radius of only 337mm and a base width of only 511mm. For arc welding the reduced risk of interference with other robots allows for productive, high-density installations with 50% more robots, and up to 50% higher output from a production cell. With the slimmer arm and smaller footprint, the IRB 2600ID can enter very narrow spaces and easily take on challenges such as circular welds without compromising on quality or speed.
Complete weld packages tailored for the IRB 2600ID are available from several major arc welding process equipment suppliers. The new robot is available with ABB's well proven IRC5 Robot Controller and is fully supported by the ABB Robotics global sales and service organization in 53 countries. The IRB 2600 robot family, first introduced in Q4 2010, is the latest of ABB's medium capacity range of multipurpose robots. It offers the best accuracy and speed in its class, improving productivity through increased output, faster cycle times and lower scrap rates.
About ABB
ABB is a leader in power and automation technologies that enable utility and industry customers to improve their performance while lowering environmental impact. The ABB Group of companies operates in around 100 countries and employs about 124,000 people.
About ABB Robotics
ABB Robotics is a leading supplier of industrial robots - also providing robot software, peripheral equipment, modular manufacturing cells and service for tasks such as welding, handling, assembly, painting and finishing, picking, packing, palletizing and machine tending. Key markets include automotive, plastics, metal fabrication, foundry, electronics, machine tools, pharmaceutical and food and beverage industries. A strong solutions focus helps manufacturers improve productivity, product quality and worker safety. ABB has installed more than 190,000 robots worldwide.